We continue our coverage of the top NBA prospects in the Big Ten with the prospects ranked 11-15:
Keita Bates-Diop
,
James Blackmon
,
Malcolm Hill
,
Isaac Haas
, and
Damonte Dodd
.
---
More DX Conference Preseason Previews:
-The Top 20 NBA Draft Prospects in the Pac-12
-The Top 20 NBA Draft Prospects in the Big East
-The Top 15 NBA Draft Prospects in the Big 12
-The Top 20 NBA Draft Prospects in the SEC
-The Top 10 NBA Draft Prospects in the AAC
-The Top 30 NBA Draft Prospects in the ACC
---
Top NBA Draft Prospects in the Big 10
-
Top NBA Draft Prospects in the Big Ten, Part One
(#1) Diamond Stone (Scouting Video)
-
Top NBA Draft Prospects in the Big Ten, Part Two
(#2) Thomas Bryant (Scouting Video)
-
Top NBA Draft Prospects in the Big Ten, Part Three
(#3) Caris LeVert (Scouting Video)
-
Top NBA Draft Prospects in the Big Ten, Part Four
(#4) Troy Williams (Scouting Video)
-
Top NBA Draft Prospects in the Big Ten, Part Five
(#5) Nigel Hayes (Scouting Video)
-
Top NBA Draft Prospects in the Big Ten, Part Six
(#6) Jake Layman (Scouting Video)
-
Top NBA Draft Prospects in the Big Ten, Part Seven
(#7) Melo Trimble (Scouting Video)
-
Top NBA Draft Prospects in the Big Ten, Part Eight
(#8) Denzel Valentine
(#9) A.J. Hammons
(#10) Yogi Farrell
---
#11 Keita Bates-Diop, 6-7, Sophomore, Small Forward, Ohio State
Jonathan Givony
The #25 player in the 2014 high school class according to the RSCI, Keita Bates-Diop played a fairly minor role for Ohio State as a freshman playing under 10 minutes per game. Still, he showed some impressive flashes of potential in that short time, solidifying himself as a player to keep an eye on as his career moves along.
The intrigue around Bates-Diop beings with his impressive physical profile. Standing 6-7, with a pterodactyl wingspan (reported to be around 7-4), and an ideal basketball frame (listed at 190 as a freshman, now 235 by Ohio State), Bates-Diop stands out immediately the moment he steps on the floor. He's not quite as athletic as he looks on first glance, but is smooth and fluid, and may still have considerable room to improve his quickness and explosiveness as he gets closer to reaching full physical maturity.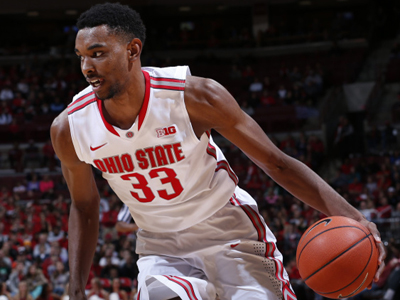 Forced to make the transition from high school power forward to collegiate wing, Bates-Diop was a little more advanced skill-wise as a freshman than you might suspect. He hit 18 of his 39 (46%) attempts from beyond the arc, showing nice confidence in his perimeter shooting ability late in the year hitting a couple of huge jumpers in the NCAA Tournament. He has good shooting mechanics from the waist up, with a compact, repeatable stroke. He is capable of creating separation nicely with a high release and good elevation, even if he tends to jump too far forward while leaning back excessively when rushed, not always fully getting his legs underneath him.
While the small sample size from last season leaves something to be desired, Bates-Diop should be able to develop into a good perimeter shooter, which will be very important considering his limitations in other areas.
He wasn't really asked to trusted to do anything off the bounce last year, as it was very clear in the handful of possessions that he did put the ball on the floor that he has a lot of room to grow here. While capable of attacking opponents in a straight line smoothly with long, rangy strides, Bates-Diop struggles when forced to change directions, lacked the strength and/or explosiveness to finish many of the plays created for him, and had a difficult time when forced to use his left hand around the basket.
Although his freakish length allows him to finish around the basket while barely jumping, and he converted an impressive 61% of his attempts inside the paint in the half-court, Bates-Diop still has room to improve here as his skill-level and explosiveness evolve.
Defensively, Bates-Diop was somewhat caught between positions as a freshman, which may help explain why he played as few minutes as he did. He wasn't strong enough to guard most power forwards, while he was a little too upright and naive to be trusted to guard smaller guys consistently on the perimeter.
Bates-Diop showed many of the issues most young players do in making the transition from high school to college, biting on pump fakes, losing his concentration off the ball, helping unnecessarily off his man, getting burned off the dribble, and generally not being solid or consistent enough to be trusted against better competition.
Nevertheless, he shows significant potential here, even if he doesn't always really know what he's doing at the moment. Bates-Diop's combination of size and length can absolutely suffocate ball-handlers on the perimeter, which could be an incredible weapon as he learns to get in a low stance and move his feet effectively against smaller players. He can close out on shooters from extreme vantage points and still get a hand up to bother a shot, and even when he does get beat off the dribble, can rotate back into the paint and make a play impressively at the rim.
Bates-Diop showed great flashes of defensive potential in small doses, executing a number of plays last season that only a handful of players in college basketball can even think of making. That showed up to an extent in the boxscore, as he generated 2.3 blocks, 1.3 steals and 8.2 rebounds per-40 minutes, even if the tiny sample size again throws some caution to the wind.
While Bates-Diop's lack of experience was evident last year, it still didn't prevent him from getting on the floor in some crucial moments for Ohio State, which certainly tells you something. He came onto the court late in the Round of 64 NCAA Tournament game against VCU for example, and had some huge plays that sealed the win for his team hitting a pair of key 3-pointers and dishing off a transition assist.
With Sam Thompson (who played 32 minutes per game) graduated, there should be more of an opportunity for Bates-Diop to see playing time for Ohio State as a sophomore, especially now that he's reportedly added significant bulk to his frame in the offseason.
Although Bates-Diop only averaged 3.8 points and 2.1 rebounds per game as a freshman, he'll get plenty of attention from NBA scouts if he continues to progress as expected.
#12 James Blackmon Jr, 6'3", Sophomore, SG, Indiana
Derek Bodner
Indiana freshman guard James Blackmon Jr. came in and started from day one for the Hoosiers, making an immediate impact on one of the best offensive teams in the nation. Blackmon was second on the team in scoring at 15.7 points per game, the sixth highest per-game scoring average among freshman in the country.
Blackmon is a very dangerous perimeter shooting threat, as evidenced by his 38.7% shooting from three point range on six attempts per game. Indiana, led by a perimeter combination of Yogi Ferrell and Blackmon, was one of the best perimeter shooting teams in the nation last year, coming in at ninth in the country in three pointers made and sixth in three point percentage, and Blackmon was a big part of that success.
Blackmon has consistent range out to the NBA three point line, which allows him to extend the defense and open up the lane for his teammates. He gets excellent elevation on his jumper and has a high release point, which along with a quick, compact release allows him to get his shot off with little space.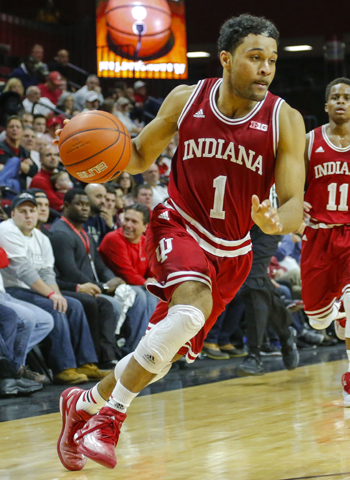 That's good, because over 75% of his catch and shoot attempts were guarded according to Synergy Sports Technology, a very high rate for a perimeter threat. Despite the attention he received Blackmon connected on 39% of his catch and shoot attempts, with the 1.17 points per possession he generated in these situations just outside of the top 20% in the nation, according to Synergy Sports Technology.
Blackmon isn't just a standstill shooter, however, as he's comfortable using one or two dribbles to setup a pull-up jumper. This is especially effective off the pick and roll, where the elevation he gets on his shot, combined with his quick release, once again makes it difficult for defenders to contest. Blackmon is only an average ball handler and doesn't have elite quickness turning the corner off of the pick, so he becomes a little bit one-dimensional as a scorer off the pick and roll, but it's a dimension that he can continue to be effective in.
Blackmon doesn't create all that much off the dribble, limited mostly to attacking closeouts. He has a strong pull-up game, and shows some touch on runners in the lane, but he struggles at times to get all the way to the hoop. The primary culprit in his struggles to create at a high volume is that he's just an average athlete by NBA standards, without the burst with the ball in his hands to really blow by the first tier of defenders, and without great elevation to score in traffic.
One area where Blackmon could improve is as a shooter coming off of screens. He's an excellent shooter overall and appears comfortable shooting on the move in other areas, namely off the dribble and when sliding around the perimeter to find an opening. He wasn't completely ineffective when attempting such shots, and looked mostly comfortable when doing so, but it just wasn't a consistent part of his offense. Especially since Blackmon doesn't project to be a high-level shot creator off the dribble, proficiency coming off screens and using his threat as a perimeter shooter could help him get a step on his defender, and open up driving lanes in the process.
Blackmon didn't create a whole lot of opportunities for his teammates, which is somewhat concerning at his size, collecting just 1.5 assists per game and 2.0 assists per 40 minutes when adjusting for pace. The fact that he doesn't create a lot in the paint plays a part in this, but he's not the most creative passer in the world either. He did do a good job making smart decisions with the ball and limiting his turnovers, but NBA teams would undoubtedly like to see him develop into somewhat of a combo guard considering how small he is.
On the defensive side of the court, Blackmon measured only 6'3" in shoes and would be undersized for an NBA shooting guard, without a great frame to match. That being said, he measured with a 6'8.5" wingspan and an 8'4" standing reach at the 2014 Nike Hoop Summit, both strong measurements for his size which help him play bigger than his listed height.
Blackmon's average athleticism comes into play on this side of the court as well, as he'll struggle to stay in front of some of the better athletes in the Big Ten, something which will also be the case when he makes the jump to the next level. Even so, he is an attentive defender who gives consistent effort on this side of the court, something which coaches will appreciate. He's also reportedly added weight to his previously slender frame, something which could help him fight through picks on the perimeter and make him a more versatile defender.
James Blackmon Jr. had an excellent freshman season for the Hoosiers, establishing himself as one of the best perimeter shooting threats in the Big 10. He had offseason knee surgery to repair cartilage in his left knee, but should be ready for the start of the season; though a slow start as he returns to form isn't out of the question. Still, Blackmon has a chance to build on his excellent start to his college career, and if he can get a little bit more comfortable creating off the dribble and become a more consistent contributor on the defensive side of the court, he's the kind of shooting threat that can find a role at the next level.
#13 Damonte Dodd, 6'11, Junior, Center, Maryland
Matt Williams
A consensus top-150 recruit in the high school class of 2013, Damonte Dodd's first two years in College Park were mostly a learning process. Averaging 4 points, 3.8 rebounds, and 1.5 blocks overly 15.9 minutes per game a year ago as a 20-year old sophomore, Dodd is still working to carve out a significant role at the college level, but flashes a number of qualities that give him interesting long-term upside.
Listed at 6-11, with an imposing wingspan and a 250-pound frame that still has room to improve, Dodd has nice size for a center at any level. Not a fluid or freakishly gifted athlete by any means, Dodd is noticeably pigeon-toed, but runs quite well for his size, and has little trouble playing above the rim in the paint.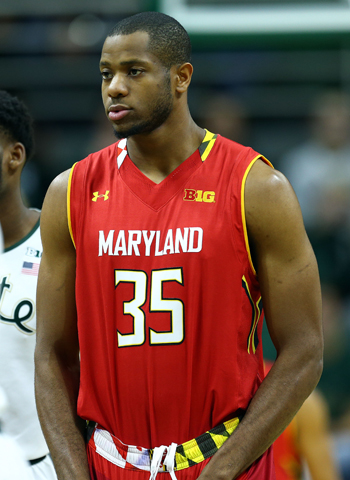 Skill-wise, Dodd is a fairly limited player at this point, seeing most of his touches come around the basket in the form of put backs, rolls to the rim, and dump-off passes. A very capable finisher when he's able to catch the ball cleanly thanks to his size, Dodd shot an impressive 69% at the rim in non-post up situations according to Synergy Sports Technology last season. Despite that, Dodd's average hands, footwork, and touch don't allow him to take exploit as size consistently on the block. Proving to be very turnover prone and clearly rushing to make moves inside, Dodd appears a bit out of place at times and has plenty of room to improve, even if he is fairly efficient at the college level.
Not a threat away from the rim but shooting 63% from the line, up from a dismal 13% on 2-16 as a freshman, it will be interesting to see what kind of weapon Dodd proves to be in the coming years. He may never be a particularly dynamic weapon, but he took a step forward a year ago, even if it was a small one, and could emerge as a terrific catch and finish threat at the college if the game slows down for him and he improves his hands and footwork.
Where Dodd has contributed early in his NCAA career is as an offensive rebounder and shot-blocker, ranking among the sophomore leaders on a per-minute basis in both areas. He's a useful player to have around the basket because of his size, length, and energy. He's already a capable individual defender on the block at the college level thanks to his sheer size, but could stand to be a bit more disciplined, as some craftier big men are able to use his aggressiveness against him. A very aggressive defender who eagerly chases blocks rotating off from the weakside, Dodd's effort as a rim protector allow him to make an impact in limited minutes at the college level, even if it gets him in foul trouble, and is a key part of his value proposition as a pro.
Like many young, raw big men, the best thing you can say about Dodd at this stage is that he has potential, as he was clearly not overly productive over his first two seasons under Mark Turgeon. Even so, there's still an obvious niche for energetic rim protectors at the next level. It will be fascinating to see how Dodd is used this season as Maryland adds five-star center Diamond Stone and figures to rank among the most talented teams in the entire country. If Dodd can show improved hands and patience offensively while cutting down on his fouls defensively, he could emerge as a viable prospect in the coming years.
#14 Malcolm Hill, 6-7, Junior, SF, Illinois
Josh Riddell
Coming off a breakout sophomore season for Illinois, Malcolm Hill was invited to try out for the USA Basketball team that played in the Pan-American games. He was ultimately cut from the team but he gained valuable experience heading back to the Illinois for his junior season.
Hill is looking to build on a sophomore season that saw him double his minutes per game up to 30.6, while increasing his point production to 18.6 points per 40 minute pace adjusted, up five points from his freshman season. He also saw an increase in efficiency with his increase usage, with his true shooting percentage rising from 52% to 56%.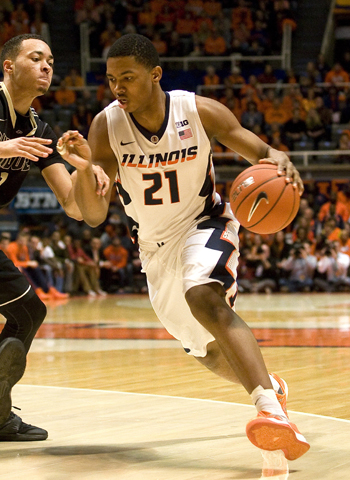 Hill has nice size for a NBA wing, measured at 6'7" during his USA Basketball tryout but the rest of his measurements aren't on par to a prototypical wing. He has just a 6'9" wingspan and his impressive frame is still developing, as he needs to add lower body strength to compete with NBA athletes. At just 19 (turning 20 in October), Hill is one of the youngest rising juniors in all college basketball, so there is still a chance for him to grow and his body to develop.
His athleticism isn't flashy in any areas but is solid across the board. He has decent open court speed for a player of his size and can beat his defender down the court from time to time. Most of his shot attempts around the rim are layups rather than dunks, but he can play above the rim from time to time. While he won't overpower most NBA wings with his athleticism, he should be able to match the overall physical skill sets of most players.
Hill demonstrated an ability to shoot the ball from distance as a sophomore, placing him squarely on the map as a NBA prospect. He has great form, with a high release point and a smooth stroke that should translate to NBA range. He is capable of shooting consistently both from a stand-still catch and shoot position, where he shot 42.2% according to Synergy Sports Technology, as well as on the move by either coming off a screen or relocating on the perimeter.
He's also proficient shooting off the dribble, where he shot 37.5% on all jump shots according to Synergy Sports Technology. These shots usually come off one or two dribbles into the mid-range area after he is ran off the three point line. This is a good secondary weapon for him to have when defenders close out hard on him, especially since he's often used as a floor-spacing power forward at the college level.
Hill has the ability to straight line drive all the way to the rim, although he isn't yet a great finisher around the basket. He's finished just 52.6% of his attempts around the rim according to Synergy Sports Technology. Hill isn't able to shake his defender that often and can get out of control at times on his drives, leading to wild shots that have little chance of going in. When he is under control, he can get off good looks or draw a foul as he shot 6.1 free throws per 40 minutes pace adjusted last season. He is also working on incorporating a eurostep into his repertoire which should help him get easier looks at the rim. Adding more strength as he matures will also help, meaning he could grow into a better finisher around the rim.
Hill isn't a great passer and doesn't have the court awareness yet to see his open teammates when he has the ball in his hands. The good news is that he doesn't turn the ball over that much at just 1.9 per 40 minutes pace adjusted. This is caused more by his lack of playmaking ability than an ability to hold onto the ball, as he doesn't look to create for his teammates on a regular basis.
Defensively, Hill projects to be a competent defender in the right situation but he still has room to grow on this end of the court before he becomes someone who can be relied upon against NBA wings. His average wingspan is a cause for concern, as he will struggle to challenge shots both on the perimeter and near the basket. He can move his feet well in the half-court to cut off dribble penetration which will help him slow down wings or funnel them to the right areas on the floor. He does get muscled out of the way at times operating at the 4-spot, but that should decrease as he adds strength to his frame.
He is still learning how to defend in a team scheme, as he sometimes gets lost in his individual matchup and fails to see the whole play develop which hurts his team overall. He focuses on his man and gets caught in screens or runs into his teammate, opening up space for the offense. He doesn't always see the right rotations or close out effectively and needs to make smarter decisions on the defensive side of the ball to help the team. He looks like a useful defensive player individually but will have to increase his court awareness to become an all-around defender.
A year younger than his classmates, Hill is brimming with NBA potential. He's already demonstrated he can shoot the ball and he will have a larger role in the offense after the graduation of Rayvonte Rice and Ahmad Starks to show off any improvements in the off-season. With another productive season, Hill will have a difficult decision to make about entering the draft or returning for his senior season.
#15 Isaac Haas, 7'2, Center, Purdue, Sophomore
Kyle Nelson
Few expected Isaac Haas, the 82nd ranked player in his high school class, to make an immediate impact as a freshman at Purdue. The 7'2 freshman emerged as a player to watch in November, however, after his standout Maui Invitational. By December, Haas supplanted A.J. Hammons as starting center before hitting the freshman wall and heading back to the bench a month later. As Haas prepares for his sophomore season, he will once again have to fight for minutes in Purdue's crowded and talented frontcourt while proving to scouts that he is a legitimate NBA prospect.
Haas possesses outstanding size for the center position, standing 7'2 in shoes with a massive 7'4 wingspan and a 297-pound frame. He is a decent athlete for his size, as well, looking mobile in the post despite the fact that he is neither particularly explosive nor quick in the open floor and he moves very mechanically at times. Reports suggest that Haas spent the summer
getting in better shape
, but his athletic ceiling remains to be seen, as he is very much a below the rim player.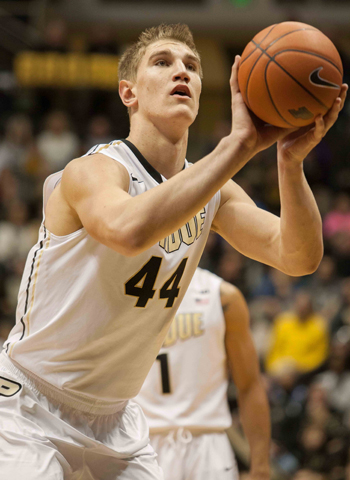 Despite playing just 14.6 minutes per game, Haas was one of the most productive centers in our database, averaging 20.5 points per 40 minutes pace adjusted. Haas saw nearly all of his possessions around the basket, 71.5% of which came in post-up situations.
His post game was largely limited to jump hooks in the post, which could develop into an intriguing offensive weapon thanks to his size and length. He does not appear to have the softest shooting touch here (50.8% FG), or great awareness, but his footwork looks promising, his release is fluid, and he does a solid job of using his body to get position in the post. He was heavily featured and played respectably in the post as a freshman, so it will be interesting to see if this trend continues during his sophomore season.
He is extremely turnover prone, however, averaging 4.4 turnovers per 40 minutes pace adjusted, which points to his tendency to be a black hole in the middle. Haas passes on just 6.3% of his post-up possessions, struggles with double teams, and averages a paltry 0.7 assists per 40 minutes pace adjusted. NBA scouts will want to see considerable improvement in his awareness and feel for the game as his career progresses at Purdue.
Elsewhere, Haas does a good job of putting himself in the position to score without being featured on offense. He is a good offensive rebounder, grabbing 4.2 offensive rebounds per 40 minutes pace adjusted, and converted 61.5% of the resulting put back attempts. He does a good job of cutting to the basket, as well, albeit in a limited number of possessions. He does not appear to have the best hands, however, and was barely utilized in the pick-and-roll, possibly a byproduct of his physical limitations, as he struggles to finish explosively when on the move.
While Haas struggles to defend without fouling, he did a respectable job of guarding post players. Again, he is decently mobile and was an intimidating physical presence on the block as a freshman, even though he lacked the quickness to stay with more athletic big men or step outside of the paint. Despite his length, he was an average shot blocker, as well, blocking just 2.0 shots per 40 minutes pace adjusted and committing his share of fouls in the process. Likewise, he struggled to step out and guard perimeter oriented big men, which may be a significant limitation to his potential down the road.
Thus, while Isaac Haas certainly showed promise as a freshman, he has a long way to go before convincing NBA scouts that he has what it takes to play at the next level. His size and productivity are intriguing, but his lack of explosiveness may ultimately limit his upside. It is important to remember that Haas is still young and exceeded expectations as a freshman. Whether the 7'2 sophomore reaches his massive potential remains to be seen, but scouts will take notice if he can continue to thrive in Purdue's formidable frontcourt rotation.