We continue our coverage of the top NBA prospects in the Big East with scouting reports on players ranked 6-10 in the conference:
Darrun Hilliard
,
Josh Hart
,
Tyler Harris
,
Jalen Reynolds
and
Joshua Smith
.
The Top 20 NBA Draft Prospects in the Pac-12 Conference
The Top 20 NBA Draft Prospects in the Big 12 Conference
The Top 10 NBA Draft Prospects in the AAC Conference
The Top 22 NBA Draft Prospects in the SEC Conference
Top NBA Prospects in the Big East, Part 1
(#1) Isaiah Whitehead
(#2) Chris Obekpa
(#3) Rysheed Jordan
(#4) Deonte Burton
(#5) D'Vauntes Smith-Rivera
#6, Darrun Hilliard, 6-6 ½, Senior, SG/SF, Villanova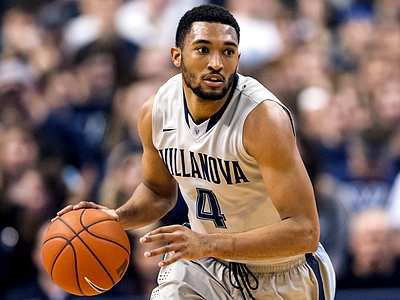 Jonathan Givony
Darrun Hilliard has slowly but surely turned himself into an important college basketball player, going from being a bit player as a freshman to an absolutely essential cog on a Villanova squad that went 29-5 before being upset by eventual National Champions UConn in the NCAA Tournament.
The lefty was named the Big East's most improved player last season after averaging 14 points per game on 57% shooting from 2-point range and 41% from beyond the arc.
Hilliard has good size for either wing position, measuring a solid 6-6 ½ in shoes at the Nike Skills Academy this past summer, to go along with a 6-8 wingspan and a sturdy 219 pound frame.
Hilliard is an efficient and opportunistic scorer who operates as a role-player in Villanova's offense, tasked with spacing the floor, running the court in transition, and picking his spots wisely with the ball in his hands.
Over half of Hilliard's field goal attempts came from beyond the arc last season, and he knocked them down at a very solid rate, hitting 41% of his 3-pointers. He is very reliable with his feet set, particularly when left open, but also showed some potential as an off the dribble shooter, converting 43% of his attempts in these situations, but doing so on a limited sample size (one per game).
Hilliard is not a prolific shot-creator, seeing only 22% of his offense in pick and roll and isolation situations, but is a willing passer who moves the ball unselfishly. His ball-handling skills are just average at this stage, as he lacks the explosive first step needed to get to the basket frequently, and struggles somewhat to finish once he does. Hilliard converted just 51% of his attempts around the basket last season, an average rate, as his lack of length and explosiveness makes it difficult for him to finish in traffic at times.
Hilliard does show some potential in this area, though, using his strong fundamentals and basketball IQ to find creases in the defense and attack his man off shot-fakes and close-outs. He uses crafty footwork, jump-stops and changes of speed to compensate for his average explosiveness, as well as his superior strength to bully weaker opponents and keep them off balance, and is not afraid to pass the ball if a teammate is in position to make a play. Still, he's going to need to continue to improve in this area to pull this off against higher level competition and not be rendered a one-dimensional player.
Defensively, Hilliard is a competitive and disciplined player who shows a lot of versatility in Jay Wright's aggressive system. He spent a lot of time defending both backcourt positions last season, as the team needed to hide their point guard Ryan Arcidiacono who is somewhat of a liability on that end of the floor. Hilliard was often the one tasked with guarding the opposing team's best perimeter player, and he usually proved to be up for the challenge.
Although not exceptionally long or athletic, Hilliard shows excellent fundamentals and a high intensity level to help him get the job done. He closes out intelligently, gets in a low stance, moves his feet well, and gets in the passing lanes frequently thanks to his strong timing and anticipation skills. This versatility Hilliard is showing will help him a lot down the road, as being able to defend shooting guards will go a long way in improving his stock at the professional level.
While far from a glamorous prospect, Hilliard is an interesting player nevertheless, as he shows many of the characteristics NBA coaches like to see from their role-players—with his propensity for playing efficient, low-mistake basketball offensively and showing nice versatility defensively.
It will be interesting to see if Hilliard can build off his strong junior campaign and continue to shoot the ball well from outside, as he was fairly streaky from the perimeter early on in his career. If he can string together another good season and continue to help Villanova win, he'll put himself in solid position to show he's deserving of a NBA roster spot.
#7, Josh Hart, 6-5, Sophomore, Shooting Guard, Villanova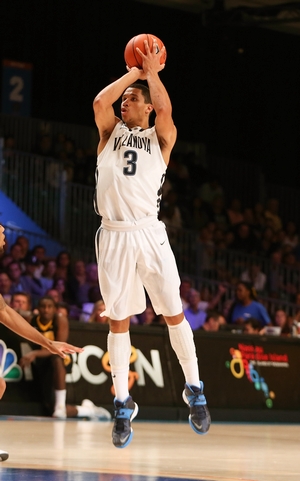 Matt Williams
A consensus top-100 recruit in high school, Josh Hart put together a fine freshman season at Villanova, averaging 7.8 points and 4.4 rebounds per-game.
Standing 6'5 with a 6'7.5 wingspan, Hart has a nice frame for a shooting guard at any level. He's a solid but not spectacular athlete, but puts the tools he does have to use consistently thanks to his tremendous motor. It isn't uncommon to see Hart mixing it up with much bigger players in the paint, dead-sprinting up the wing on the break, or hitting the floor pursuing a loose ball or after absorbing contact.
Hart's motor paid obvious dividends for him as a freshman in Villanova's undersized lineup. Nearly a third of his offensive possessions came in transition or on put-backs according to Synergy Sports Technology. On the whole he made a tremendous 65.9% of his shots in transition, and 67.4% around the rim in the half court thanks to his timing,
elite
offensive rebounding ability for a guard, and outstanding body control when looking to convert in close.
The Sidwell Friends (DC) product
ranked
among the NCAA leaders in two-point percentage as a freshman, a space normally reserved for big-men living off a diet of catch and finish opportunities.
Part of Hart's high 2-point percentage can be attributed to how few midrange jump shots he attempted. Normally the third or fourth option when he was on the floor, if Hart was taking a jump shot, it was usually a three-pointer of the catch and shoot variety. Knocking down 33% of such attempts, Hart showed the ability to space the floor efficiently for stretches, but his shooting form is not ideal and lacks fluidity, which limits his percentages, something that became more apparent as the season moved on. The next step in his evolution as a scorer will be improving his jump shot and creating shots off the dribble beyond attacking closeouts.
Defensively, Hart competes with the same urgency he brings offensively. Often asked to defend multiple positions over the course of a game, Hart has good, but not great lateral quickness, leaving his mark as an individual defender thanks to his consistent energy. He could stand to get stronger and be a bit more physical defending dribble penetration and fighting through screens, but he has a nice base to build on overall on this end of the floor.
Hart was among the more efficient freshman role-players in college basketball last season, even with his shooting consistency wavering at times. His feel for making an impact with his motor is impressive, and while he still has a way to go to solidify himself as a NBA-caliber prospect, he's certainly worth keeping an eye on to see how he builds off his very promising debut campaign.
#8, Tyler Harris, 6-9, RS Junior, SF, Providence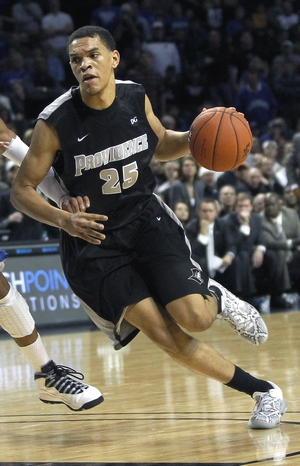 Josh Riddell
A key member of Providence's first NCAA tournament team since 2004, Tyler Harris returns for his junior season looking to help replace the production void left by graduating senior Bryce Cotton. The younger brother of NBA player Tobias Harris, Tyler Harris hopes to build on his successful sophomore campaign and put his name on the radar of NBA scouts.
Harris has nice size for a player of his skill set, as he is predominately a perimeter oriented player. Harris was measured at 6'9", 221 pounds with a 6'10" wingspan at the 2014 Nike Skills Academy. He is long and lanky for a perimeter player but doesn't possess above average speed or explosiveness. His overall athleticism isn't exciting but he does have some tools that if used correctly, could make him an intriguing prospect.
A transfer from N.C. State, Harris sat out the 2012/13 season but was able to face strong competition in the summer leading into the 2014 season by being invited to both the Lebron James and Kevin Durant camps. Harris averaged just under seven minutes per game in 19 appearances for N.C. State and made a much bigger impact in his first year with the Friars as he averaged 14.2 points and 6.3 rebounds per 40 minutes pace adjusted in 32.2 minutes per game.
A good amount of Harris' offense came from jump-shots, but he didn't show a consistent enough jumper to become noticed as a reliable shooter. The left-hander made just 32% on 90 three point attempts and will need to raise his average to become a more viable floor spacer—something that is imperative for him to play in the NBA. Harris did show he can find the open spaces around the perimeter to get good looks, now he just needs to complete the play by being able to finish the shot.
Elsewhere offensively, Harris didn't show any areas that could immediately translate to a professional level last season. When the defense took away his jump shooting, he didn't look confident creating off the dribble. He did show flashes when he was able to straight line drive to the rim, as his long strides allowed him to get a step on his defender, but he struggled when the defense rotated over to him, making a very poor 46% of his looks around the basket in the half-court.
Harris' lack of strength and explosiveness doesn't allow him to be a great finisher at the rim. He shies away from contact and is somewhat turnover prone, coughing the ball up on 20% of his possessions last season. Without a consistent 3-point shot, Harris' NBA prospects don't look very strong, as it's difficult to see him developing into a high-level shot-creator or slasher at the next level.
Defensively, Harris could provide some value with his excellent size, but has a ways to go before he could do so at a NBA level. He is a hard worker on this end and his length on the perimeter makes it tough to shoot over him. However, he doesn't have exceptional lateral quickness, which means he can get beat easily off the dribble. There is some potential for Harris to be a solid defender if he can learn how to better utilize his size on the perimeter, but he will have to improve his lateral quickness and toughness first.
Projecting forward, Harris has some major improvements to be made before he becomes a serious NBA candidate. He does have some interesting features but needs to become a more efficient player while developing a more complete game. Providence wasn't that deep of a team last season, playing only seven players, so it will be interesting to see how his role evolves now that he's forced to shoulder a heavier offensive load.
A key for Providence and Harris' development may be the health of point guard Kris Dunn. The highly touted, often injured Dunn was recently cleared for practice and may be ready to play in the season opener which will take some of the offensive burden off of Harris and let him be the complementary player that fits his skill set. Harris will be a valuable part of the Friars rotation and will have ample opportunity to show any improvement over last year. Showing marked improvement in some key areas, particularly as an outside shooter and defender, could help his name start to get mentioned as a draft prospect.
#9, Jalen Reynolds, 6-9, RS Sophomore, PF, Xavier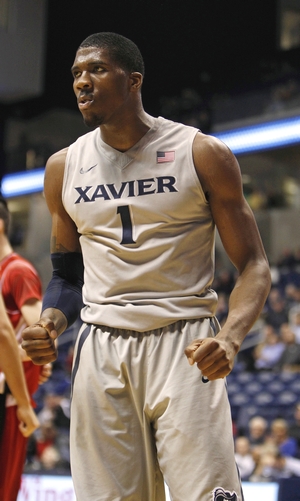 Josh Riddell
Jalen Reynolds returns to Xavier for his second season of action after redshirting his freshman season due to academic reasons. After losing Semaj Christon to the NBA, the Musketeers are a team that will be in somewhat of a transition as they look for a new go-to offensive player. Reynolds will look to fill a supporting role for coach Chris Mack and show that he can fill such a role for a NBA team.
After playing double digit minutes in eight of his first nine games last season, Reynolds ran into some off court trouble, which saw his minutes reduced for a large portion of December and January before
being suspended for two games
.
Reynolds is an exceptional athlete, with an excellent combination of speed and strength for his frame. Measured at 6'9", he may be a bit undersized for a player who makes a living strictly in the paint, but the rest of his physical tools compensate for any disadvantage. He has a terrific frame that should only continue to fill out with age, but is already pretty impressive.
Not a major focus of the offense, Reynolds didn't get too many opportunities to show any offensive strengths, as he's a very limited shot-creator. From the limited sample of offensive possessions though, none of Reynolds' offensive skills leapt off the page. Much of his offense came in the paint, as he attempted only six jump shots, according to Synergy Sports Technology. He does not project to be a capable jump shooter, as his fundamentals are greatly flawed and he will need a complete overhaul of his shot to step outside the paint. He did finish well around the rim, finishing 55.6% of 54 attempts at the rim, according to Synergy Sports Technology.
Confined to being a paint player, the majority of his offense came from post-ups and while he showed some ability to overpower weaker players, he doesn't have advanced footwork that will help him score against NBA level defenders. He was able to use his strength to get position against smaller defenders but when faced with a tough matchup, didn't have a way to beat his defender and had to settle for tough turnaround jump shots. He showed that he could score with basic drop steps and by gaining position, but most of this came due to matchup advantages and he struggled against defenders that could match his physical tools.
Reynolds was able to provide value on the offensive glass, as he averaged 5.1 offensive rebounds per 40 minutes pace adjusted,
sixth-best
among returning PFs who played at least ten minutes per game. His explosiveness and quick leaping ability allows him to then finish his offensive rebounds putbacks. He will need to focus heavily in this area to provide value this season by competing on the offensive rebounds on a nightly basis.
While Reynolds is a good offensive rebounder, he hasn't put the same focus into the defensive side. He does a decent job of boxing out but at times looks like he is just going through the motion instead of trying to move his opponent out of position, which he needs to focus on to not get jumped over. He doesn't always attack the glass, which doesn't allow him to rebound outside his area. With his limited offensive skills, becoming a dominant defensive rebounder is an area he will need to focus on this season to help his team and demonstrate potential to a NBA team.
Playing against post scorers, Reynolds competed defensively but was at a disadvantage either through his height or his average basketball IQ. Continuing to get stronger while maintaining his explosiveness will be helpful and he has solid footwork to help him become an adequate post defender. His other physical tools should hopefully make Reynolds a useful defender but he will need to come with a constant motor every night to compete when he is lacking physically against his competition.
It's still too early to project Reynolds' draft stock, as he just completed his first year of collegiate basketball, which was interrupted by some off-court issues. Reynolds' struggles getting eligible for college makes him one of the oldest players in the sophomore class, as he turns 22 in December and is even older than some college seniors. Reynolds' physical tools give him a chance to play at the highest level, but he will need to make sure he can stay on the court this year while becoming a bigger piece of the Xavier rotation, as he's already somewhat behind the curve age-wise. If he does this and accepts the role handed to him as a rebounder and defender, while showing an ability to score in the post, by the end of the season the picture may be a little clearer.
.
#10, Joshua Smith, 6'10, Center, Georgetown, Senior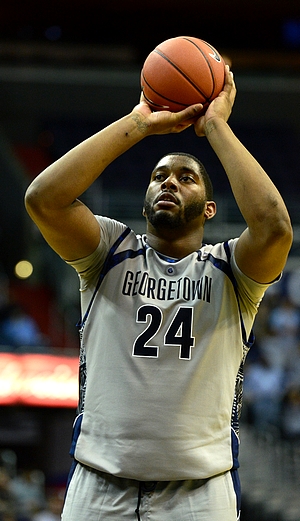 Kyle Nelson
Joshua Smith started his career at UCLA as a top-20 recruit in the talented
Class of 2010
. After struggling with his weight and losing playing time under Ben Howland, Smith decided to
transfer
to Georgetown just six games into his junior season. Smith was declared immediately eligible at the beginning of his junior season at Georgetown and hit the ground running before academic ineligibility sidelined what seemed like a promising fresh start.
Yet, Smith was showing signs of struggle even before his ultimate suspension. Despite the fact that he was leading the Big East in field goal percentage, his weight ballooned up to 350-pounds, if not much more, and he was struggling to stay on the court due to his poor conditioning. Now, Smith has another chance to prove his critics wrong, to suit up for Georgetown and finally achieve the massive potential that accompanied him in to the collegiate ranks.
Smith's current weight is unknown, but even at his listed 350-pounds last season, he was extremely overweight and visibly struggled to stay on the floor for more than a few possessions. Somehow and despite the fact that he was clearly out of shape, he remained fairly mobile in the post and even retained some of his explosiveness around the basket. At 6'10 with a reported 7'3 wingspan and a massive frame, Smith is still an intriguing prospect from a physical perspective if he can find some way, any way, to keep his weight in check. Simply put, there are few players with his combination of size, length and mobility, even if he is nowhere close to being able to utilize it at present.
Nearly all of Smith's offensive possessions came in the immediate vicinity of the basket last season, and he made an outstanding 65.5% of his overall attempts once there. Smith was also incredibly productive, scoring 11.5 points in 19.9 minutes per game, or 23.5 points per 40 minutes pace adjusted, which ranked him
top-5
among centers in our database. Smith played in just 13 games, however, and likely would have struggled to continue that rate of production over the course of an entire season given his conditioning. But he's always been a great scorer who changes the complexion of the game with his ability to punish defenses with his back to the basket.
Smith did a very good job posting up, showcasing outstanding hands, positioning, and shooting touch to go along with surprisingly nimble footwork. He also did an outstanding job of getting to the foul line, drawing contact to the tune of 9.9 free throws attempts per 40 minutes pace adjusted. Likewise, he showed solid instincts operating out of the pick-and-roll, though his mobility (or lack thereof) was significantly affected by his extra bulk and he visibly struggled to roll to the basket.
There is not much of a sample size on the defensive end, but the results are much of what one would expect. Smith is an immoveable defensive presence in the low post, simply too big and long for opponents to move or shoot over. Moving away from the basket, Smith lacks the agility and lateral quickness to stay in front of players away from the basket, making him a huge target for opposing teams to pick at and exploit every minute he's on the floor. He also struggles to close out on shooters for much of the same reason, and cannot recover nearly fast enough to stay involved if his man misses the shot attempt.
Though his conditioning does not help matters, his effort did not look particularly good either. Nowhere is this more evident than on the boards, where Smith went from averaging 11.4 rebounds per 40 minutes pace adjusted as a sophomore to 6.9 as a junior. Additionally, he remains an extremely foul prone player, ranking
fourth
among centers in our database with a sky-high 7.2 fouls per 40 minutes pace adjusted.
The red flags around Smith are well known at this stage, and it remains to be seen if can even finish a season, let alone whether he can lose enough weight to re-emerge as an NBA prospect. Early reports are ambiguous as to what type of shape Smith is in as he prepares for his senior season, but at this point, he has to do whatever it takes to salvage his reputation and work his way back into relevance. At the very least, Smith must focus on staying on the floor by improving his conditioning and overall effort, as his physical profile is enough to ensure that he will make a difference if he is able to stay on the floor. Georgetown is coming off of a disappointing season, but with a committed Joshua Smith, things could look very different for the Hoyas. Whether Smith is able to deliver, as always, remains to be seen.