We continue our coverage of the top NBA prospects in the Pac-12 with scouting reports on prospects 11-15:
Chance Comanche
,
Ray Smith
,
Dillon Brooks
,
Bennie Boatwright
and
Jordan Bell
.
---
More DX Conference Previews
-The Top NBA Draft Prospects in the Big East
---
Top NBA Draft Prospects in the Pac-12
Part One
(#1) Markelle Fultz
Part Two
(#2) Lauri Markkanen
Part Three
(#3) Ivan Rabb
Part Four
(#4) Lonzo Ball
Part Five
(#5) Kyle Kuzma
Part Six
(#6) Drew Eubanks
(#7) Ike Anigbogu
(#8) Chimezie Metu
(#9) Rawle Alkins
(#10) Chris Boucher
#11, Chance Comanche, 6'10", Sophomore, Power Forward/Center, Arizona
Julian Applebome
Los Angeles native Chance Comanche was part of a strong 2015 recruiting class for Sean Miller and an Arizona program which lost in the first round of the NCAA Tournament after reaching the Elite Eight in back to back seasons.
Arizona went into last season with a deep frontcourt, which included Comanche, along with the likes of Kaleb Tarczewski, Ryan Anderson, Dusan Ristic, and fellow freshmen Ray Smith. There was discussion of a possible redshirt season for Comanche, but shortly after Ray Smith went down with a torn ACL that ended his season, Sean Miller announced Comanche would not be redshirting. Despite limited opportunities in his freshmen season (he saw the floor in just 23 games and played slightly over 6 minutes per game) Comanche flashed some serious potential that could very well earn him a larger role in his sophomore campaign. He had the opportunity this summer to compete with the Pac-12 All-Star team coached by Mike Montgomery, and traveled to Australia to play exhibition games against the Australian National team, where he played a limited role.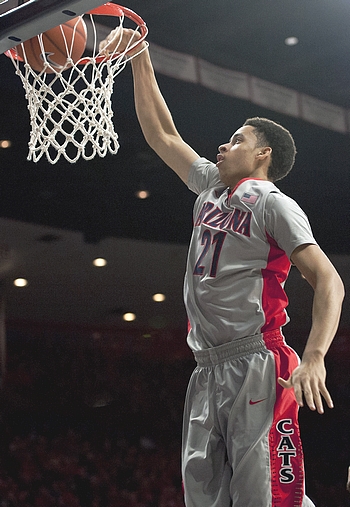 Listed at 6'11" with a wingspan that stretches over 7 feet, Comanche has size and length that is easily projectable at the professional level. Despite his plus length, one of the biggest knocks on Comanche, and perhaps the only negative of his physical profile is his lack of strength. Weighing in at just 215 pounds, Comanche's lack of strength was evident last season and was definitely a point of emphasis for him this summer. While there were questions surrounding his lack of bulk last season, the same cannot be said for his mobility and overall athleticism. Comanche moves very fluidly for a guy his size, gets up and down the floor well, and has the explosiveness to finish above the rim in space with ease.
At times last season the game appeared to move too fast for Comanche on both ends of the floor, appearing like somewhat of a deer in the headlights when thrown onto the court in big moments. This is likely one of the main reasons he saw such limited playing time. Besides his length and athletic ability he doesn't yet have a go to skill yet offensively, but showed some potential in various areas. He only finished 48.5% of his field goals attempts, and given that the majority of those were around the basket, Comanche definitely has room for improvement inside the paint. His lack of strength was a factor in his inability to finish consistently around the rim, as he often struggled in traffic when he didn't have the time or space to load up. He flashed a smooth first step out of the mid post, and has the length to get to the rim and finish with either hand. He wasn't featured often in ball screens or post ups, but it seems he has the mobility and footwork to find ways to contribute there, however he isn't always able to corral everything thrown his way. He also definitely has some potential as a rim running threat given his size and mobility. As a freshman the majority of his scoring came on cuts and dump offs, so it would be an encouraging sign to see him find others way to contribute as an offensive factor. He showed glimpses of being able to operate from the high post, but at times forced entry passes that just weren't there, as his basketball IQ is still seemingly a work in progress.
Throughout high school Comanche was heralded as having a mid-range game, but its likely Sean Miller preferred to bring him along slowly in terms of shooting jump shots, an aspect of his game that would be huge if he could implement it at a consistent level in his sophomore season. He missed the only three jumpers he took last season, but hit 11 of his 16 free throws, a solid percentage for a freshman his size. He has a fluid release with soft touch, and expanding his game to the perimeter should allow him to play both the power forward and center position, which would be ideal considering his lanky frame. If he can improve his mid-range jumper and his passing ability, he'll be an excellent threat to flash to the middle when opposing defenses line up in a zone.
A great deal of Comanche's potential lies in how he can influence the game on the defensive end. While he definitely has things to learn in terms of defending ball screens, guarding the post, and being in proper rotations, his raw physical tools really allow him to effect the game as both an on and off ball defender. He posted a per-40 average of two blocks per game, and a block percentage of 4.9. He shined in the second half of a game against Utah in which he came off the bench and picked up two huge blocks vs. Jakob Poetl. Comanche moves his feet well and has excellent lateral quickness, which allows him to defend players on the perimeter, a unique skill for a 6'11" freshmen. He can be a bit over aggressive at times defending closeouts, but he has the length to recover and effect shots at the rim even after he has been beat off the dribble. He is able to cover a ton of ground with his size and length, and is effective flying out to shooters that on the catch look like they have a wide open look. His biggest weakness as a defender is getting bullied on the interior and on straight line drives, something that can definitely be improved with some added strength. As he continues to develop and understand the nuances of high level defenses, and learns how to play a more physical brand of basketball, he will be able to cause havoc across the floor.
While Comanche's per 40 rebounding average of 10.9 might suggest he is a solid rebounder, he is not quite there yet. His lack of strength is definitely a hindrance in terms of boxing out bigger guys on the interior, and he at times can let balls fly over his head due to his just-decent awareness. He is quick off his feet, and has the length and bounce to go up and grab rebounds out of his area, but he is going to need to be consistent in terms of boxing guys out if he is going to spend more time on the floor. He also has the opportunity to be effective on the offensive glass, especially finding easy baskets. He has the size and athletic ability to attack the ball off the rim, and is a quick jumper who can go after multiple tips around the basket.
Playing behind Seniors Kaleb Tarczewski and Ryan Anderson, last season was understandably a learning process for Comanche, but based on his physical tools and what he showed in limited action on the floor, he clearly has a great deal of potential. While he might take him some time to continue to make incremental strides, the next few seasons will be important for him in terms of showing added strength, a more refined offensive skill set, a better feel for the game, a stronger work ethic, and a continued impact as a versatile defensive player. Arizona will trot out another strong frontcourt that will include Dusan Ristic, Ray Smith, and incoming freshmen Lauri Markkanen, but Comanche will presumably assume a larger role than he had last season. Comanche is a little more raw than your average 20-year old, but he possesses some unique characteristics that can't be taught, so it will be interesting to see if his production can begin to catch up to his potential.
#12, Ray Smith, 6'8, Redshirt Freshman, Small Forward, Arizona
Being forced to sit out his first year at Arizona due to a torn ACL, the second of his career, we prefer to wait and see how Smith performs as a redshirt freshman before adding to his
DraftExpress profile
.
#13, Dillon Brooks, 6'7, Junior, Small Forward, Oregon
Matt Williams
Held out of action much of this summer after undergoing foot surgery in July, and expected to miss at least the start of the season, Dillon Brooks' junior year will be a trying one as he attempts to jump back into the mix for the Ducks mid-season. Coming off an impressive sophomore year that saw him guide Oregon to the Elite Eight and earn a spot on the Pac-12 All-Conference first team, averaging 16.8 points, 5.5 rebounds, and 3.2 assists per game, Brooks figured to be one of the most productive, versatile players on the west coast. After flirting with the NBA Draft last spring, it will be interesting to see what kind of strides the talented Canadian can make over an abridged 2016-2017 campaign.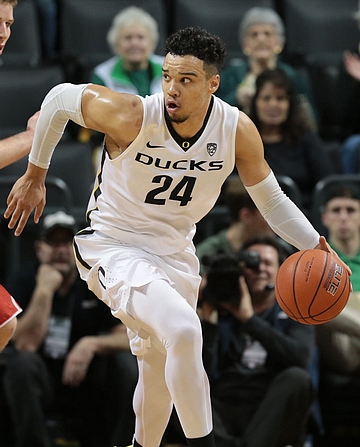 Standing 6'7 with a poor wingspan, but a strong frame, Brooks has some limitations physically that are preventing him from being considered a more highly touted NBA prospect, especially considering how good of a basketball player he is. He's a good, but not great athlete compared to the freakish physical specimens that tends to roam the wings in the NBA, and lacks great size for the power forward spot, which is the position he plays most frequently for the Ducks.
Besides his lackluster physical tools, there is a lot to like about what Brooks brings to the table, particularly on the offensive end, where his aggressiveness and versatility really shined in Dana Altman's system. A capable set shooter who can also push the ball in transition, find the open man, and create a bit one-on-one from the post and perimeter, Brooks can impact the game in a variety of ways offensively. Leading the Ducks in points and assists last year, it will be interesting to see how the team fares in his absence as the confident forward carried the shot-creating load for key stretches last season.
Considering his athletic limitations, Brooks' jump-shot will likely play a key role in any success he's able to find at the NBA level. Shooting the ball with fairly reliable mechanics that he opts to short-arm at times, Brooks doesn't have the smoothest release as he guides the ball a bit. However, he's never short on confidence, making timely shots both off the catch and off the dribble last season. A 34% shooter from beyond the arc, he has room to improve his consistency, but his 43% shooting on unguarded catch and shoot jump shots and 41% shooting on pull-ups in the half court a year ago leave room for optimism. The challenge for Brooks has been his bold shot selection and the streaky results they've produced in NCAA and FIBA play. Forcing up some questionable, off-balance shots, particularly from the mid-range, his aggressiveness sometimes plays against him.
When Brooks' shot is falling, he can be a dangerous scorer at the college level, and though he can be a bit quiet in the scoring column when it is not, he flashes the ability to score in other ways too. Very comfortable putting the ball on the floor and attacking off the bounce, Brooks uses his excellent timing to his advantage against slower fours getting to the rim with convincing shot fakes, crafty changes of speed and direction, and a real knack for attacking closeouts.
Possessing impressive instincts as a slasher, Brooks isn't a very explosive leaper, but can play above the rim when he has space to gather, and shot a strong 60% around the rim in the half court last season according to Synergy Sports Technology thanks to his combination of strength and creativity. That same assertiveness and touch translates nicely to isolation situations in the post and away from the rim at times. He's also adept and drawing contact and can score in bunches shooting strong percentage from the line.
Brooks is a bit of a mixed bag as a passer. His ability to create for others from the forward spot is certainly of value to the Ducks who really spaced the floor well last year, but much like his approach to scoring the ball, he can try to do a bit too much at times. Posting an even assist-to-turnover ratio in the half court last season, he tends to be wild, expose the ball when he penetrates, and drive into brick walls at times. Despite those shortcomings, he can be one of the most productive offensive players in the country when he's rolling thanks to his scoring instincts and knack for getting others involved.
Though the 20-year-old forward has some things to smooth out on the offensive end, he has far more maturing to do defensively. His lateral quickness has improved a bit, but still isn't great. It doesn't help matters that he doesn't play with the greatest sense of urgency and gets lost off the ball at times. Playing in a zone-heavy system, Brooks' deficiencies are masked at times. Even so, it is difficult to see him being much more than an average defender at the next level considering his poor physical tools, particularly his short wingspan, but he could help his cause in the eyes of scouts if he maximized his frame and took a little more pride on that end of the floor.
One of the most versatile players in college basketball, Dillon Brooks is a fiery competitor who ticks a number of boxes as a role-player for the next level. If he can become a little more efficient offensively and use his competitiveness and basketball IQ more effectively on the defensive end, he certainly could hear his name called on draft night in 2017 or 2018.
#14, Bennie Boatwright, 6'9, Sophomore, Power Forward, USC
Jonathan Givony
A key part of a team that exceeded expectations by making the NCAA Tournament in Andy Enfield's third season at USC, starting nearly every game as a freshman, Bennie Boatwright will likely play an even bigger role with a full season of experience underneath his belt.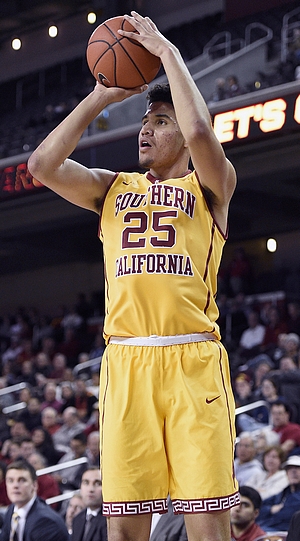 Standing 6'9 ½ in shoes, Boatwright has good size for the power forward position he plays exclusively at the NCAA level, and a solid frame, but has less than ideal length, with a wingspan that is slightly shorter than his height. Athletically, he can be described as just average at best, lacking much in the way of quickness or explosiveness, but does compensate for that with a good feel for the game and a polished skill-level.
Showing excellent scoring instincts, Boatwright put the ball in the basket at a solid rate as a freshman, pumping in 18 points per-40, but did so on less than ideal efficiency, with a 54% true shooting percentage. He converted just 44% of his 2-point attempts, which is poor for a player his size, but helped himself by taking more 3s than 2s, and hit them at a solid rate, at 36%.
The framework of Boatwright's game, and his most interesting characteristic as a NBA prospect, is his jump-shot. He is extremely reliable shooting the ball with his feet set, converting 40% of his attempts in these situations according to Synergy Sports Technology, giving him great potential as the type of stretch power forward NBA teams are actively seeking for these days. He has compact and consistent form, with deep range and an aggressive trigger, and even if his release is somewhat on the low side, he needs to be accounted for at all times while on the court.
Boatwright shows the ability to do more than just make shots with his feet set, even if he was inconsistent as a freshman trying to prove that at times last year. He led USC in usage rate last season in his minutes on the court, as he's an aggressive and hungry scorer who wants to make things happen virtually whenever the ball is swung his way, and shows some potential with his ability to attack defenders off closeouts or even in isolation situations in a straight line thanks to his strong footwork and solid ball-handling skills. He can knock down shots off the dribble as well, due to his touch and instincts, even if these aren't always the highest percentage looks.
While he demonstrated more polish as a scorer last season than your average 6'9 freshman, Boatwright's lack of athleticism showed in a major way with his inability to convert plays efficiently inside the arc, as he struggled badly scoring inside the paint both in the half-court and in transition. He was one of the least effective college scorers in the open floor last season according to Synergy Sports Technology, converting on just 18 of his 49 field goal attempts (37%, .82 PPP) and didn't fare much better trying to score inside the paint in the half-court either, at 30/71 (42%, .90 PPP).
Boatwright's inability to create separation from defenders, due to his lackluster quickness, causes him to rely heavily on spin-moves, floaters and other crafty-type plays. His inability to finish over or around defenders in traffic due to his poor wingspan and explosiveness makes it difficult to do this at a high rate, though, and he tends to just throw the ball up on the glass and hope for the best.
While he has solid court vision and is more than capable of finding the open man, he tends to play somewhat selfishly at times looking to hunt shots regardless of what the defense throws at him. Improving his ability to create for others (7.5% assist percentage) will help him play the stretch-4 role he's destined for in the NBA, as these type of power forwards can be asked to do some playmaking at times as well.
Defensively, Boatwright has never been known as a stalwart, which makes sense considering his poor length, average quickness and at times indifference. Still, he showed some progress in this area as the season moved on, displaying more of a willingness to get in a stance and move his feet, and demonstrating a good feel for how and where to position himself.
Maintaining a consistently high intensity level to match his solid awareness will be a major key for Boatwright's ability to carve out a niche at the NBA level, as he wasn't immune from having lapses both on and off the ball, getting beat off the bounce, and struggling to contest looks on the perimeter due to his short wingspan. He's smart and fundamentally sound enough to at least be decent in this area if he puts his mind to it, though, and that would make it infinitely easier for him to stay on the floor in the NBA considering the coveted things he brings offensively.
Boatwright is in an ideal situation to set himself up nicely going into next spring's early-entry deadline at USC, being the returning offensive leader of a roster projected by some as a top-25 team early on. He'll have to continue to make strides on both ends of the floor to maintain the early intrigue he garnered from NBA scouts, but is in a perfect place to do so, being surrounded by a talented roster that seems to complement him very well.
#15, Jordan Bell, 6'9, PF/C, Oregon, Junior
Kyle Nelson
After a promising freshman season, Oregon big man Jordan Bell spent his entire summer and eight games into his sophomore campaign recovering from foot surgery. While his sophomore season was inconsistent, Bell recovered by March and played a key role on Oregon's NCAA Tournament run to the Elite Eight. With a
full off-season under his belt
and plenty of time to work on his game, Bell has the opportunity to show scouts that he is more than an athletic shot blocker.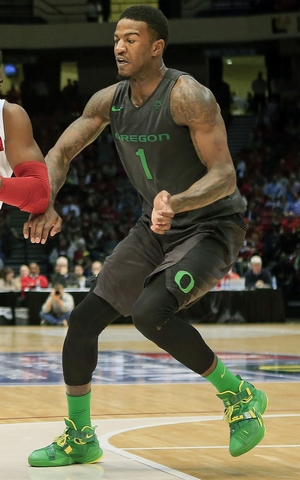 At 6'9 with a 6'11 wingspan, Bell has solid size for the power forward position, but average length. His wiry 227-pound frame continues to improve, and looks like it will fill out long term as much as needed. While he plays mostly the center position offensively and doesn't have great height or a long wingspan to do so in the NBA, he is able to compensate for that with a tremendous athletic profile for a big man. He runs the floor well in transition, demonstrates excellent quickness and mobility covering ground exceptionally well all over the court, and is highly explosive around the basket.
While Bell remains quite raw on the offensive end, he played a bigger role in Oregon's offense as a sophomore, and didn't see any real drop-off in his efficiency in turn. He averaged a much more acceptable 13.1 points per 40 minutes pace adjusted, up from 7.8 as a freshman, while posting a 57% TS%. As was the case during his freshman season, he saw nearly all of his possessions in the immediate vicinity of the basket, but was given more opportunities to create looks for himself in the post as a sophomore.
Bell saw a majority of his touches off of cuts to the basket, in transition, and off of his teammates misses. On film, it's clear as to why this is the case. Bell's footwork is raw, he tends to favor his right hand, and he does not have particularly soft hands or shooting touch. While he occasionally strings together a series of impressive plays, his post repertoire is limited to spin moves and the occasional up-and-under. In general, he still relies on his quickness over fundamentals to score in the post.
Bell continued to show some potential in his face-up game, but in a relatively small sample size. He can occasionally put the ball on the floor and get to the basket in a few dribbles, but his handles are not reliable enough to do so consistently. Likewise, he displays better shooting mechanics than you would expect from a 51.9% free throw shooter, but on just 12 attempts and to inconclusive results. He also shows better court vision than one would expect, but his 23% turnover rate reflects the fact that sometimes he appears to play as though he does not know his limitations.
He is at his best, however, while using his physical tools to his advantage and letting his teammates create opportunities for him. Most notably, he is a reliable finisher in transition and does a good job of cutting to the basket. He does not have the softest hands, but he is far quicker and more nimble than many collegiate big men and uses his explosiveness and length to make acrobatic plays at the rim look easy.
Bell's defensive versatility and overall prowess is what will give him a chance to make a NBA roster and stick long term. Few players show the ability to cover ground the way he can, as he displays an excellent combination of lateral quickness, agility and quick-twitch explosiveness, which allows him to defend big men, forwards, wings and guards all over the floor, while disrupting passing lanes, and altering shots at the basket. He once again stood out as one of a handful of players in our database to average two blocks and two steals per 40 minutes pace adjusted. He set Oregon's career blocked shot record in just 50 games while averaging 3.0 blocks per 40 minutes pace adjusted as a sophomore.
Yet, his fundamentals still lag behind his athleticism and he lacks the strength to hold his position against stronger offensive players. While he improved somewhat as a rebounder, his 7.0 defensive rebounds per 40 minutes pace adjusted still situate him as just average
relative to other big men in our database
and he does not consistently display the fundamentals or intensity required to exploit his physical advantages at this level.
Overall, Jordan Bell's sophomore season wasn't all that different statistically than his freshman season, which makes sense considering the injury he suffered and needed to recover from. His breakout NCAA tournament performance showed scouts that he still a highly intriguing prospect, though, as few players possess his combination of athleticism and defensive versatility at his size, being able to guard virtually any position on the floor. Bell could take a significant step forward as a junior with a full offseason under his belt, as he showed some very impressive things at the Nike Academy in Los Angeles this past June. The time is likely now as Bell will turn 22 in January. Oregon returns quite a bit of talent next year and Bell will be able to showcase his talent thoroughly on a team looking to repeat its deep 2016 NCAA Tournament run.