We continue our coverage on the top NBA draft prospects in the SEC with part eleven, players ranked 14-17:
Michael Frazier
,
Michael Qualls
,
Sindarius Thornwell
and
Dorian Finney-Smith
.
The Top 20 NBA Draft Prospects in the Pac-12 Conference
The Top 20 NBA Draft Prospects in the Big 12 Conference
The Top 10 NBA Draft Prospects in the AAC Conference
Top NBA Prospects in the SEC, Part 1
(#1) Karl Towns (Scouting Video)
Top NBA Prospects in the SEC, Part 2
(#2) Willie Cauley-Stein (Scouting Video)
Top NBA Prospects in the SEC, Part 3
(#3) Chris Walker (Scouting Video)
Top NBA Prospects in the SEC, Part 4
(#4) Bobby Portis (Scouting Video)
Top NBA Prospects in the SEC, Part 5
(#5) Dakari Johnson (Scouting Video)
Top NBA Prospects in the SEC, Part 6
(#6) Jarell Martin (Scouting Video)
Top NBA Prospects in the SEC, Part 7
(#7) Andrew Harrison (Scouting Video)
Top NBA Prospects in the SEC, Part 8
(#8) Aaron Harrison (Scouting Video)
Top NBA Prospects in the SEC, Part 9
(#9) Alex Poythress (Scouting Video)
Top NBA Prospects in the SEC, Part 10
#10 Marcus Lee
#11 Damian Jones
#12 Jordan Mickey
#13 Moses Kingsley
#14, Michael Frazier, 6-4, Senior, Shooting Guard, Florida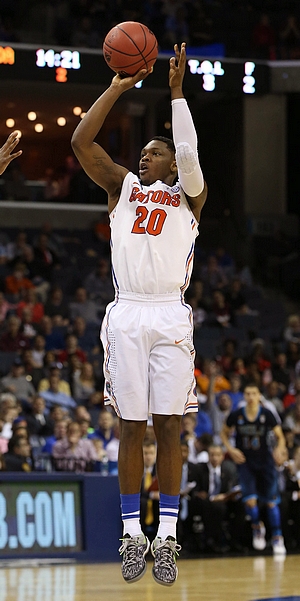 Matt Williams
Last time we checked in on Michael Frazier, he was fresh of a strong performance at the U19 World Championship Training Camp. Subsequently making the team and going on to average 6.7 points and 3.1 rebounds per-game as Team USA took gold in the Czech Republic, Frazier returned to Florida last fall poised for a breakout year. Ending the year as the third leading scorer on a balanced and veteran laden team, Frazier was a major bright spot for Billy Donovan's Gators, who went 36-3 and made the NCAA Final Four.
A consensus top-100 recruit in the 2012 high school class, Frazier is a bit undersized for a wing in terms of height, standing just 6'4 in shoes, but his 6'9 wingspan allows him to play a bit bigger defensively. He's also a very good athlete, possessing the fluidity and explosiveness common among NBA rotation players at the shooting guard position.
Offensively, Frazier's role last season, and the skill set he's displayed over his first two seasons with the Gators, was fairly cut and dry. 87.1% of Frazier's field goal attempts were jump shots, and his 44% shooting accuracy in catch and shoot situations was among the best marks for a shooter of significant volume in all of college hoops, according to Synergy Sports Technology.
Though Frazier did much of his damage in spot-up and off screen situations, he was also looked to create off the dribble at times, finding largely mixed results. An average ball-handler, Frazier did not prove very prolific creating high-percentage shots for himself at the rim, though he was efficient when he did find opportunities to score at the rim. Knocking down 34.3% of his jump shots off the dribble, the next step in Frazier's evolution as an offensive player will come in his ability to effectively create his own offense off the dribble.
Accounting for only 14.4% of Florida's possessions according to Synergy Sports Technology, the coming season will present Frazier with an opportunity to take on a bigger role offensively. With Florida's three highest usage players joining the professional ranks, it will be interesting to see how Frazier handles the transition from high-efficiency role-player to go-to scorer, and just how much of the shot creating responsibilities left behind by Scottie Wilbekin he's able to assume.
Defensively, Frazier plays with good energy and fundamentals. A key cog on one of the nation's very best defensive teams, Frazier is a solid team and individual defender. He's not a particularly prolific rebounder, nor does he produce steals at a high rate, but he moves his feet well, works to close out shooters, and rotates fairly crisply on the perimeter. His size may limit him a bit at the next level, and he could stand to fight through screens more aggressively, but he appears to have the right mindset to do well on this end of the floor.
Given the turnover in Florida's starting lineup, Michael Frazier has a lot to gain this season. There's little questioning his chops as a set shooter, which combined with his defensive ability, already makes him an intriguing NBA prospect, but his increased role could help him improve his standing among scouts if he can take advantage of it.
#15, Michael Qualls, 6'6", Junior, Shooting Guard, Arkansas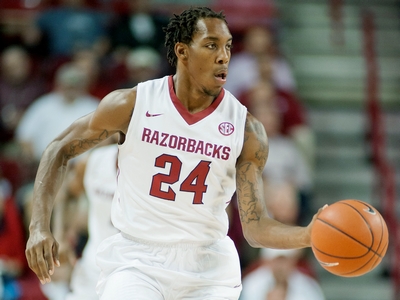 Derek Bodner
After struggling for much of his freshman season, 6'6" wing Michael Qualls began to turn it on for the Arkansas Razorbacks towards the end of the year. He was able to build on that strong finish during his sophomore season, where he saw his minutes and role within the Arkansas offense increase in a major way.
Qualls saw his minutes jump from 15.6 during his freshman season to nearly 25 per game last year, while increasing his scoring output substantially, from 11.1 per 40 minutes pace adjusted to 17.1 during his second year. On top of that, Qualls was a more efficient offensive player, improving his true shooting percentage from 45.3% to 53.4%.
When looking for reasons to explain Qualls improvement, his jump shot is a good place to start. Qualls struggled mightily from the perimeter during his freshman season, connecting on only 24.1% of his jumpers, according to Synergy Sports Technology. This includes struggles from three point range (22.2% on only 0.9 attempts per game), in catch and shoot situations (24.4%), while attempting virtually no jump shots off the dribble.
All those numbers saw significant improvement in year two for Qualls. He shot 35.9% on jump shots overall, including 35% (on 3.6 attempts per game) from three, 35.3% in catch and shoot situations, and 40% off the dribble, although that off-the-dribble figure is still on a relatively small sample size. All of those figures were around average for a collegiate wing, and a drastic improvement over where he was just a year prior.
Still, Qualls can be wildly inconsistent with his jump shot, with very pronounced hot and cold streaks, and can be prone to some way off the mark misses. His form still seems like it could use some fine tuning, as he seems to have a little bit of extra motion in his release and a hitch at the top, which could impact its predictability. His footwork can be inconsistent at times, particularly off the dribble or when coming off screens, and fixing that could also lead to more predictable results.
Still, the progress he made over the course of the calendar year was noteworthy, and a key as he transitions to playing on the perimeter more frequently, and to his natural position at the next level.
Qualls also gets a good portion of his offense off the ball, including 2.4 offensive rebounds per 40 minutes, pace adjusted, which is a solid mark for a wing player. Arkansas has used him at the power forward spot in small ball lineups on occasion, which puts him in better offensive rebounding position than he might be when he plays his more natural position. That being said, Qualls does a good job fighting for position on the offensive glass, with a high effort level, consistent motor, and quickness that allows him to slip past his defender and corral rebounds. Qualls also gets a fair amount of his offense in the open court, where his speed and leaping ability shine, and are a good match for Mike Anderson's up-tempo style.
Qualls shows some ability driving to the hoop, with a good combination of length, upper body strength, and explosive leaping ability, and a fairly good sense of how to use change of pace to get by his man. He does need to further refine his ball-handling, though, which at this point is a limiting factor in his ability to generate significant offense off the bounce. According to Synergy Sports Technology, 81% of his drives were to his dominant right hand, and he showed very little comfort level creating with his left. Improving his ball-handling and overall shot-creating ability will be a key for Qualls this season, and something to watch going forward.
On the defensive side of the ball, Qualls combines his length along with pesky perimeter defense to force 1.4 steals per 40 minutes pace adjusted. His aggressive style of perimeter defense can get him in trouble sometimes, though, as he's not quite quick enough moving his feet to consistently pressure his man 25 feet from the hoop, and he can frequently put himself out of position going for steals. He also tends to roam quite a bit off the ball, frequently losing his man while he watches the ball handler for opportunities to jump the passing lanes. If he can become a more disciplined defender, there's some potential there for Qualls to be a more consistent contributor on that end of the court.
Overall, Qualls made significant steps last season at Arkansas, and put himself on the map as somebody to watch. This will be a key year for Qualls, not only to show that his improvement in his jump shot last season was for real, but also to continue to show progress in making that a consistent part of his arsenal, while continuing to fine tune his ball handling abilities to fully maximize his athletic potential.
#16, Sindarius Thornwell, 6-5, Sophomore, Shooting Guard, South Carolina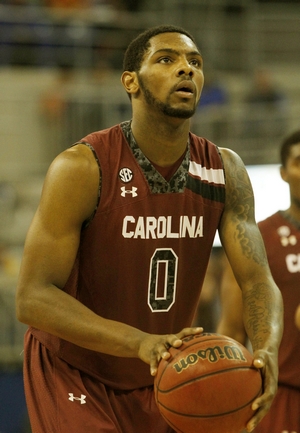 Jonathan Givony
The highest rated recruit to commit to South Carolina since Rolando Howell in 2000, Sindarius Thornwell's decision to "stay home" (he grew up an hour up the road) was a huge boon for Frank Martin's rebuilding effort.
Thornwell wanted to play a significant role as a freshman, and did so in a major way, as his 28% usage rate was the third highest among freshmen prospects last season. He saw minutes playing both on and off the ball for the Gamecocks, especially once starting point guard and then-leading scorer Tyrone Johnson was lost for the remainder of the season with an injury in January.
Thornwell has good size for a guard, measuring 6-5 1/2 in shoes, with a sturdy 214 pound frame, and a 6-9 wingspan at the Nike Skills Academy this summer. He is stronger than he is explosive, with a frame and style of play somewhat reminiscent of Dion Waiters with his ability to simply overpower defenders en route to the basket.
Thornwell scored at a decent clip as a freshman--18 points per-40, but was extremely inefficient, shooting just 39% from 2-point range, the third lowest rate among returning players in our Top-100 prospect rankings. Getting to the line 7-times per-40 minutes helped him salvage some scoring efficiency, but his 51% TS% certainly won't blow anyone away and is something scouts will want to see him improve upon as a sophomore.
While asked to see significant minutes as South Carolina's primary facilitator and clear-cut go-to guy, Thornwell is a relatively average ball-handler at this stage, being primarily a straight-line driver who relies heavily on his strength to help create offense. His first step is not extraordinary, as he often simply tries to bully his way through defenders, which makes it difficult for him to generate too many clean looks once inside the paint, as he usually has his man still connected to him at the hip.
Thornwell struggled to score efficiently inside the paint, converting a mediocre 42% of his attempts in the half-court in these situations last season. He doesn't appear to have great touch around the rim, often looking content just getting inside the paint and then throwing the ball up on the rim hoping for the best. Things aren't that much better in the open floor, as he hit just 45% of his field goal attempts in transition situations, a very low rate. Part of this is due to his decision making skills, but he's also not terribly explosive, which combined with his inability to blow-by defenders at a high rate might make it difficult for him to emerge as a high-level slasher at the NBA level unless he improves his ball-handling and finishing ability significantly.
Thornwell did an admirable job trying to execute South Carolina's offense playing out of position at the point guard spot, a role that led to some real growing pains, but will likely benefit his long term development. While he's obviously most comfortable looking to score, he made a concerted effort to execute the team's offense and get others involved. Not a natural playmaker by any stretch, most of his assists came off simple drive and dish plays or by making the extra pass in the flow of the offense, helping him post a respectable 4 assists per-40 minutes and 24% assist percentage.
Turnovers were somewhat of an issue as you might expect considering the transition Thornwell was forced to make as a freshman playing out of position in the competitive SEC. His 19.1% turnover percentage rated second worst among the 26 returning players classified as guards in our Top-100 prospect rankings.
As a shooter, Thornwell is somewhat of a mixed bag at this stage, showing clearly defined strengths and weaknesses. He is very solid with his feet set, showing good mechanics and a quick release. He made 39% of his attempts last season in catch and shoot situations, helping him knock down 37 of his 100 3-point attempts.
Pulling up off the dribble is where Thornwell tends to struggle, as he converted just 31% of his attempts in these situations. Shot-selection and decision making are the biggest culprits here, as Thornwell seems to overestimate his shot-making ability significantly, regularly settling for tough, contested pull-up jumpers in the mid-range area, sometimes just a foot or two inside the 3-point line. This is part of the reason his 2-point percentage was so low, and it will be interesting to see if his efficiency rises once he isn't forced to shoulder such heavy playmaking and scoring responsibilities.
Defensively, Thornwell has all the tools to emerge as a solid piece on this end of the floor eventually, with his excellent combination of size, length and strength. Unfortunately he's far from that at this stage, as his fundamentals are poor and he lacks the intensity level to compensate for that at the moment.
Thornwell gets lost defending off the ball frequently, and is regularly caught upright and out of a stance in one on one situations as well. He gets blown by off the dribble far too frequently, and doesn't do a great job of fighting through screens, looking a little bit lazy at times in this area. The huge amount of offensive responsibility Thornwell was forced to shoulder as a freshman certainly didn't bode well for his efforts on the defensive end, so it will be interesting to see how he evolves here as his career moves on.
He shows some very nice flashes from time to time, coming up with plenty of steals, blocks and deflections on the perimeter, showing good anticipation skills in the process.
Thornwell will play a significant role for South Carolina once again as a sophomore, but Frank Martin's team should be better as they return almost their entire rotation from last season. Making the NCAA Tournament would likely go a long way in showing scouts that he can translate his talent to winning situation, which makes this an important season coming up for him.
#17, Dorian Finney-Smith, 6'8", Junior, SF/PF, Florida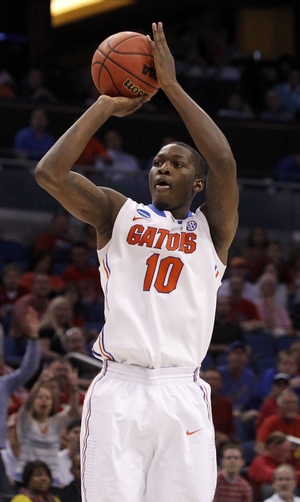 Derek Bodner
After transferring from Virginia Tech to Florida following the firing of Seth Greenberg, Dorian Finney-Smith successfully adjusted to coming off the bench for the Gators, winning SEC 6th man of the year while playing a key role on a very good Florida team.
Despite seeing slightly less playing time with the Gators than he had two years earlier during his freshman season with Virginia Tech, Finney-Smith was far more productive on a per-minute basis. His scoring jumped from 9.1 points per 40 minutes pace adjusted to 14.3, while slightly improving upon his rebounding efforts as well, from 10.1 to 11.0 per 40 minutes, once again adjusted for pace. Overall, his Player Efficiency Rating increased from 12.9 to 16.9 during his sophomore year with the Gators.
As we noted when previewing Finney-Smith last season, he has an outstanding physical profile for a small forward, standing nearly 6'8" in shoes, with a 6'11" wingspan, excellent quickness and athleticism, and a frame that looks like it can add a decent amount of bulk. That being said, his physical profile projects much better as a small forward than a power forward, and in order to make that transition to the NBA, his perimeter skills were something that he desperately needed to improve upon to really establish himself as a prospect.
The results were a little bit mixed this past season in that regard. Finney-Smith did become slightly more effective as a jump shooter, connecting on 30.8% of his overall jump shots, a slight improvement from the 26.3% he shot during his freshman season at Virginia Tech.
That being said, considering how important connecting from the perimeter is to his NBA hopes, and that he had over a year and a half off to work on his shot as he sat out due to transfer rules, the improvement was perhaps more modest than many were hoping for. He's still wildly inconsistent with his jumper, showing many of the same questionable mechanics that we noted in our previous write-up.
Finney-Smith still lacks considerable polish on the perimeter, or in virtually all aspects on the offensive end. He creates very little off the bounce, as, while he's a good athlete with a quick first step, he's not all that fast with the basketball in his hands, slowed down by his rudimentary ball handling. He also, despite still playing much of his time at the power forward position, creates virtually nothing out of the post.
Where Finney-Smith does factor in is off the ball. He gets a large portion of his offense off of cuts to the basket, in transition, and from offensive rebounds, where he pulls down a very strong 4.2 offensive rebounds per 40 minutes pace adjusted. However, he still struggles to convert these opportunities at a high clip, shooting just 38.6% on shots generated from offensive rebounds, per Synergy Sports.
While Finney-Smith is a very good athlete, with incredible quickness and good leaping ability, he overall struggles to finish around the basket. He shot only 44.8% on attempts around the basket which, while an improvement over the 36.8% he shot in similar situations at Virginia Tech, is still well below average for a player with his physical attributes. He did a slightly better job going up strong this past season, but he still attempts difficult shots more often than he should, tends to take some time to gather himself after receiving the ball down low, and overall just doesn't seem to have great touch around the paint.
The defensive side of the ball is an area where Finney-Smith did make substantial improvements. He looked much more consistently engaged at Florida under Billy Donovan. His effort level was strong throughout, he was more frequently in a good defensive stance, and he seemed far more in tune with team defensive concepts and rotations. He still struggles to defend in the post at times, as he simply doesn't have the lower body strength to defend some of the stronger post-up options, even at the collegiate level. Despite this improvement on the defensive end, Finney-Smith didn't generate much in terms of defensive stats, generating only 0.7 blocks and 0.7 steals per 40 minutes pace adjusted. Still, he came a long way in realizing the defensive potential he has with his outstanding physical profile.
On the one hand, Dorian Finney-Smith increased his production while playing on a very good Florida team, while showing slight improvement in his jump shot, and he became a more consistent defensive contributor. On the other hand, Finney-Smith still has a long way to go in developing the skills he will need to succeed on the perimeter in the NBA. There's a market in the NBA for a player with his outstanding physical and athletic profile, but he will likely need to make substantial progress on his set jump shot if he wishes to really carve out a niche at the next level.