Lorenzo Brown, 6'5, Point Guard, North Carolina State, Junior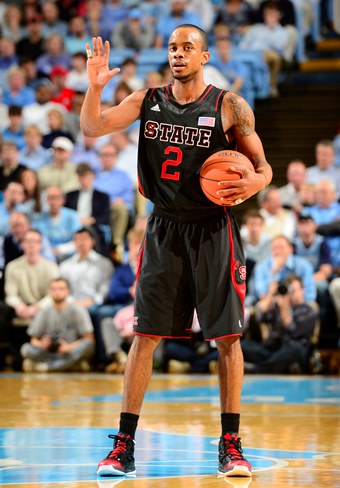 Kyle Nelson
When we last wrote about Lorenzo Brown, he was coming off of a sophomore season marked by significant improvement and a successful transition to the point guard position. Expectations were high for the former RSCI Top-50 high school recruit to lead a talent-rich North Carolina State team to the top of the ACC and a deep NCAA Tournament run.
The exact opposite happened, however, as the Wolfpack finished an unimpressive 11-7 in the ACC and lost in the first round of the NCAA Tournament to Temple. Furthermore, Brown did not seem to improve as a junior at all, even appearing to regress in some key areas. Now, having declared for the NBA Draft, it remains to be seen whether Brown did enough during his college career to endear himself to NBA scouts.
Brown remains an excellent prospect from a physical standpoint, standing around 6'5 with a wiry 186-pound frame. Though he has excellent size for the NBA, he is just an average athlete, more smooth than dynamic. Though he possesses good quickness in the open floor and compensates somewhat with his agility and body control, he lacks the overall explosiveness scouts covet in point guard prospects.
In addition to his average athleticism, another area of concern when projecting him at the next level is his struggles on the offensive end of the floor. While it is worth noting that Brown has transformed into a pure point guard, he remains
one of the least productive scorers among our top-100 prospects
, averaging just 13.8 points per 40 minutes pace adjusted as a junior, nearly a point less per 40 minutes pace adjusted than during his sophomore season despite seeing an increased offensive role.
His shooting percentages also dropped noticeably, ranking him among the least efficient scorers both
inside
of and outside of the arc. He made just 27.6% of his overall jump shots and
attempted a
very low number of three point field goals
among point guard prospects in our database, while making just 26.3% of his attempts from beyond the arc.
While it is worth pointing out that Brown was a much more efficient and productive player at home, where he averaged 13.8 points per game on 48.1% FG and 31.4% 3FG, his performance on the road – 11.3 points per game on 37.9% FG and 25% 3FG – and on neutral courts – 10.8 points per game on 34.6% FG and 20% 3FG – tell a much different story.
On film, Brown shows inconsistent mechanics, from shooting with a split stance and leaning into his shot to falling away from the basket. Yet, occasionally and usually with both space and when he has the chance to shoot in rhythm, his mechanics look solid, and Synergy Sports Technology reveals that he makes 39.1% of his catch-and-shoot jumpers with his feet set, albeit on a very small number (23) of attempts. He struggles to a far greater degree while guarded (13%), off the dribble (29.2%), and as mentioned, from beyond the arc (26.3%)
Brown is a crafty scorer off of the dribble, however, where he shows the ability to take the ball to the basket due to his excellent handles, above average first step, and smooth athleticism. He is a creative finisher around the basket, but his lack of strength and explosiveness do him few favors when attempting to finish over against bigger and more athletic post defenders. That being said, he displays a knack for creating his own shot – on the perimeter, from mid-range, and around the basket - and has improved significantly in getting open looks from his sophomore to his junior season.
While his ability to create his own shot and his versatility as a scorer are both intriguing from an NBA standpoint, his inability to make shots outside of the lane is very concerning. So, too, is the fact that he doesn't compensate by
getting to the line that often
, attempting just 4.7 free throws per 40 minutes pace adjusted. While he took a small step forward as a sophomore in addressing his reputation for lacking toughness, he did very little to continue to make strides in that department as a junior.
For as bad as his junior season went from an offensive standpoint, Brown took another step forward in his development as a playmaker,
averaging the second most assists
, a top-10
assist to turnover ratio
, and the
third best Pure Point Rating
among the top-100 prospects in our database.
His combination of quickness, excellent ball handling abilities and passing instincts have clearly helped him develop in this area and, though his scoring leaves much to be desired, he really has transformed into one of the NCAA's top distributors. He shows excellent poise, controlling a game's tempo with his ability to push the ball in transition and create looks for his teammates by passing off the dribble. His ability to feed the post is also impressive and, while he struggles as a scorer and finisher out of the pick-and-roll, he remains a very solid distributor. He once again ranked
among the most turnover prone guards in our database
, something he must improve upon at the next level, but he is nevertheless one of the best distributors in this draft.
Brown seemed to put more effort in on the defensive end as a junior, but once again showed some head-scratching inconsistency. While he has solid size, lateral quickness and active hands and feet, he rarely stayed engaged after he was beaten on the defensive end, not fighting through screens or recovering nearly as well as a player with his size and length should. He looks solid statistically, particularly because he
grabs a lot of steals
, but he has a lot of work to do before he can be considered ready to guard NBA point guards.
Overall,
Lorenzo Brown
has the size and distributing ability that scouts covet in point guard prospects, but with some significant holes in his game. Furthermore, he is already 22-years-old, and will be a 23-year-old rookie, which puts his ability to make stark improvement into question. It is almost needless to say that he has quite a bit to prove to scouts in private workout settings, as his junior year added to the list of questions pertaining to his NBA prospects, rather than answering them. Regardless, he has a very good chance of hearing his name called on draft night – even potentially late in the first round –but he must have a strong showing on and off the court during the pre-draft process to ease some of the concerns teams have about him at the next level.