Spending three days watching two-a-days in Colorado Springs gave us a great deal of insight into a large number of prospects we'll be focusing in on for next year's draft. Here's who stood out the most.
Standouts
Tyshawn Taylor, 6-3, Rising Sophomore, Kansas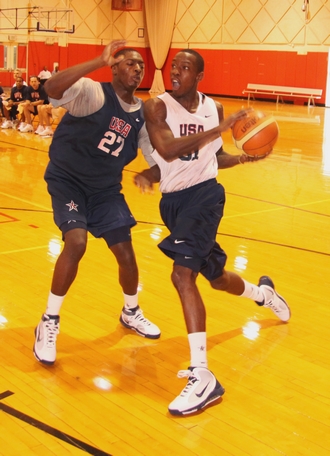 Gordon Hayward, 6-8, Rising Sophomore, Butler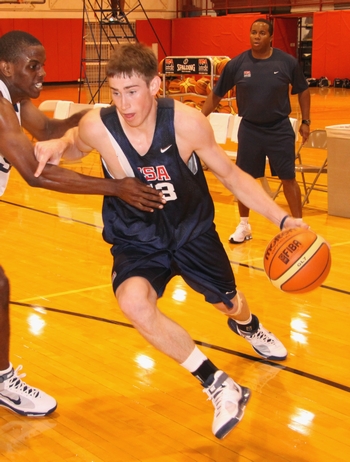 Evan Turner, 6-7, Shooting Guard, Rising Junior, Ohio State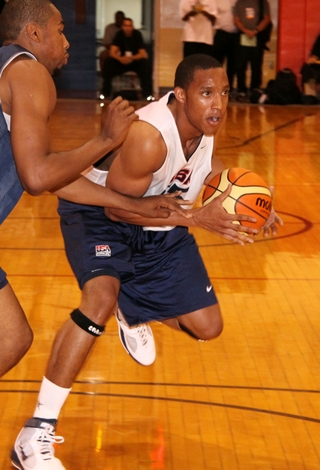 Trevor Booker, 6-7, Power Forward, Rising Senior, Clemson
Somewhat up and down from session to session, Booker was still the most aggressive and athletic big man on either roster, and was able to make quite an impression with the outstanding combination of intensity and toughness he brings to the table—coming up with a number of emphatic blocks and dunks. Despite being severely undersized for the power forward position, Booker makes up for his shortcomings in the height department by just playing much harder than everyone else. He brings a level of physicality to the game that NBA teams crave these days, on the defensive end in particularly, and despite his tendency to force the issue from time to time offensively, the reckless abandon he shows wins you over eventually. On top of that, his ability to take his defender off one or two bounces from the high post seems to be improving, and he even made a couple of mid-range jumpers from time to time.
Terrico White, 6-4, Shooting Guard, Rising Sophomore, Ole Miss
Notes from the U-19 Team
-
-
Arnett Moultrie was one of the few "sleepers" in attendance, a long and athletic 6-11 big man with a decent frame that for now is extremely underdeveloped, but has some legit upside. He's quick off his feet to grab offensive rebounds and runs the floor well; even showing a mid-range jump-shot that interestingly fell from time to time. With that said, he's a long ways away from being considered a legit NBA prospect, as he has average hands, is way too skinny to hold a spot on the block, has little in the ways of post moves, and really struggles to finish around the basket. He's a guy to keep an eye on to see how he develops over the next few years at UTEP.
-
-
-
-
-
-
Northwestern's John Shurna did a very nice job in the tryouts and is likely to carve out a solid niche for himself on this team, as he's one of the few big men who can space the floor, and is smart and hard-working enough a player to not hurt you in other areas. Shurna is more athletic than he looks on first glance, but is first and foremost a solid perimeter shooter. He runs the floor hard, has a nice feel for the game, and quickly endeared himself to the coaching staff with his willingness to do what's asked of him.
Notes from the World University Games
-
-
-
-
-