Matt Williams
After two very productive seasons in Conference USA,
Vince Hunter
opted to declare for the 2015 NBA Draft on the heels of earning 1st Team All-Conference honors averaging 14.9 points and 9.2 rebounds per game as a sophomore and leading UTEP to a NIT berth.
---
Also on DX:
Vince Hunter Interview in Santa Barbara
---
Standing 6'8 with a solid 6'11 wingspan, Hunter is a big time athlete with terrific quickness and explosiveness. Able to effortlessly finish plays above the rim and defend multiple positions, Hunter's physical profile is a key part of his value proposition at the next level, and a big reason why he was able to fill the stat sheet and endear himself to the
NBA Draft analytics community
with his efficiency and productivity.
Using 21.7% of UTEP's possessions last season, more than any other player on the Miners' roster, Hunter did the majority of his damage utilizing his physical tools to finish on cuts, fast breaks, and put backs. One of the least prolific shot creators among first options in the entire country, Hunter was a fairly unique player at the college level thanks to his knack for generating shots with his energy and athleticism—something that he'll likely need to continue to do in the NBA considering his average skill-level.
With 76.8% of his field goal attempts in the half court coming on floaters or finishing opportunities at the rim, Hunter made a living in the paint last season. Moving well without the ball, the sophomore was at his best in catch and finish situations when his teammates found him inside. The caliber of athlete who can cock the ball behind himself to avoid the defense or explode for two-handed reverse dunks instead of reverse layups, Hunter proved to be a highly efficient option, scoring 65% on cuts according to Synergy Sports Technology.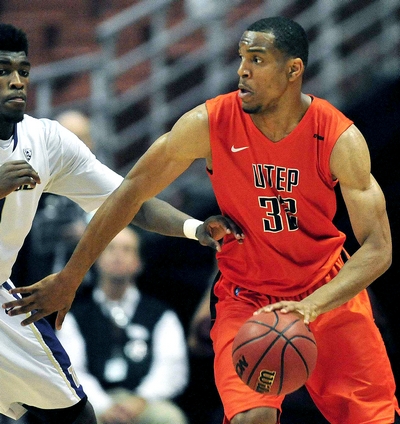 He also made his mark on the offensive glass. One of the
top
offensive rebounders in our top-100 this season regardless of position, Hunter's aggressiveness, strength, and quick second jump helped him create put-back opportunities for himself at a very high level, which he finished at a terrific 71% rate. Hunter rebounded a significant portion of his own misses as he tends to force shots inside. Often looking to just bully his way straight to the rim on the catch and drawing a terrific 8.7 free throw attempts per-40 minutes pace adjusted because of it, Hunter only finished at an above average 58% clip overall, which may seem low considering his success scoring cuts and put backs, but often won the race to the ball to corral his own misses.
The challenge for Hunter moving forward will be polishing his overall offensive skill set, especially from the perimeter. A power forward in a small forward's body offensively, Hunter took only 28 jump shots last season, converting just 29% of them, with them very ugly misses. He does not sport promising mechanics at this stage, and will likely need to completely revamp his shot to have a chance to developing into a capable spot-up threat, something he'll almost certainly need to do to not be an offensive liability. On top of that, his ball-handling ability can be loose and sloppy at times, and his shot creating ability, both from the perimeter and the post, is based primarily on his explosiveness and lacks a degree of finesse.
Despite his lack of perimeter scoring ability, Hunter remains an intriguing prospect in the
Andre Roberson
mold thanks to his fantastic lateral quickness and multi-positional defensive potential. The type of athlete who can switch onto and capably match up with players at no fewer than three positions, Hunter ranked second among college big men in steals per-40 minutes pace adjusted behind only
Willie Cauley-Stein
and also
ranked
3rd in our top-100 in defensive rebounds per-40 minutes pace adjusted.
He was stifling at times defensively a season ago with his aggressiveness, recovery speed, and motor, and showed improved fundamentals and discipline from his freshman season. Considering the tools he possesses and the progress he made from one year to the next, he seems to have all the tools to find success on this end of the floor in time.
Only 20 years old, Hunter is a player a team could opt to invest a second round pick in hopes he finds his perimeter stroke and grows into more of a natural wing player. Given his physical tools, the UTEP product will be a player to keep an eye on throughout the draft process and in the coming years, as he clearly has NBA athleticism to go along with tremendous instincts as a rebounder and defender.