After spending the weekend in the Bay Area taking in a
Dominic McGuire
workout, the A's walk-off 3 run homerun against the Indians, and
Carlos Boozer
/
Deron Williams
dismantling the Warriors; we hopped on a quick 7 AM flight down to LAX to check out a much larger group of prospects training in Los Angeles.
We started off in Carson at the Home Depot Center (which doubles as an Olympic training facility and the home of the MLS Los Angeles Galaxy), arriving just in time for the tail end of a skills workout for guards
Gabe Pruitt
(USC),
DaShaun Wood
(Wright State),
Brandon Heath
(San Diego State), Nate Funk (Creighton),
Adam Haluska
(Iowa) and Keoni Watson (Idaho).
After that workout it was time for the wings and big men, pitting
Joakim Noah
(Florida) and
Nick Fazekas
(Nevada) on one end of the floor and
Corey Brewer
(Florida),
Marcel Jones
(Oregon State) and
Russell Carter
(Notre Dame) on the other.
The workouts are being overseen by
Joe Abunassar of Abunassar Impact Basketball
, who has established himself as the most popular trainer on the NBA Draft workout circuit this year through the work he does both here and at his second state of the art facility in Las Vegas (which we'll be visiting next). If the name sounds familiar, you might recall articles on DraftExpress from each of the last two years from the work Abunassar did at IMG Academy with guys like
Ryan Gomes
and
Brandon Rush
in 2005 (
article
), and
Patrick O'Bryant
,
Cedric Simmons
,
Thabo Sefolosha
and
Kyle Lowry
in 2006 (
visit one
, and
visit two
).
The workouts started with light stretching, jogging, and plyometric drills intended to work on players' core strength, balance and coordination. Shooting is all the rage here and the players are being given the opportunity to put up more shots in a single hour than we've ever really seen, from every spot on the court and in many different situations.
The big men do very intensive work on their footwork, post moves and counters, with a heavy influence of fundamental hooks, step-throughs, up and unders, and turnaround jump-shots. The guards and wings are drilled extensively on their ability to create shots for themselves, particularly from mid-range with jab steps, freeze fakes, pivot moves, step-backs, and more—usually leading into the ever-important pull-up jump shot. Players must have a motion shot off the dribble in their arsenal and be able to hit at a high rate to truly take their offensive game to the next level.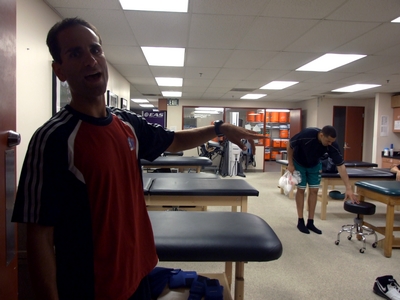 The most impressive part of the workouts at Abunassar Impact Basketball has to be the efficiency and fluidity in which every drill is run. Players are given an extremely intense and productive exercise in all the fundamental skills they need to both look good in the pre-draft process, (whether it's the pre-draft camp or NBA private workouts) but they also get the chance to round out and polish their game to increase their confidence in areas that they might not have gotten a lot of work in during college. The work that lead-trainer Dan Barto does in coordination with Abunassar on the court in terms of organizing and planning out each session proves to be invaluable.
Something else that separates AIB from other gyms we've been to is the emphasis that is put on implementing the skills that players are being taught through competitive play. We took in two full-court five on five sessions in the two days we attended, and observed numerous drills that put the players in real game-time situations where they were forced to make quick decisions and then receive hands-on instruction/feedback on what they are doing right or wrong. That's just one of the perks of having so many high-level players available at all times to play in real games. To make things even more interesting, NBA players such as
Martell Webster
,
Kirk Snyder
and
Danny Granger
stopped by to participate in these pick-up games, raising the level of play with their presence and giving us a better chance to better evaluate the college players in attendance against the type of players they will be facing in the near future, if all goes well.
You would think that with so many players coming in and out during all parts of the day that it might be difficult to keep everything running smoothly at all times, but from what we saw in the two days here, the workouts seem to run like clockwork and the players definitely benefit from the "one-stop shop" nature of the Home Depot Center which allows them to work on everything they need to in order to maximize their basketball skills.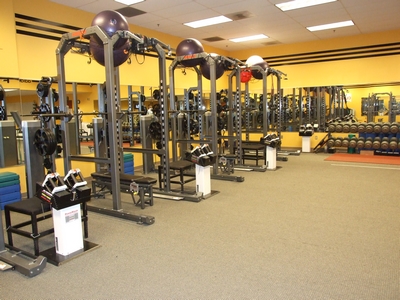 In between basketball workouts designed to improve game performance, the players get the opportunity to work extensively off the court on the "tools" needed to excel through their conditioning and physical/athletic ability. This is overseen by Mark Verstegen and Athletes' Performance, taking full advantage of the latest technology available to increase strength, speed, acceleration, leaping ability, flexibility, mobility, stamina and reaction-time to maximize their full potential.
Day One Evaluations
Corey Brewer, 6-9, Junior, Small Forward, Florida
---
Joakim Noah, 6-11, PF/C, Junior, Florida
---
Nick Fazekas, 6-11, Power Forward, Senior, Nevada
---
Russell Carter, 6-4, Shooting Guard, Notre Dame, Senior