Jonathan Givony
One of the most productive draft-eligible prospects in European basketball, big man
Maik Zirbes
is someone who will certainly be drawing at least cursory looks from NBA teams this spring.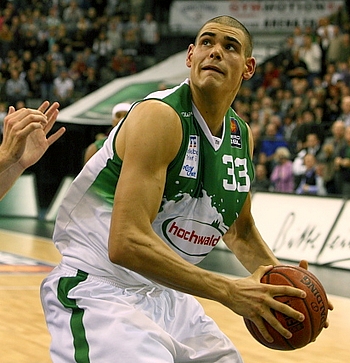 Listed at 6-10, 257 pounds, Zirbes has ample size for the center position he occupies, to go along with soft hands and solid length. Not particularly quick and notably lacking explosiveness, he is just an average athlete by European standards, and would likely be considered below average in the NBA.
Having turned 22 years old just a few days ago, Zirbes is in the midst of a breakout season on the European level, being arguably the most productive German player in the heavily American oriented German Bundesliga. He plays 28 minutes per-game for TBB Trier, which at 6-13, is currently in 16th place in the BBL and competing to avoid relegation to the second division.
Averaging a solid 16.6 points per-40 minutes while shooting an ultra-efficient 60% from the field (2nd in the BBL), Zirbes sees the overwhelming majority of his offense playing off the ball, through cuts, crashing the offensive glass, and as a pick and roll finisher.
He sets big physical screens and has good hands, nice length and soft touch around the basket, which makes him a very reliable finisher in the paint at the German league level. He plays with a solid intensity level, uses his wide frame to establish deep position in the paint, and is able to score effectively off drop-off passes despite being a largely below the rim player. He rarely turns the ball over and draws fouls at a strong rate (5.9 free throw attempts per-40 minutes), knocking down those attempts at a very solid 73% clip. He's also an excellent offensive rebounder (4.6 per-40), currently ranking 5th in the BBL in that category, thanks again to his good hands, length, and activity level.
On the downside, Zirbes does not possess a very wide repertoire of post moves with his back to the basket, and lacks the quickness and explosiveness to create space inside the paint and finish over length in traffic. This could make it difficult for him to become a very effective one-on-one inside player at the highest levels of competition.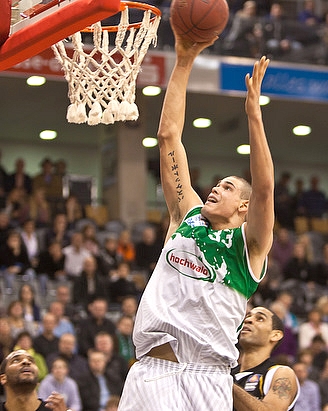 He's largely an undersized center who rarely steps outside the paint, having only attempted a handful of jumpers this season, and not looking brilliant enough in the ones he did take to lead you to believe he is being held back in this area. He'll likely need to expand this part of his game and improve his perimeter polish and versatility to continue to be an effective offensive threat against higher level competition.
Defensively, Zirbes has clear-cut strengths and weaknesses. On one hand, he is active and uses his body pretty effectively inside the paint, being difficult for opposing centers to post up thanks to his wide frame and solid bulk. There aren't any many great back to the basket centers in the BBL to test him (other than possibly
John Bryant
, who had a career night, 27 points, and 16 rebounds against him), but he's largely done a solid job with the ones he's faced.
On the other hand, he lacks size for his position and isn't very prolific on the stat-sheet due to his underwhelming explosiveness. His 4.9 defensive rebounds per-40 average doesn't rank in the top-50 in the German league in that category—which is a major red flag—and he offers very little in the ways of interior defense, only blocking 12 shots in 19 games this year.
Zirbes has trouble stepping outside the paint on this end of the floor as well, being very limited covering the pick and roll in particular, where he struggles to cover ground due to his below average lateral quickness.
Only playing his second real year of high-level professional basketball, Zirbes is having a very good season and is surely drawing the interest of both bigger teams in Europe and NBA scouts with his productivity. He does not appear to have huge upside due to his average physical tools, but as a 6-10 big man who is putting up good numbers in a solid league, he could be viewed as one of the better prospects in what seems to be a very weak class of
1990-born NBA draft eligible players
and thus may be a candidate for some teams looking to make a "draft and stash pick" in the second round.