Day one of the 2012 adidas EUROCAMP has come and gone and a number of players turned in solid performances in front of the droves of NBA scouts in attendance. As always, there were a few players who were unable to attend the event for one reason or another, but the group that is here features a nice mix of players eligible for the NBA draft, future prospects, known commodities, and players looking to make a strong impression out of relative obscurity.
Evan Fournier Individual Workout
Each season at least one player opts to showcase their skills in an individual workout instead of participating in all of the camp's activities. This year, that player is
Evan Fournier
, who skipped the Hoop Summit in April to avoid missing games with Poitiers in the French League and was unable to participate in group workouts or the NBA Combine in recent weeks because of an ankle injury. The top international prospect eligible for the 2012 draft, Fournier went one-on-zero in front of NBA decision-makers, showing no lingering effects of his ankle injury. He didn't shoot that ball especially well, and clearly didn't move the needle on his draft stock in any particular direction, but obviously the status of his rehab efforts are worth noting as we're only a few weeks away from the NBA Draft.
Fournier may buck the trend of skipping all of the event's festivities, and is planning participate in competitive action in the coming days.
Measurements and Agility Testing from BAM
BAM, which stands for Basic Athletic Measurement, is
a company based in the US
which has been invited to test the athletes here at the EuroCamp. The company previously conducted the measurements and athletic testing at the Portsmouth Invitational Tournament and NBA Combine, which should provide NBA teams with a standardized format from which to compare all prospects across.
Here's a video filmed yesterday showing some of their work:
Day One Activites
The first day of the adidas EUROCAMP included measurements and athletic testing to go along with drills, team practices, and game action. The gym was abuzz with agents, coaches, and scouts from every NBA franchise and many European clubs as well. With former participant
Danilo Gallinari
working out with Denver Nuggets assistant coach Melvin Hunt on a side court, the play on the main court was a bit sloppy early on, but a number of players turned in notable performances over the course of the first day.

Player Notes
-
Ukranian point guard
Oleksandr Lypovyy
had a solid showing. A bit of an unknown coming into the event, Lypovyy is a 1991-born prospect who will be automatically eligible for the 2013 NBA Draft. He averaged 11.2 minutes per-game for BC Donetsk this season playing in the Ukranian Superleague and the EuroCup. Turning in above average all-around performances at the junior level, Lypovyy is an oversized point guard with solid ball-handling ability. Standing 6'5 with a nice wingspan, Lypovyy is at his best when he puts the ball on the floor and attacks the rim, where he uses crafty Eurosteps to find seems in the lane and shows good vision finding open shooters on the perimeter. Lypovyy has a somewhat long, slow, albeit smooth release on his jumper, and is only an average athlete at best, but his combination of size and playmaking ability is intriguing. He made a couple questionable decisions with the ball today, but finished with 8 points and 3 assists to pace his team to a 73-60 victory, and played with good confidence throughout the day.
-
One of the most known commodities in attendance,
Tornike Shengelia
played up to his reputation. His outside shot was not falling, but he was extremely aggressive attacking the rim, showing the ability to put the ball on the floor and beat his man of the dribble. He didn't always finish around the basket, but is clearly one of the more assertive and experienced players here. He finished with 9 points on 3/7 shooting and pulled down a game high 5 rebounds.
-
Paul Lacombe
turned in perhaps the most surprising performance of the day. The French guard has jumped around our 1990 prospect rankings over the past few seasons, struggling to find playing time and fighting through injuries which limited his athleticism for stretches with
Tony Parker
's French club ASVEL. He only scored 2 points today, but made plays in the open floor and stood out as one of the best athletes here. He was aggressive on the pick and roll, using his size to his advantage to find the open man. Playing a significant amount of point guard for a player standing nearly 6'5 without shoes, Lacombe may have earned himself some workouts across the pond, choosing a good time to play his best basketball.
-
Russian combo guard
Dmitry Kulagin
appeared a bit out of shape, which isn't a big surprise considering he's probably been resting since his season ended roughly three weeks ago. Despite that, Kulagin's talent relative to his peers remained unmistakable. He changes speeds exceptionally well to find his way into the paint where he shows good touch on his floater and impressive court vision. His outside shot was not falling, and he came off the bench, but Kulagin was clearly one of the best players on the court for stretches. Kulagin has until July 12th to get back into shape for the U20 European Championships, and it will be interesting to see how he performs in the coming days as he's arguably the top long-term prospect at this year's EUROCAMP.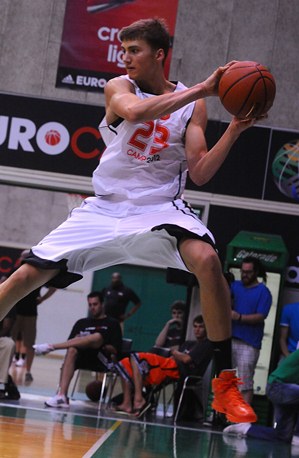 -
Max Kleber
caught the attention of NBA scouts with his mixture of size, fluidity, and skill. A jump shooting power forward who can also run the floor and looked extremely explosive in warmups and crashing the offensive glass, Kleber knocked down a number of spot up shots from beyond the arc, but struggled to hold his own with stronger players down low. Drawing some comparisons to
Jan Vesely
physically, it will be interesting to see how Kleber fares in the athletic testing and measurements. The 1992-born prospect has struggled with injuries in the early part of his career, limiting his exposure on the junior circuit. He saw limited playing time for Wuerzburg in the German League, making this the first time most NBA scouts are seeing him live.
-Young prospects Nikola Ivanovic (terrific on the pick and roll, and extremely mature) and Artem Klimenko (intriguing physically, and a very good finisher around the paint) both acquainted themselves well to the action, not looking out of place despite their youth.
-Considering its our first look at some of these prospects, while others are still finding their footing in this unique setting, we've opted to wait on passing judgement on most of the prospects here until we get to observe them for a full day.
Some prospects, like Tomas Satoransky, were extremely up and down throughout the day, while others--like Izzet Turkyilmaz and Nemanja Jaramaz looked intriguing but deserve a more thorough inspection tomorrow.