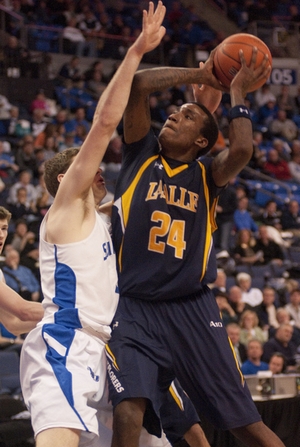 Joseph Treutlein
Coming off a solid freshman season, after which he toyed with entering the NBA draft,
Aaric Murray
has come back to make some modest improvements as a sophomore. While Murray has slightly increased his production and efficiency this year, there are also some things he's still struggling with, namely consistently playing with high effort and focus.
On the offensive end, Murray has the makings of a versatile inside-out game, being serviceable scoring the ball in variety of ways but not great in any one area. The majority of his possessions come off cuts, offensive rebounds, and pick-and-rolls, with him being pretty active getting open and looking for ways to score off the ball. He has good hands, coordination, and mobility, which enable him to get a lot of opportunities, but his lack of noteworthy explosiveness or reactiveness hurts his ability to finish around the basket, specifically when contested.
On the perimeter, Murray showed great potential as a shooter last season, having a great knack for putting the ball in the basket despite unrefined and inconsistent shooting mechanics. He shot 36% from behind the arc last year, and is hitting at the same clip this season, but his attempts are down from 2.9 to 1.2 per game, with him placing more of an emphasis on mid-range shots instead.
At his size with his natural ability, Murray has the potential to be a very potent weapon as a three-pointer shooter, but he too often settles for ill-advised, contested shots and doesn't show much effort in keeping his mechanics consistent. At times he looks excellent knocking down spot-up shots, and he's shooting a very strong 80% from the free-throw line, but his lack of discipline and unpolished mechanics are severely holding him back.
The one area where Murray has probably improved the most this season is with his back-to-the-basket, as he shows a decent developing array of moves in the post, having excellent touch on his right-handed hook shot and the ability to pull up some rangy dropsteps and spin moves. His lack of explosiveness and power hold him back in this area, and it's questionable how his game at this point would translate against higher caliber defenders, though he shows potential here and is still developing.
Murray also improved the rate at which he gets to the free throw line this season, averaging 3.9 FTA per game compared to 2.0 last season, but he still doesn't get to the line as much as you'd like for a player with his tools who shoots free throws as well as he does.
On the defensive end is where Murray is having the most trouble this season, as his effort and focus are continual causes for concern, which led to him playing just 11 minutes in a game against Dayton earlier this week. Murray frequently just goes through the motions on this end, most notably in the way he easily gives up position on the low block, while he's also prone to giving up on plays and letting out of his stance. His fundamentals in the post are not good, though he does do a good job using his length and mobility to block shots at a solid rate both on and off the ball. To his credit, he actually shows some potential defending the perimeter, occasionally showing a solid stance and having the mobility to move around well, but he too often lets out of his stance and just doesn't put in the effort moving his feet.
On the glass, Murray is likewise not very impressive, doing a good job on the offensive glass, but not being especially active on the defensive boards, pulling in just 6.1 defensive boards per 40 minutes pace adjusted. His lack of consistent energy doing the little things is concerning, as his offensive skill level probably isn't at the point where he can make it in the long term unless he's making consistent contributions on defense and the boards.
Looking forward, Murray is an intriguing player with his size, skill-level, and potential as a three-point shooter, while he makes solid contributions in a few other areas as well. As a 21-year-old sophomore who doesn't always show great energy on the floor, however, it's fair to question how likely he is to reach his potential. The fact that he rates as a below average athlete at best for the NBA level doesn't help matters either.
Murray's size and scoring instincts could put him in second round discussions come June, even if he's not a lock to get drafted considering his advanced age, the red flags surrounding him and the underwhelming progress he's made this season.