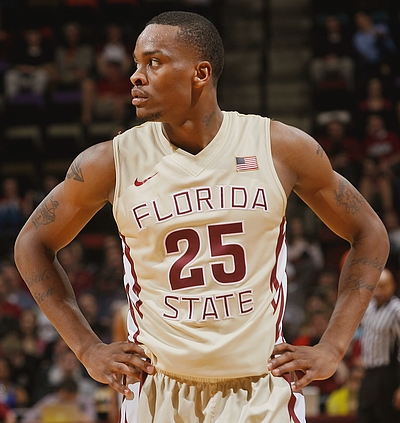 Derek Bodner
After spending his freshman season as a contributing role player, Aaron Thomas shouldered a much larger workload for the Florida State Seminoles during his sophomore season. Thomas, who saw his minutes jump from 18.6 to 31.6, led Florida State in scoring at 14.5 points per game, seeing his per minute scoring average jump from 12.7 points per 40 minutes to 18.4 when adjusted for pace.
This improved play was especially evident down the stretch, as Thomas averaged 18.4 points while shooting 37% from three point range during the 14 games immediately preceding his disappointing performance in Florida State's overtime loss to Minnesota in the NIT semifinals.
The biggest change in Thomas' game was from the perimeter. According to Synergy Sports, Thomas shot only 27.7% on jump shots during his freshman season. This figure jumped to a much more respectable 36.2% during his sophomore year, including 37.1% from three point range, a great improvement over the 22% he shot the previous season. Thomas, often described as having a great work ethic, saw significant jumps coming in both the catch and shoot situations as well as shooting off the dribble, and his shot mechanics looked more fluid this past season, eliminating some extra motion and a hitch in his release.
This increased shooting threat opened up more opportunities off the pick and roll. Thomas has good speed coming off the edge, and the combination of his quickness and threat shooting off the pick presented quite a bit of scoring opportunities for the second year guard. While Thomas still runs through bouts of inconsistency with his jump shot, the drastic improvement he showed in only one season is a good sign when projecting his game going forward.
Thomas is a solid ball handler on the perimeter, although he can still work to improve this part of his game, as he can occasionally struggle to maintain control in tight spaces. Still, he's comfortable driving in either direction, with a good enough handle to change direction with relative ease. His ball-handling, shooting, and quickness allow him some success in getting into the paint.
Once there, though, Thomas had struggles finishing. According to Synergy Sports, Thomas shot only 47.5% on finishes around the basket, a below average mark. It was also well below the 57.8% he shot as a freshman, which could be a combination of his increased work load and a little bit of variance. He has good elevation around the hoop, fairly impressive body control, and solid touch, with a strong upper body that should allow him to play through contact down the line. He does seem to have slightly more confidence with his right hand than his left, and if he could continue to develop his off hand a bit it should help him become a more diversified scorer down low. He also shows flashes of an in-between game with a solid floater, although he can tend to rely on this a little too much at times.
Thomas also gets a considerable amount of his offense, over 25% according to Synergy Sports, in transition. While Florida State hasn't been a very fast-paced team under Leonard Hamilton, Thomas' quickness in the open court generates quite a few chances for him in this regard. At 2 steals per 40 minutes pace adjusted, Thomas' ability as a ball thief helps ignite the break, and he has the athleticism to fill a lane, is quick with the ball in his hands when pushing the basketball up the court himself, and can hit the occasional three point shot as a trailer. Overall, this is the part of the game where his athleticism and quickness really shine.
On the defensive side of the ball, Thomas uses his physical profile well. Standing 6'5" with long arms, good lateral quickness and ability to change direction, Thomas has the tools to be a good defender. He does a good job moving his feet to deny dribble penetration, using his quickness and length to close off driving lanes. Just as importantly, he remains focused and maintains a high effort level, and stays in a good defensive stance that allows him to make the most of his physical tools. One area that he could look to improve is anticipating and fighting through pick and rolls, as he can struggle at times to get around the pick.
Aaron Thomas improved his overall production dramatically during his sophomore season at Florida State, highlighted by his drastically improved efficiency from the perimeter. With a good physical profile, solid athleticism, and the ability to be a plus defender, Thomas could carve out a role for himself if he continues to show that the improvement he made on his jump shot is something that can be relied upon. Still, there's not much that Thomas absolutely excels in, coming in more as a jack of all trades rather than having a bankable skill that makes him unique, and the fact that he turns 23 in less than six weeks, making him one of the oldest juniors in our database, is certainly not ideal. Whether he can develop one translatable skill, such as being a knockdown standstill shooter, could determine how easily NBA decision makers see him filling a role at the next level.