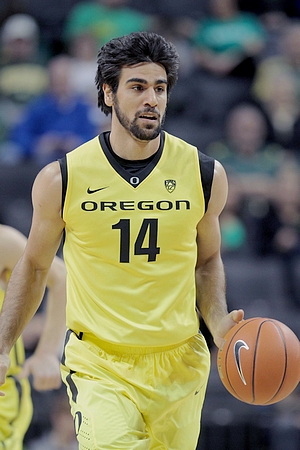 Kyle Nelson
After a successful three year career at Rice University,
Arsalan Kazemi
transferred to Oregon for his senior season and was approved to play immediately by the NCAA
amid allegations
of racial discrimination on the part of Rice's athletic department.
While the Iranian dominated low and mid-major caliber talent at Rice, NBA scouts have now had the opportunity to evaluate his play nightly against high major competition. The results so far have been somewhat mixed. Kazemi
remains one of the best rebounders in the NCAA
, but he has struggled through a pair of minor injuries and has not been
much of a factor in Oregon's offense
. Though scouts have been reassured that he can hold his own consistently as a rebounder against any type of competition, it still remains to be seen whether he can contribute enough in other areas to make him a legitimate NBA player.
The most pressing issue in this regard, as has been
the case
throughout
his entire career
, focuses around his physical profile and projected position. Now a senior, Kazemi has developed very little in terms of perimeter skills, as he's still primarily an interior oriented big men at the collegiate level. Whether he'll be able to play power forward in the NBA is uncertain, as he stands somewhere between 6'7 and 6'8. His solid length and improved 226-pound frame help his case somewhat, as does his above average athleticism, lateral quickness, and an excellent motor.
Playing power forward in the PAC-12 has also given scouts the opportunity to evaluate his skill set against better defenders, and Kazemi has proven to be a fairly limited offensive player, relegated mostly to scoring off cuts, offensive rebounds and running the floor in transition. He is averaging just 8.7 points per game, 12.3 points per 40 minutes pace adjusted while attempting just 5.3 field goal attempts per game thus far.
Kazemi still moves incredibly well without the ball, showing excellent hands and solid leaping ability reigning in passes and finishing around the basket. At times, he also shows the ability to attack his man off the dribble in a straight line, though his ball-handling skills are fairly raw and he's not the type of player who can be consistently asked to create offense for himself. His active and aggressive style of play allows him to get to the free throw line at a pretty solid rate, though.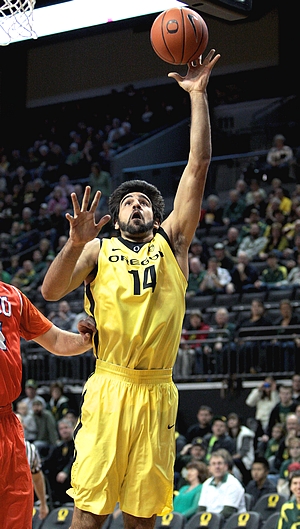 Kazemi has not developed any semblance of a jump-shot through his time in college, as 94% of his shots come around the basket according to Synergy Sports Technology, while the 69% he's shooting from the free throw line is a career high.
On defense, Kazemi still shows active hands, and solid awareness, which allow him to defend power forwards adequately at this level. He does a good job of getting into passing lanes, as evidenced by his career high 3.0 steals per 40 minutes pace adjusted, which ranks him #1 amongst all power forwards in our database and is an accurate reflection of the excellent energy-level and anticipation skills he brings to the table. With that said, he still struggles to guard bigger and stronger post players due to his lack of size, but he nonetheless does a solid job of holding his own in the paint considering his physical limitations. Guarding NBA small forwards may be challenging for him as he does not appear to possess great lateral quickness when defending the perimeter, even if he does a solid job of staying in plays even after he is beat.
Kazemi is grabbing 9.8 defensive rebounds per 40 minutes pace adjusted, ranking third among all power forward prospects in our database, and 13.4 total rebounds per 40 minutes pace adjusted, which ranks fifth. Simply put, he's a rebounding machine at the high major level, which is by far his biggest selling point as a pro prospect.
Early on in his career there was some school of thought that Kazemi may eventually have to transition to playing on the perimeter, something that looks unlikely given his development thus far. Considering the way the NBA game is evolving, though, that might not be necessary. Players like
Kenneth Faried
(measured 6-6 without shoes),
Thaddeus Young
(6-5 ¾ without shoes),
Chuck Hayes
(6-5 1/2),
DeJuan Blair
(6-5 ¼),
Jeff Adrien
(6-5 ¼) and
Jason Maxiell
(6-5) see significant minutes in today's NBA and are more than holding their own on the interior.
Kazemi's NBA prospects likely hinge on him finding the right opportunity to play for a coaching staff that is willing to accept his limitations as a player while being committed to taking advantage of his many strengths. While he is an excellent rebounder, an above average passer, and a smart player whose hustle compensates for his many of his limitations, he also will likely struggle to contribute much offensively and will be limited on certain nights defensively depending on the matchup. Even if the NBA is not in the cards for him, there will surely be a market for his skill-set in Europe or possibly in China, where players with Asian passports are very coveted commodities.