Scouting Report by Matt Williams. Video Analysis by Mike Schmitz/
One of a handful of draft-eligible players that made significant contributions in the Euroleague this season,
Arturas Gudaitis
has made a strong case that he's the top long-term NBA prospect in the crop of 1993-born players that will be automatically eligible for the upcoming draft, averaging 6.5 points and 4 rebounds per game for storied Lithuanian club Zalgiris Kaunas.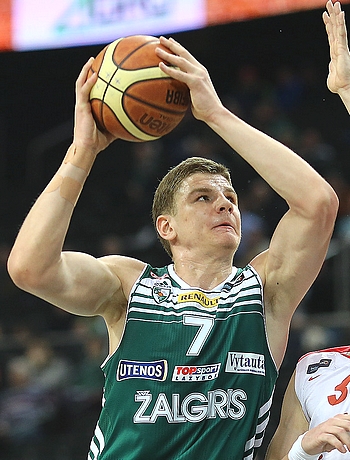 Following a somewhat unique path to this point due to a variety of circumstances, Gudaitis emerged as a prospect with a strong showing at the 2011 Nike International Junior Tournament (now known as the adidas Next Generation Tournament) averaging 10.4 points and 10 rebounds per game playing for Rytas in the qualifying round, before switching to rivals Zalgiris for the finals held at the Euroleague Final Four. That was his first real taste of quality basketball competition, because unlike nearly every prospect we've covered from basketball-crazed Lithuania, Gudaitis didn't pick up the game until he was 14-years old. Abandoned by both his parents and raised by a nanny, he came from a tough background and thus took longer to develop than most players from that area. Nonetheless, the young center carried his momentum from the NIJT into a successful stint for Lithuania that summer at the 2011 FIBA U18 European Championship where he averaged 11.3 points and 6.2 rebounds while finishing with the 3rd highest PER.
Having played at the junior level to that point in his career, Gudaitis spent the 2011-2012 season in the 2nd division, starting the year with Gargzdai and finishing it with Nafta-Universitetas ranking 18th in points and 2nd in rebounds per game by season's end. Moving to one of Zalgiris's reserve teams, for the 2012-2013 season, Gudaitis once again ranked among the most productive players in the NKL, but a knee injury he suffered in May required surgery, which kept him out of action for the entire summer and part of last season.
His injury perpetuated in an extended absence from the FIBA play, since Lithuania brought only 1992-born players to the 2012 U20 European Championships and his knee injury coincided with the 2013 event. Though Gudaitis bounced back to average 5.4 points and 3.1 rebounds per game over 27 games last season playing for Zalgiris in the Euroleague and LKL coming off months of rehab, the fact that he had been on the fringe of the NBA radar in the NKL for two seasons, wasn't identified until his late-teens, and missed out on the exposure of FIBA competition had made him a forgotten man of sorts prior to his return to the floor. Fully healthy coming into this season, Gudaitis was a prospect many teams were keeping a close eye on, and while he isn't playing an overwhelmingly large role, he's been highly productive on a per-minute basis against some of the best competition outside of the NBA.
(Video may not load with Internet Explorer. Use Chrome or Firefox)
Gudaitis's intrigue as a NBA prospect and his ability to score inside and pull down rebounds at a respectable rate start with his physical tools. Standing around 6'10 in shoes, with a 255-pound frame and big hands, the physical, slightly undersized center is built similarly to the newly trimmed down
Mitch McGary
. Despite the knee injury he suffered right around two years ago, Gudaitis is a terrific athlete for his size. He has exceptional mobility for his size, runs the floor extremely well, and is often able to compensate for his average length inside with fairly impressive leaping ability.
On top of his sheer size and athleticism, Gudaitis is a very physical player. He dives to the rim with purpose after setting screens on the perimeter, gets extremely low and looks to move bodies when posting up, and throws himself recklessly into contact when looking to score. Much of his production is based on his effort, athleticism, and physicality.
Offensively, Gudaitis plays a modest role in the Euroleague, and a larger one when Zalgiris competes locally in the LKL. In general, Gudaitis's point production is predicated on his ability to move without the ball, set screens, and crash the offensive glass for finishing opportunities inside. Though he's far more consistent finishing against lower quality competition, the young Lithuanian has converted 62% of his shots inside on the year according to Synergy Sports Technology, as his mobility and assertiveness pay dividends against far more mature and experienced players. A threat to catch and finish explosively rolling to the rim or tip dunk the ball when he isn't boxed out effectively, Gudaitis is capable of making the occasional
highlight reel play
inside.
He lacks great touch and overall feel around the rim, which makes him a bit predictable as he often looks to simply power the ball over the front of the rim inside, which limits him against bigger, more disciplined interior defenders. Embracing contact, his FTA/FGA of .84 is among the highest in this draft class regardless of league and position. Even as only a complementary option, Gudaitis averaged a tremendous 8.85 free throw attempts per-40 minutes in the Euroleague to rank third among all players, while hitting 72% of his shots from the line.
Though some 72% of the soon to be 22 year old's field goal attempts come right around the rim, he flashes some pretty interesting skills offensively. Lacking a degree of polish and an ideal grasp of the limitations of his skill set, Gudaitis is prone to forcing things on occasion from the inside and out. At times, that results in ill-advised jumpers, wild shots in close, and botched dribble hand offs, but it also leads to an occasional driving dunk, deft shots from the midrange, and impressive hook shots in the post.
(Video may not load with Internet Explorer. Use Chrome or Firefox)
Making just six of the 17 jump shots he attempted this season and 44% of his shots operating one-on-one on the block, Gudaitis seems to have a number of budding skills offensively and manages to be a very efficient scorer overall despite the amount of room he has to improve his decision-making and polish on this end of the floor. He ranks as one of the worst passers in the draft, posting a very poor 3.8% assist percentage and turning the ball over on 15% of his post-up possessions.
Finishing fourth in the Euroleague in offensive rebound percentage, Gudaitis's energy and athleticism translates nicely to the glass, especially on that end of the floor. He doesn't have the best instincts on the defensive boards, but he's a strong area rebounder, as evidenced by his 7.8 defensive rebounds per 40 minutes pace adjusted, even if he was far more productive in this area against weaker competition than he was against real big men.
Defensively, Gudaitis struggles at times with the fundamentals, taking poor angles to recover to the ball and being a bit overaggressive on the perimeter. Despite that, much like on the offensive end, he has some promising tools to build on defensively even if he's unpolished. He has potential as a pick and roll defender thanks to his foot speed, competes every play, and was one just 5five players in this draft class to average over 1 steal and 2.5 blocks per 40 minutes pace adjusted.
Though he doesn't have outstanding length, Gudaitis provides a shot blocking presence inside. Not afraid to put himself in position to get dunked on, Gudaitis doesn't hesitate to challenge finishers right at the front of the rim, and his combination of explosiveness and strength have allowed him to send back a number of would-be highlight reel plays this season. The Lithuanian big man's 2.7 blocks per-40 minutes puts him right around the same block rate as a number of far longer players at the college level, specifically
Willie Cauley-Stein
and
Rakeem Christmas
. Committing 5.3 fouls per 40 minutes pace adjusted, Gudaitis lacks a degree of discipline and experience, often leaving his feet when contesting shots, but does flash good timing sliding over the weakside.
A highly productive player despite remaining unrefined in a number of areas,
Arturas Gudaitis
is one of the more interesting international prospects in this draft class after the elite tier of players slated to go in the lottery. A bit of a late bloomer who lacks experience and a great feel for the game, Gudaitis held his own in the best competition outside of the NBA for stretches, and despite his advanced age relative to some of this draft's international prospects, retains intriguing potential due to how many of his weaknesses are correctable. If he were 6-11 or 7-0, he would surely be a lock to be drafted in the first round, but even at 6-10 he remains a very interesting prospect. It will be fascinating to see what kind of trajectory his career takes in the coming years.