Brandon Huffman, 6-9 C, Word of God Christian Academy, NC, 2017 Class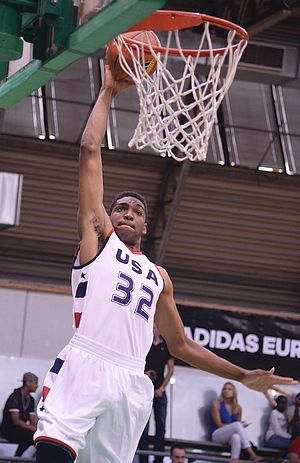 Strengths
-6' 9" with a developed, proportionate 230-pound frame that still has room to fill out. Above average length. Big hands.
-Not overly fluid but is mobile for his size. Can get up and down the floor. Able to play above the rim in space.
-High motor on both ends. Runs the floor hard.
-Uses his physical tools and effort level to have an impact on the glass and the defensive end. Likes physicality. Pursues rebounds aggressively. Protects the rim a bit. Can bang in the post.
Weaknesses
-A tad undersized for a center prospect.
-Can play above the rim in space but isn't an overly explosive leaper from a standstill. Not all that comfortable guarding the perimeter at this stage.
-Fairly limited offensively. Not a threat from the perimeter and isn't very polished on the block. Footwork is a bit rigid, doesn't have all that much natural touch.
-Feel for the game isn't great. Basketball instincts and IQ have room to improve on both ends of the floor
Outlook
The Anchorage, Alaska native didn't get a ton of run at Eurocamp but DraftExpress has scouted him at various camps in the past and the uncommitted 2017 big man is worth keeping an eye on thanks to his high motor and physicality. Although Huffman has his limitations, he'll most certainly be fielding high major offers and should be able to carve out a nice niche at the college level as a high energy big man.