Josh Riddell
The 50th ranked RSCI recruit in the 2015 class, Brandon Sampson got off to a good start, but overall struggled to make his mark on a disappointing LSU team. Beginning the year as a starter, due to injuries, he saw his minutes slip to just seven per game in SEC play. With the roster turnover the team has experienced, most notably Ben Simmons and Tim Quarterman, Sampson is hoping to parlay the intriguing sparks he flashed as a freshman to a breakout sophomore season as a sophomore, as the team will need to rely more heavily upon him as an offensive focal point.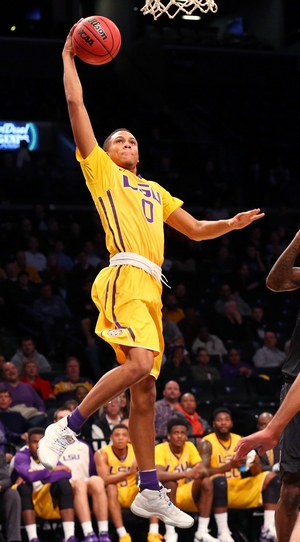 Measured at 6'5" with a 6'8" wingspan and 185 pounds at LSU's pro day in 2015, Sampson certainly has the dimensions of a NBA shooting guard, even if his frame is still a work in progress. He has some nice athletic gifts as well, most notably his leaping ability around the basket. He will need to play with a little higher energy this season as he had a tendency to coast offensively, especially as demonstrated when he chooses to run in step with his defender in transition instead of tapping into his next gear and looking to sprint into space.
He wasn't a very efficient offensive player, posting a true shooting percentage of just 44.3% and struggling to find any flow in the offense. While he showed flashes of shooting potential due to his fluid shooting mechanics from the waist up, he ended the year shooting a below average rate of 26.9% on 7.5 3-point attempts per 40 minutes. He has displayed a nice stroke with his feet set, which makes it plausible that he will improve his efficiency as a sophomore, but he will need to iron out some kinks in his shot to reach a higher level over a large sample size. He has a tendency to plant his feet inconsistently, jump too far forward, and contort his lower body sideways on many of his attempts, hurting his balance in the process.
Sampson showed promise on catch and shoot opportunities by converting 32.6% of his 43 attempts logged by Synergy Sports Technology. However, he struggled shooting off the dribble, as he made just one of his 22 pull-up jumpers logged by Synergy Sports Technology. He has a bad habit of attempting heavily contested jump shots early in the shot clock which has hurt the offensive rhythm of his team. He has to improve his decision making with the ball in his hands to help him pick his spots better as to when to look for his own shot and when to move the ball in the flow of the offense.
While Sampson has demonstrated some potential that he can develop into a shooter down the road he hasn't yet shown that he can complement that skill offensively to become a versatile scorer. He lacked any further refinement in his skill-set, unable to get to the rim and score off the dribble in the half-court, or show off any passing skills to create offense for his teammates. He does have a quick first step that can get him past his primary defender but lacks much shake to his game to be able to beat the help defender and create offense or finishing ability at the rim to end drives with a basket.
His low effort level that showed up in some moments offensively also showed on the defensive side of the ball and despite his physical tools, Sampson made little impact for his team. He failed to regularly pressure the ball, close out hard or rotate to help his teammates defend. He definitely has the athletic makeup to be able to defend shooting guards but needs to improve his technique and play with a higher motor to increase his individual defensive contributions and become a more reliable team defender.
Losing his confidence after a solid start to the year, partially due to the circus-like atmosphere that plagued LSU's lone season with Ben Simmons, Sampson's freshman campaign wasn't anything to write home about. He'll hope to bounce back after a rough first year and earn more playing time to show his on-court skills and player development. He should get his chances early on in the year to prove himself and be a more reliable creator offensively. His physical profile and potential as a spot-up shooter have grabbed the attention of NBA scouts but Sampson will need to show substantial improvements in both his skill set and feel for the game as a sophomore to stay on the radar of NBA teams.