Jeremy Bauman
An RSCI Top-100 recruit coming out of Gonzaga College Prep in Washington, D.C., Bryant Crawford elected to play for a Wake Forest program that was firmly entrenched in Head Coach Danny Manning's rebuilding process. The Demon Deacons lacked experienced playmakers and opted to build for the future, handing the keys to the team to Crawford, who averaged over 30 minutes per game during his freshman campaign.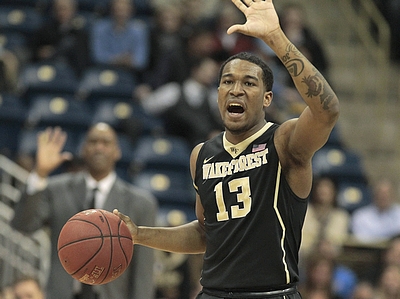 At 6-3 and 200 pounds, Crawford has good size, plus length and a frame that appears to have room to fill out nicely for a point guard. A sneakily good athlete who mixes pace into his approach, Crawford is quick and explosive in transition, though he isn't incredibly fast. The 19-year old has a high basketball IQ but is still learning to harness his physical tools to become more productive as a playmaker and scorer. Crawford has average lateral quickness but has quick, strong hands and good anticipation skills at the defensive end.
With playing time came opportunity, and Crawford, a point guard with definite potential as a scorer, stepped up for a team that desperately needed a boost last season. He shot a solid 34.8% on 3-pointers, and even flashed NBA-range at times, and was relied upon from a volume perspective, taking 5.4 attempts from behind the arc per game.
Still, Bryant's shot selection was questionable and he was guilty of forcing his share of bad shots. He doesn't have a very natural looking stroke, either, as he has an inconsistent release point above the middle of his head (which generates sidespin and looks like a slingshot) and doesn't get much elevation off the ground.
At this stage in his development Crawford is more comfortable shooting in catch-and-shoot situations rather than off the bounce, as he needs to gain confidence in attacking close-outs, creating separation and getting his shot off. All in all, Crawford's form and mechanics can certainly be improved to gain better consistency and efficiency moving forward.
Experience is invaluable from a young playmakers' perspective, and Crawford's first season at the helm in Winston Salem provided no shortage of opportunity to learn by playing through ups and downs. He averaged the most assists per game (4.4) of any freshman in Atlantic Coast Conference play last season and showed the ability to find cutters, make the extra pass along the perimeter or penetrate and dish with a wide variety of passes with both hands to open teammates in the paint or on the perimeter.
However, Crawford did struggle to navigate pick-and-roll situations efficiently and yielded turnovers on a very high 25.2% of his 151 possessions, according to Synergy Sports Technology. In addition to his pick-and-roll growing pains, Crawford at times tried to make home run plays instead of simple plays in transition. For the most part, his turnover problem was the byproduct of over-dribbling and careless mistakes, such as forced, late, telegraphed and errant passes, and he will need to improve his high turnover rate (4.3 per-40, 21% TO%) as a sophomore.
Crawford is best as a finisher in transition, where he uses quickness and makes creative use of angles to get to the basket. He's stealthily explosive and capable of finishing above the rim in open space, but has to improve his touch, versatility, awareness and basketball IQ as a finisher. He has a tendency of rushing floaters to the rim and was limited to finishes with his right hand last season. Learning how to finish in-between shots after penetrating into the heart of the defense is paramount for a lead guard and Crawford must diversify his finishing repertoire.
The defensive end was a mixed bag for Crawford, as he struggled to keep opponents (especially quicker ones) from penetrating in pick and roll situations, despite his solid physical tools. Though he has to take better angles and show more fight when being screened on the perimeter, Crawford had his moments, flashing very good anticipation in passing lanes and as an on-ball defender at times, utilizing his quickness, strong hands and anticipation skills to rack up 1.7 steals per game. Considering his physical traits, it would be a disappointment if he doesn't make a bigger defensive impact as a sophomore.
Trial by fire was without a doubt the theme of his freshman season but, in spite of the inherent growing pains that come with being the leader of a young team, Crawford impressed in spurts and can build upon his playmaking, perimeter shooting and defensive prowess. The 19-year old point guard will certainly enhance his profile and create intrigue amongst decision makers at the next level if he improves his shot selection, consistency, in-between game, decision making and defense. Scouts will be monitoring his development closely this season and beyond to see if he can learn from his experience and improve his polish.