Chris Smith, 6' 7", Combo Forward, 16.6 years old, USA, Class of 2018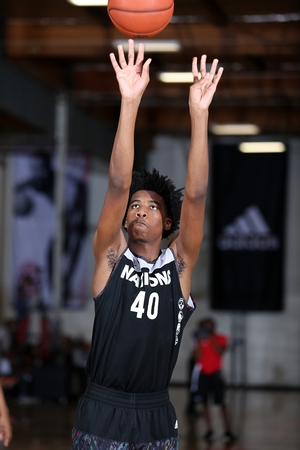 Strengths
-Nice physical profile for a 16-year-old combo forward at 6' 7" with a solid frame and decent length.
-Super fluid. Moves like a wing with and without the ball. Quick off the floor. Can finish above the rim in space.
-Shows a lot of potential offensively. Smooth, mechanically sound stroke. Comfortable ball handler who can play at different speeds, get low to the ground on drives and get to his jumper off the bounce. Has floaters.
-Very comfortable attacking closeouts and putting it down in a straight line. Prefers to drive left. Crisp footwork and sharp timing.
-Moves his feet well on the perimeter defensively when he's engaged. Has the tools to make plays off the ball – 1.7 steals and 1.3 blocks per 40 minutes at Adidas Nations.
-High upside overall given his combination of age, tools and skill level
Weaknesses
-Very talented but hasn't quite found where he's most effective against top competition. Shows potential in a lot of areas but isn't great in one particularly – can handle impressively for his size but gets loose with it versus pressure.
-Can make shots from the perimeter but it didn't translate consistently at Nations (1-for-8 from three).
-Nice frame but doesn't have huge shoulders. Young but a little on the light side – gets knocked off balance on his way to the rim, negating a lot of his drives.
-Right hand dominant around the rim. Takes a lot of tough floaters. Can do a better job handling contact in the paint.
-More fluid than freaky explosive
-Not a very comfortable passer. Doesn't see the floor all that well. Looking to score rather than distribute. Two assists and 11 turnovers in 100 minutes at Adidas Nations. Will settle for deep threes early in the shot clock.
-Bites on fakes guarding the post. Goes for steals.
-Shows potential on the glass but can get tougher and more physical on the interior. Too upright guarding the perimeter. Can improve his defensive IQ and fundamentals.
Outlook
The 16-year-old forward is a high-level recruit who should end up having his choice of top-level tools when it's all said and done. As are most players his age, Smith is still putting it all together and working to figure out where on the floor he adds the most value. With that said, it's hard to find players with his tools, fluidity, and impressive skill level. Whether he's able to develop into a full time wing or grow, get tougher and become more of a perimeter four man, Smith is an extremely intriguing talent for both colleges and NBA scouting departments to track moving forward.