Matt Williams
A consensus top-150 recruit in the high school class of 2013, Damonte Dodd's first two years in College Park were mostly a learning process. Averaging 4 points, 3.8 rebounds, and 1.5 blocks overly 15.9 minutes per game a year ago as a 20-year old sophomore, Dodd is still working to carve out a significant role at the college level, but flashes a number of qualities that give him interesting long-term upside.
Listed at 6-11, with an imposing wingspan and a 250-pound frame that still has room to improve, Dodd has nice size for a center at any level. Not a fluid or freakishly gifted athlete by any means, Dodd is noticeably pigeon-toed, but runs quite well for his size, and has little trouble playing above the rim in the paint.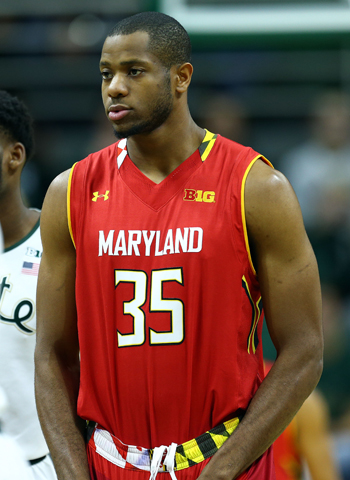 Skill-wise, Dodd is a fairly limited player at this point, seeing most of his touches come around the basket in the form of put backs, rolls to the rim, and dump-off passes. A very capable finisher when he's able to catch the ball cleanly thanks to his size, Dodd shot an impressive 69% at the rim in non-post up situations according to Synergy Sports Technology last season. Despite that, Dodd's average hands, footwork, and touch don't allow him to take exploit as size consistently on the block. Proving to be very turnover prone and clearly rushing to make moves inside, Dodd appears a bit out of place at times and has plenty of room to improve, even if he is fairly efficient at the college level.
Not a threat away from the rim but shooting 63% from the line, up from a dismal 13% on 2-16 as a freshman, it will be interesting to see what kind of weapon Dodd proves to be in the coming years. He may never be a particularly dynamic weapon, but he took a step forward a year ago, even if it was a small one, and could emerge as a terrific catch and finish threat at the college if the game slows down for him and he improves his hands and footwork.
Where Dodd has contributed early in his NCAA career is as an offensive rebounder and shot-blocker, ranking among the sophomore leaders on a per-minute basis in both areas. He's a useful player to have around the basket because of his size, length, and energy. He's already a capable individual defender on the block at the college level thanks to his sheer size, but could stand to be a bit more disciplined, as some craftier big men are able to use his aggressiveness against him. A very aggressive defender who eagerly chases blocks rotating off from the weakside, Dodd's effort as a rim protector allow him to make an impact in limited minutes at the college level, even if it gets him in foul trouble, and is a key part of his value proposition as a pro.
Like many young, raw big men, the best thing you can say about Dodd at this stage is that he has potential, as he was clearly not overly productive over his first two seasons under Mark Turgeon. Even so, there's still an obvious niche for energetic rim protectors at the next level. It will be fascinating to see how Dodd is used this season as Maryland adds five-star center Diamond Stone and figures to rank among the most talented teams in the entire country. If Dodd can show improved hands and patience offensively while cutting down on his fouls defensively, he could emerge as a viable prospect in the coming years.