Josh Riddell
A top 100 ranked RSCI recruit in 2013, E.C. Matthews committed to Rhode Island while turning down many BCS-conference offers. He has since developed into one of the top players in the Atlantic 10 by ranking third in the conference in scoring at 17.0 points per game while being named to the All-Conference second team last season.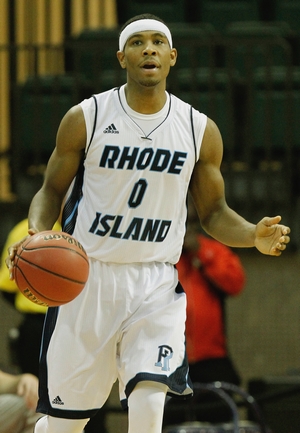 Measured at 6'4", Matthews has great size for a guard although he needs to add some bulk to fill out his frame. He has a decent wingspan, measured at 6'7", which should be sufficient enough to allow him to be able to compete on both ends against NBA level guards. His size allows him to see over the defense, allowing him to survey the floor and make the right decisions with the ball in his hands. He does not possess break-neck speed in transition for a guard but shows the ability to create shots for himself in the half-court with his savvy, changing speeds and directions impressively with strong ball-handling skills.
Matthews is a prolific pick and roll player, showing the ability to get by opponents with his first step, but also a propensity for changing speeds and mixing in advanced moves to get defenders off-balance. He can drive right or left and can get all the way to the rim, although he needs to improve his touch, strength and explosiveness around the rim to fully take advantage of his shot-creating prowess. He's a player who could create his own half-court offense at the next level, but will need to become a significantly better finisher to justify having the ball in his hands as much as he'd like.
Matthews converted just 46% of his attempts inside the paint last season, according to Synergy Sports Technology and just 49% of his overall two point attempts. While he has no issue getting to the rim, he isn't a consistent finisher when he gets there. He doesn't have a high level of explosiveness to rise above the defense, nor does he have the tenacity to drive into the rim protector and finish through contact. This leads to some wild, off-balance shots that don't have much hope of going in from the start. With his ability to get into the paint, he'll need to find a way to become a better finisher at the rim to come away with positive possessions for his team, but to his credit, he does get to the free throw line at a nice rate (6.7 times per-40).
When he drives into the lane, he has demonstrated some ability as a passer to create open looks for his teammates. He can see over the defense with his size and can make passes while on the move. He's not a high volume passer, as he totaled a pedestrian 2.4 assists per 40 minutes pace adjusted, but he has shown nice vision and instincts at times that prove he could grow into being more of a combo guard in time.
One area that he must improve upon is his turnover rate, as he averaged a sky-high 4.3 turnovers per 40 minutes pace adjusted last season. These turnovers ran the gamut from out of control drives leading to charges, being stripped on penetration due to his loose dribble or making bad decisions on passes. He has a tendency to get sloppy with the ball both off the bounce and with his passes by making either a lazy pass or trying to force the ball into a tight area. He needs to learn to play under control in the half-court and make the simple decision to keep the offense on track instead of always trying to make a highlight play. Should he end up getting drafted, Matthews' -6.66 pure point rating last season would rank as the 3rd worst rate among point or combo guard draft picks since 2002.
Matthews is not afraid to let it fly from distance, as he attempted 7.8 attempts per 40 minutes pace adjusted. He is an inconsistent shooter, however, which leads to mixed results from this spot on the floor, being more of a shot-maker than anything at the moment. He gets good elevation, can come off screens a bit, and is a threat both pulling up and with his feet set, hitting quite a few shots last year from both areas, albeit highly inconsistently.
Overall, Matthews converted on only 32% of his attempts, which is disappointing after hitting a higher rate as a freshman. He has an inconsistent release on his jumper and unorthodox mechanics overall (jumping forward significantly at times, shooting off the side of his hand, and/or staggering his feet awkwardly), and there are questions about how accurate of a shooter he can be from NBA range.
With some changes to his mechanics, its possible Matthews could become a better shooter both in catch and shoot situations and off the dribble, increasing his versatility as an offensive threat. He isn't there yet, converting 35.7% of his catch and shoot jumpers and 31.7% of his jumpers off the dribble according to Synergy Sports Technology, but there is potential for improvement.
Defensively, Matthews can develop into an asset but he isn't there yet on the court. His effort and focus level has a tendency to wander both on and off the ball. He isn't always in a defensive stance, which can leave him flat-footed against dribble penetration. He doesn't always close out hard to contest jump shots, instead lazily jogging out to the perimeter.
If Matthews can add strength, he'll have all the physical tools to be a capable defender. At this point, he can get bumped off his line and he will need to get stronger to hold off NBA guards. His size and speed combination offer a nice foundation but he will need to improve his focus level and commitment to defense to provide any value.
After a somewhat disappointing sophomore season, Matthews returns for his junior year, hoping to lead what is projected to be a very strong Rhode Island team to the NCAA tournament for the first time since 1999. He's already an intriguing draft prospect due to his size and ability to create offense and score from different spots on the floor, but if he becomes a better shooter and decision maker, his stock could certainly rise significantly this season.