Jonathan Givony
As the Euroleague advances into the Top-16 stage, just one draft-eligible prospect is still seeing consistent playing time. Turkish big man
Furkan Aldemir
is the last man standing, still warranting buying a ticket to a Euroleague game as far as NBA scouts are considering buying a ticket to a Euroleague contest are concerned.
Growing up playing for Pinar Karsiyaka in his hometown of Izmir, Aldemir had already started getting attention from scouts already at the age of 18 thanks to the gaudy rebounding numbers he was producing at the senior level. He entered his name in the 2011 NBA draft, but elected to withdraw upon signing a four year contract with Galatasaray, one of the richest teams in the Turkish league. This past summer he represented his country in the U-20 European Championship, leading the somewhat watered down competition in rebounding with an impressive 15.9 boards in 35 minutes per game.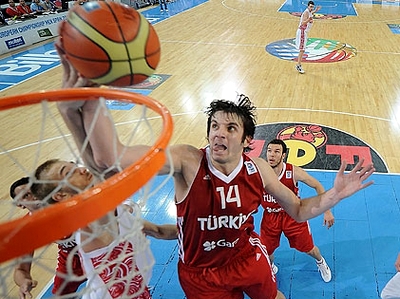 Now just one game out of first place in the TBL and having qualified for the Euroleague Top 16, this has been a relatively successful season for Galatasaray thus far. Aldemir plays about 16 minutes per game on average almost exclusively at the center position, posting an efficient 18.7 points and 12.3 rebounds per-40 minutes.
Aldemir stands somewhere between 6-9 to 6-10, with a strong frame, good length, and average athleticism by NBA standards. He doesn't run the floor or elevate off the ground exceptionally well, but plays with toughness and intensity and is effective in the simple, but important role that's asked of him.
Aldemir rarely touches the ball outside the paint, with virtually all of his offense being created for him by teammates around the rim. He's utilized heavily as a pick and roll finisher, showing good hands and the strength to power his way up around the basket through contact, sometimes with a dunk. While not incredibly explosive with his finishes, he's not afraid to take a hit in the paint and get to the foul line, where he converts 65% of his attempts.
Not showing a very high skill-level on the perimeter, Aldemir doesn't possess much of a back to the basket repertoire either at this stage, displaying average footwork and touch. He'll likely need to develop some type of jump-shot later in his career if he's to evolve into a more significant role than the one he currently plays, but for now he looks very content simply setting screens and finishing anything his teammates are able to create for him around the basket.
Aldemir's main virtue as a prospect lies in his rebounding ability—ranking 2nd in the Euroleague on a per-minute basis in the group stage in that category. He boxes out well, is extremely physical, has soft hands and anticipates well. His strong frame and intensity-level pursuing loose balls would likely translate to any level of competition, and there is certainly value in that from a NBA standpoint.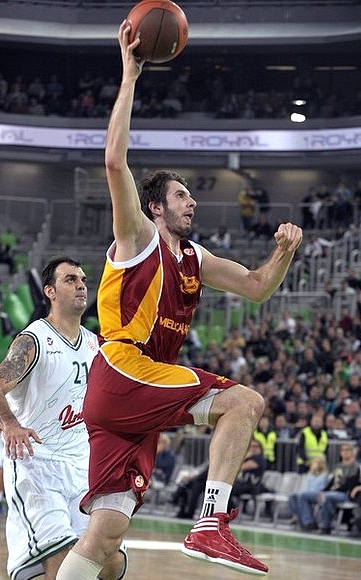 Where Aldemir will likely need to improve the most to carve out a role for himself in the NBA is on the defensive end. He doesn't have great size for the center position, and likely isn't quick or agile enough to see many minutes (if any) at the power forward spot. He has some trouble already at the Euroleague level defending the post against more experienced players, giving up deep position inside the paint, biting on pump fakes, and being very foul prone.
While Aldemir's virtues as a rebounder, and the success fellow Turkish big man
Omer Asik
, will draw him plenty of attention from NBA scouts this spring, some may wonder how much upside he has beyond the role he currently plays for Galatasaray.
Aldemir can still likely improve his conditioning by toning his body and attempting to maximize his athleticism, but he doesn't project as more than a rotational big man at best for most NBA teams.
Cultural differences, his unique background, his lengthy contract and the increasingly lucrative nature of the Turkish league may prevent him from ever stepping foot in a NBA arena, but Aldemir could potentially provide good value for a patient NBA team looking to use their second round pick on a player they can draft and stash in Europe for a few more years.