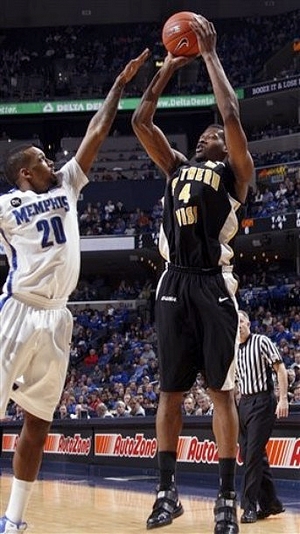 Kyle Nelson
After showing potential as a junior, Southern Mississippi forward
Gary Flowers
has made significant strides thus far during his senior season.
As has been written in the past, Flowers has above-average size for a combo-forward with good length to compensate. In addition, he is a fluid athlete, which makes his tweener skill-set more adaptable to the next level.
There is a lot to like about Flowers on the offensive end, as well, where he ranks
amongst the best scorers in college basketball
, shooting a very efficient 52% inside the arc and 44% from 3-point range. His shooting motion remains inconsistent and his jump shot gets little arc, but he has nonetheless developed into a solid perimeter shooter and a reliable pick-and-pop and spot-up threat at this level.
Inside of the arc, he continues to show potential as a face-up scorer with his growing comfort in his pull-up jump shot. He must continue to work on his ball handling, however, as he rarely is able to utilize his athleticism off the dribble and he is still very limited as a shot creator. He is a solid finisher around the basket, as well, where his quick feet, explosiveness, and soft touch off of the glass work to his advantage. While he struggles to carve out space in the post and he does not move particularly well without the ball, he has some solid post moves and can catch-and-finish.
At this stage his skill set resembles that of a face-up power forward, but his improvement and athleticism continues to suggest that with continued work he could see minutes at the small forward position in the future.
Unfortunately, Flowers has improved little on the defensive end this year, still showing the combination of mediocre fundamentals and general lack of effort that hindered him as a junior. With solid lateral quickness, length, and athleticism, he has the physical tools to be versatile, and will occasionally make a standout play, but he is, at best, a below average defender at this stage.
Gary Flowers
is intriguing given his size, athleticism, and scoring ability. He will also be 25-years-old (with a
checkered past
) at the beginning of his rookie season, so how much more he can and will develop is unknown.
Furthermore, he has done little this season to dispel the notion that he is a tweener on the defensive end, too small to guard traditional power forwards and not solid enough to be trusted to guard small forwards, a reputation that might hurt his draft stock.
Fortunately, however, Flowers will have the opportunity to prove himself at the Portsmouth Invitational Tournament, which is well-suited to his style of play and where he can prove to scouts that he can play a role at the next level.