Joe Treutlein
Gary Neal, 6-4, Shooting Guard, San Antonio Spurs
18.4 minutes, 8.5 points, 2.7 rebounds, 0.7 turnovers, 42% FG, 38% 3PT, 88% FT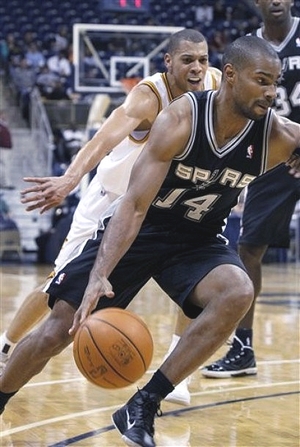 One of the more interesting rookies in this year's class,
Gary Neal
has taken a roundabout route in getting to the NBA, last playing college ball in 2007 when he graduated from Towson. A player we covered in great depth in college, Europe and after his latest summer league stint, Neal has spent time in Turkey, Spain, and Italy with varying success before getting his first crack at NBA Summer League ball prior to this season, which he promptly turned into a three-year guaranteed deal with the Spurs. Thus far, Neal has been settling in quite well, and this in spite of his role changing dramatically from his time in college and Europe.
Part One: Offensive Role
Then:
"Now in his third season in Europe after an eventful NCAA career, few American guards are thriving as much as
Gary Neal
is in Italy right now. He leads the league in scoring at over 20 points per game, and is managing to do so in an extremely efficient manner (65% 2P, 37% 3P, 5 FTAs per game) despite shouldering an absolutely massive offensive load for retooling Benetton Treviso.
Neal operates as Benetton's main facilitator and is looking absolutely outstanding creating shots for himself and others on the pick and roll, being arguably the most complete offensive player in that league."
-DraftExpress Overseas Free Agent Rankings, December 29, 2009
Now:
While
Gary Neal
made a living in college and Europe with his scoring and shot creation abilities, he's made quite the adjustment in his short time with the Spurs, fitting in as the prototypical spot shooting wingman their system is known for, right in the line of
Bruce Bowen
,
Michael Finley
, Roger Mason,
Keith Bogans
, and the countless others who came before him.
Scoring nearly 20 points per game for Benetton last season in Italy and over 26 for Towson in the NCAA, Neal's shot volume has gone down massively, and the 7.1 field goal attempts per game he is taking are now primarily of the catch-and-shoot variety, where previously he had to create much of his own offense off the dribble. Spending most of his time standing behind the three-point line on the wing or in the corner, Neal does a good job playing within the Spurs scheme, spacing the floor and always being ready to put the ball up when an open shot comes his way.
It hasn't been a completely smooth road for Neal getting to where he is, as some of his stops overseas have been less successful than others, but he's done a great job maturing and coming to a better understanding of the team concept in the last four years. He's now been thrust into arguably the most team-oriented offense in the league, and he's embraced it well, taking full advantage of his first shot in the NBA.
Part Two: Perimeter Shooting
Then:
"Although his numbers from 3-point range aren't fantastic-- 32.6% on the year-- he appears to be a very good shooter who will certainly be able to knock down shots at a good rate at the next level once he has the benefit of true spacing on the floor, not to mention man to man coverage rather than an entire team defense geared almost solely towards stopping him. Once Neal gets his feet set, he is extremely dangerous, possessing excellent shooting mechanics and range that extends well beyond the 3-point line. In the game against Delaware in particular, he hit a couple of open shots from 25-30 feet out, and looked extremely smooth and effortless doing so.
The reason Neal's percentages suffer are two-fold. For one, he plays for a very average team (5-6 in the CAA, 11-11 overall) and therefore draws an excessive amount of attention from opposing defenses. Even more so, though, his shot-selection is pretty poor, having a tendency to rely too much on his perimeter jumper, forcing the issue excessively, and taking contested shots early in possessions with multiple hands in his face."
-NCAA Weekly Performers, January 30, 2007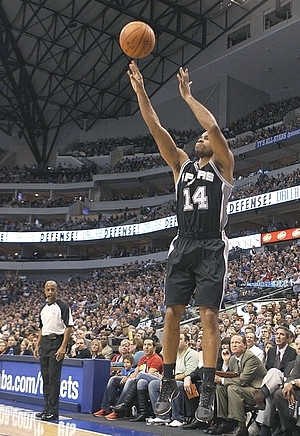 Now:
Undoubtedly the biggest contribution he's making to the Spurs so far, Neal has performed as expected with his perimeter shooting now that he's finally in the NBA. Despite playing with a deeper three-point line than at every stop in his career, Neal is shooting a career-best 37.9% from three, something largely attributable to the new role his playing, with the vast majority of his shots being of the catch-and-shoot variety.
Playing almost exclusively off the ball and parked behind the three-point line, a ridiculous 174 of Neal's 219 (79.4%) halfcourt field goal attempts have been of the jump shot variety according to Synergy Sports Technology, and 145 of his 257 (56.4%) field goal attempts overall have been three-point attempts.
Possessing a high release with improved quickness since his time in college, Neal has no problem getting shots off in the flow of the offense, and fares well whether he's open or has a hand in his face, not altering his mechanics and showing great confidence knocking down shots no matter the situation.
Neal's shot selection has greatly improved from his time in college, as he rarely ever takes an ill-advised shot anymore, having no problem playing his role as the offense's fourth or fifth option.
While the vast majority of Neal's shots are of the spot-up variety, he still does some damage shooting off the dribble, showing great balance on these attempts and having little problems getting separation with rangy sidesteps and step-back moves. Most of his off-the-dribble attempts are coming from situations where the defense closes out too strong on him, where he does a good job recognizing it to step in for the open jumper.
Part Three: Dribble-Drive Offense and Playmaking
Then:
"While no one will confuse him with
Steve Nash
anytime soon, he has improved his playmaking skills substantially while keeping his turnovers to a minimum. Neal is very effective off the dribble and possesses a terrific mid-range game, needing very little space to get his shot off thanks to his quick release and excellent body control, being equally dangerous coming off screens.
Fluid and highly versatile, yet not incredibly explosive, he gets the rim nicely and finishes well around the basket, often opting to dish the ball off to an open teammate cutting to the rim or spotting up if things are looking overly congested in the painted area.
While obviously no NBA team will be giving him the type of
Brandon Roy
-esqe offensive freedom he's enjoying in Benetton at the moment, it's legitimate to wonder whether he has the talent to translate his very intriguing game back to this side of the ocean."
-DraftExpress Overseas Free Agent Rankings, December 29, 2009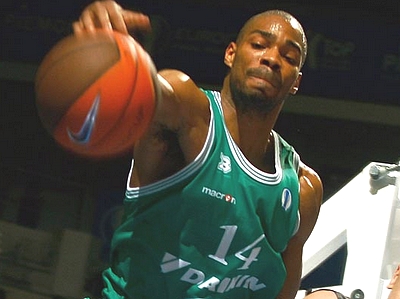 Now:
In his limited time thus far with the Spurs, Neal's off-the-dribble offense has been extremely limited, with him playing virtually all of his time off the ball and almost never being asked to create from isolation situations or create for others. Averaging just 0.9 assists per game, Neal is doing very little in terms of driving and dishing or operating pick and rolls, something San Antonio just doesn't need from him with their personnel.
In terms of attacking the basket, Neal hasn't done much of that in the conventional sense, averaging just 1.1 free-throw attempts per game and taking only 23 shots around the basket on the season according to Synergy.
This isn't to suggest Neal's off-the-dribble offense has been nonexistent, as he's actually doing more than enough to keep the defense honest in this regard, showing a strong mid-range game centered around an outstanding right-handed floater in the lane.
Showing a good comfort level putting the ball on the floor with both his right and left hand, Neal shows good craftiness going towards the rim with the ball. He doesn't show much in terms of advanced moves and his first step is below average by NBA standards, but he shows great discipline in only attacking when he has an open lane, and his tendency to opt for floaters rather than going all the way to the rim is a good utilization of his strengths and weaknesses, as his vertical explosiveness is not great.
Part Four: Defense and Rebounding
Then:
"The main thing he must work on is his defense, though, as he lacks great size or length and doesn't always appear to be putting in the best effort on this end of the floor, particularly fighting through screens and such, although he is capable of making plays from time to time thanks to his quick feet and solid anticipation skills."
-DraftExpress Overseas Free Agent Rankings, December 29, 2009
Now:
Neal has made a complete turnaround with his defensive effort level in the NBA compared to his time in both college and Europe, and coming into a situation like San Antonio certainly has helped matters there, as he wouldn't be seeing any time at all under coach Popovich if that weren't the case.
Showing a solid fundamental stance and an excellent energy level, Neal rarely takes off plays on this end of the floor and is pretty aggressive sticking with his man in isolations and always putting a hand up to contest shots. He's slightly undersized for his position and his lateral quickness is probably below average as well, both of which leave him overmatched and prone to being beat off the dribble or shot over at times, but he does a good job compensating for it as much as he can, and isn't a liability in a team-oriented scheme like San Antonio's.
While sometimes being overmatched in pure isolations, Neal has less problems in pick-and-rolls and team defense in general, showing good awareness, making rotations well, and have no problem being physical when the situation calls for it. His pace-adjusted rebounds are also higher than they've been at any stop in his entire career (both college and overseas), a real testament to the increased effort level he's showing in all the little areas of the game.
Outlook
While he didn't take the most conventional route to the NBA, Neal took little time finding a niche now that he's there, playing solid rotation minutes for the team with the best record in the league. His skill set lends itself well to the role he's playing, and he could see his role expand to have more shot creation burden as he grows more comfortable with the league, something he showed a higher propensity for overseas. Maturity and coming to terms with his role had been the things that held him back most bouncing around Europe, but as long as he continues to handle those things well in the NBA, he should be able to have a long and solid career doing what he's doing.