Julian Applebome
Indiana native James Blackmon Jr. will return for his junior season in Bloomington, as he looks to bounce back from a promising sophomore campaign that was cut short due to injury. For the third time in his career, Blackmon suffered a serious knee injury, this one being a torn ACL that occurred during a practice in December of 2015, and ended his season after just 13 games. The son of a former fifth round draft pick of the New Jersey Nets, Blackmon was highly recruited out of Marion High School and started all 33 games as a freshman for an Indiana team that finished in the middle of the pack in the Big Ten. He was on pace to have a strong sophomore season before his injury, and will have the chance to be a major piece this year for Tom Crean and the Hoosiers, who lost Yogi Ferrell and Troy Williams to the NBA. Blackmon has been fully cleared for practice and should be at full strength when the Hoosiers kick off their season November 11th in Honolulu against Kansas.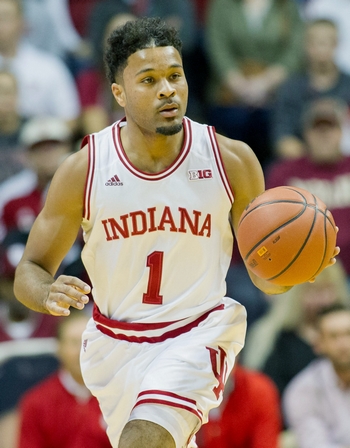 From a physical perspective James Blackmon doesn't particularly stand out. Listed at 6'4, he is somewhat undersized at the shooting guard position, but has a solid 6'8" wingspan which allows him to play bigger than he is in stretches. He is a smooth player, showing solid athletic tools overall, but nothing exceptional by NBA standards. With a running start, he can play above the rim, but doesn't show blazing quickness with his first step and is just an average finisher inside the paint in the half-court. Weighing in at 195 pounds he has a decently built frame, but his game is catered more towards playing with finesse rather than physicality.
Where Blackmon thrives offensively is as an efficient perimeter scoring threat. Blackmon's most translatable professional skill is his ability to shoot from beyond the arc. He has a quick and compact release with deep range, and although he only played in 13 games last season, he started the season looking like one of the most prolific shooters in the Big Ten, connecting on 37 of his 80 attempts from deep last season, an increased percentage from the already strong 38.7% he shot on 199 attempts as a freshman. The majority of his 3-point shots came in catch and shoot situations, benefiting from the tremendous spacing Indiana enjoyed as a team, but he showed he was more than capable of shooting off the dribble when defenses ducked under screens. He wasn't featured often as a shooting threat coming off screens or hand-offs, an aspect of his game that would be valuable at the next level if he can continue to improve on and establish he's capable of.
As effective as he is as a consistent outside shooting threat, the rest of Blackmon's offensive game is a bit of a mixed bag. Blackmon is a solid ball handler who has the skills to occasionally bring the ball up the floor and initiate the offense, but lacks the playmaking skills to consistently run a team. In 46 career games at Indiana over his freshman and sophomore seasons he posted a negative assist to turnover ratio, despite playing in one of the most efficient and team-oriented offenses in college basketball.
He was featured fairly often as the ball handler in pick and roll situations, but the majority of those instances resulted in him looking to score, primarily on early jump shots. He is a smooth and shifty ball handler who can operate at different speeds and find mid-range jumpers, but he lacks a degree of burst and physicality creating space in the paint.
When he does get by his man in dribble-drive situations, he struggles to finish consistently around the rim and is often forced into difficult runners and finesse finishes, which he showed he can convert at the college level, but might be an issue against more length and athleticism. He does use his body well to create room when he has a defender on him, and has showcased some nice footwork which allows him to create space in a crowd. He got to the free throw line at a relatively low rate (3.4 attempts per 40) which is a product of his limited aggressiveness and physicality going towards the rim.
On the defensive end, Blackmon is also somewhat limited because of his average physical profile. He shows some attentiveness at times positioning himself intelligently, but is regularly beaten off the dribble and can struggle to recover on ball screens. He has the length to defend shooting guards at the college level, but his height and strength will be an issue against bigger and more athletic players at the next level. Certainly some of his lapses on defense can be attributed to a lack of consistent effort, but it's difficult to say where he will project as a steady defender at the professional level barring improvement.
Blackmon does contribute effectively as a rebounder from the guard position. He has solid instincts on the defensive glass and has posted an impressive average of 7 rebounds per 40 minutes over his two seasons at Indiana. He is quick off his feet and is particularly effective following up his own misses on the offensive glass and looking for quick put backs.
James Blackmon has had an unfortunate history of knee injuries over the course of his young career, and rebounding from a torn ACL last season and staying healthy for his junior year will be essential to boosting his professional stock. He possesses a unique skill with his ability to stretch the defense and shoot from beyond the arc, but given his lack of ideal size at the shooting guard position, he will need to continue to show that he is more than just a shooter. With the departure of Yogi Ferrell to the NBA, Blackmon will have ample opportunity this season to demonstrate that he has the improved combo guard skills to play at the next level.