Matt Williams
Building on a strong sophomore season, Johnny O'Bryant returned to LSU for his junior year in easily the best shape of his career. Leading the Tigers to their first 20-win season since 2009, but still no NCAA Tournament bid, he once again ranked among the most productive big men in the SEC, showing improvement in a few key areas along the way.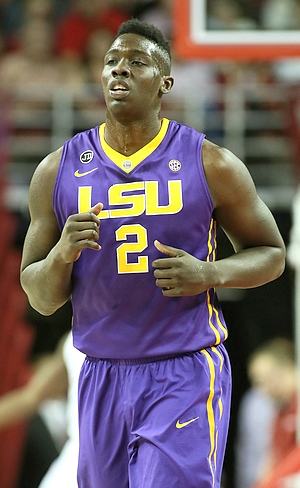 A former McDonald's All-American and consensus top-40 recruit in the class of 2011, Johnny O'Bryant took a major step forward a year ago after a solid, but fairly quiet freshman year, earning All-SEC First team honors as he assumed a leadership role for LSU on both ends of the floor leading the team averaging 13.6 and 8.7 rebounds per-game. While he did not make such a massive jump as a junior, he did make a few significant additions to his NBA resume, seemingly turning the corner on the upside that made him such a highly recruit.
One of the most significant changes in O'Bryant as a prospect from his sophomore to his junior year was apparent on first glance. He looked even leaner than he did as a sophomore, when he had already lost
a considerable amount of weight
after tipping the scales at 280 pounds when he arrived at LSU as a freshman. Looking a bit more explosive than he did a year ago as a result, the 6'9, 260-pound forward nonetheless remains more of a bruiser than a high-flyer. A solid, but unspectacular athlete overall, the main benefit of his continued dedication to good eating habits and hard work in the offseason was most obvious in the consistency of his energy level.
Although he competed very hard for stretches, consistency, on the whole, was a struggle at times for O'Bryant last season. Functioning as LSU's first option and primary interior scorer, he flashed the ability to carry the Tigers on the nights he was dialed in, turning in an especially memorable performance with 29 points against Kentucky's NBA-caliber front line in late January. The challenge for O'Bryant last season was making his presence felt consistently, as his focus and intensity seemed to waver, resulting in a handful of less than stellar performances as well, which unfortunately cost his team on Selection Sunday.
When he's active, aggressive, and scoring over defenders from the midrange, he looks the part of a potential first round pick. With 50% of his possessions coming in the post according to Synergy Sports Technology, O'Bryant has proven capable of scoring with either hand with his back to the basket each of the last two seasons, using his strength to establish good position and showing good hands and touch in close.
O'Bryant continued to score from the block effectively this season, but on his best nights, the improvement in his midrange jump shot and face-up game made him a significantly more explosive scorer than he was a year ago ,when he did the vast majority of his damage in the immediate vicinity of the rim. Knocking down a very solid 47% of his jump shots, O'Bryant still has room to expand his range, which is limited to about 15 feet at the moment, and his form wavers at times, but he went from being a non-factor away from the basket a season ago to a fairly reliable threat to score on the three shots he attempted per game away from the basket.
Seeing more double-teams as the season went on, O'Bryant showed the ability to find cutters and spot up shooters every so often, but turned the ball over at a very high rate, sometimes forcing the issue when he saw a second defender headed his way, and simply not always knowing how to respond to the additional defensive attention. The
most turnover prone
prospect in our top-100 per-40 minutes pace adjusted, O'Bryant has plenty of room to improve his decision-making and passing ability.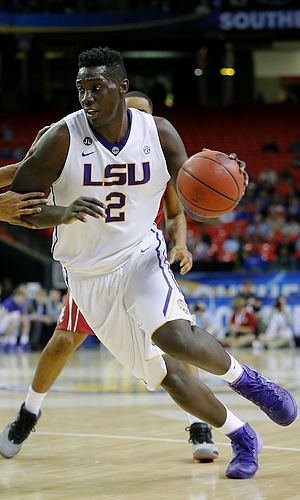 Looking ahead, it would be nice to see O'Bryant continue improving as a jump shooter, work on the consistency of his left hand, and build on his 63% shooting from the line. Just an average finisher due to his lack of great explosiveness, the Cleveland, Mississippi native
ranked among the worst
power forwards in our top-100 in two-point percentage. The more athletic defenders he'll face around the basket at the next level make his ability to score over the top from the post and the midrange efficiently critical to his ability to be successful on the offensive end at the next level.
A solid offensive rebounder when he's focused, O'Bryant's had the worst season of his career on the defensive boards.
Ranking among the least prolific
defensive rebounding power forwards per-40 minutes pace adjusted in our database, O'Bryant's total rebounding numbers have declined in each of his three college season. His dip to 9.6 rebounds per-40 minutes pace adjusted this season can be attributed in part to the presence of Jordan Mickey and the fact that he played such a high usage role offensively, but he was not always as aggressive pursuing the ball off the rim as he was early in his career, especially on the defensive end.
O'Bryant is a strong, but less than disciplined defensive player overall. Doing a nice job bodying his man in the post and moving his feet when he's forced to step out onto the perimeter or show on the pick and roll, he doesn't always play with a great sense of urgency. Struggling to go straight up on shooters inside, he
ranks as the fifth most foul prone player in our top-100
. He doesn't have the best fundamentals at this point, and remains a work in progress on this end of the floor. His lack of great quickness and explosiveness limit his upside, but he has the tools to be more effective as both and individual and team defender than he was last season.
Not turning 21 until a few weeks before the draft, O'Bryant is among the youngest prospects in the junior class, actually born after many of the sophomores in our top-100. Despite his regression as a rebounder and struggles with turnovers, finishing, and fouls, O'Bryant's improved dedication to his conditioning and development as a scorer away from the rim, combined with his strength and touch in the post, make him a player worth keeping an eye. He's a strong candidate to be selected in the middle-to-early part of the second round, at potentially even in the late first if he can find some momentum in the pre-draft process, but could be a nice find for the right team if he can smooth over some of his rough edges and learn how to play hard consistently.