#2) Jordan Nwora, 6'8, Small Forward, 17.8 years old, United States
EWA:
1.5
PER:
25.9
TS%:
60.9%
23.8 PTS, 4.3 REB, .7 AST, 1.3 STL, 22-52 3P%, 27-35 FT%, 46.1 FG%
Jordan Nwora, a 6'8 wing out of Vermont Academy, strung together an impressive six game performance in Los Angeles, leading the tournament in 3-pointers made at 22, and finishing second in points per game at 23.8. Throughout his EYBL career with Expressions Elite and NY Rens, Nwora has been a volume 3-point shooter, but hasn't shot it with the efficiency he did at the Adidas Nations. He doesn't have the most traditional mechanics on his jump-shot, but he has the size and touch to shoot if from all over the floor. Nwora found the majority of his offense from the perimeter. He has good balance and shot preparation, and looked comfortable in catch and shoot situations, coming off screens, and even shooting it off the dribble.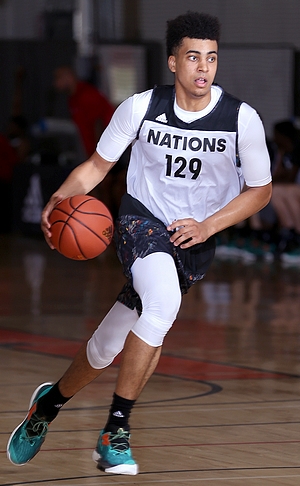 Nwora possesses some limitations in his game due to his lack of athletic ability. At 205 pounds, he has a thick frame and looks a little slow off the bounce. He is not an advanced ball handler at this stage, but he makes the most out of what he has, using his size and strength to play through contact. He has the ability to finish above the rim in transition, and showcased some nice agility and body control on finishes in traffic. Nwora will make the extra pass and looks like he has a solid basketball IQ, but is not a playmaker when he puts the ball on the floor as evidenced by the zero assists he had in four out of his team's six games.
Nwora has some solid instincts on the defensive end gambling for steals and getting into passing lanes, but other than that he wasn't really a factor on that end of the floor. His lack of athletic ability may hinder the effect he can have on that side of the ball as he gets to the next level.
Turning 18 in September, Nwora will finish off his high school career at Vermont Academy, where he is heading into his senior season. He'll need to continue to show some development outside of his perimeter game, but he already is holding various high level Division I offers, which is not a surprise considering his size and shooting prowess.