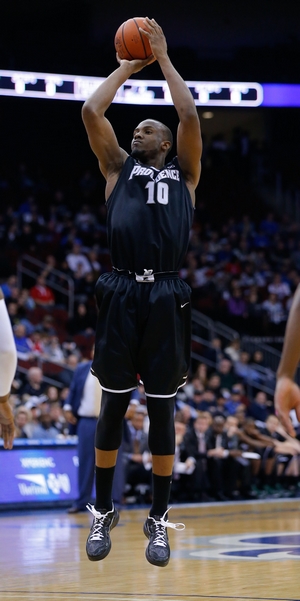 Derek Bodner
Kadeem Batts made a major jump in role during his junior season as he transformed from a role player to a much more integral part of the Providence offense, being selected along with Michael Carter-Williams of Syracuse as the Big East's most improved player. Batts increased his scoring output from 12.5 points per 40 minutes pace adjusted up to 18.7, playing nearly 32 minutes per night and regaining his status as a full time starter.
Batts made a series of improvements in his offensive game that allowed him to assume a much larger role. During his sophomore season, nearly 70% of his offense came from cuts, offensive rebounds, spot-up opportunities and in transition, according to Synergy Sports Technology. During his junior season that fell to under 50% as he generated much more of his offense himself, mainly in the form of post-up opportunities.
Batts post game isn't incredibly advanced, but he shows decent touch on a hook shot over his right shoulder. Standing 6'9" with solid length and a fairly developed frame, Batts does a good job creating space and dislodging his defender. He could, however, continue to add upper body strength, as he struggles at times when his defender is his match in terms of physicality, and a reliable move over his right shoulder would help him become less predictable. He also tends to struggle recognizing and reacting to double teams and tends to force himself into either tough shots or turnovers.
The other main area that Batts has improved in greatly has been on his perimeter shot. While still mostly 18 feet and in, Batts has turned this into a reliable option in his arsenal. According to Synergy Sports Technology, Batts scored 1.135 points per possession in midrange jump shots, which is more efficient than 97% of college basketball and a huge improvement over his previous two seasons.
This newfound ability from the perimeter has manifested itself mainly in two areas. First, it's his primary option over his right shoulder in the post, as he is comfortable with a turnaround jump shot in the lane. It also has made him into a pick and roll threat, something he wasn't much of in years past despite his good athleticism and hands. According to Synergy, he only got 4.4% of his offense in pick and roll situations as a sophomore, with this increasing to 12.6% last year on fairly good efficiency. The overall sample size on his midrange jump shots was still relatively small, so there is some concern whether or not he can sustain this, but it's a good sign in his development.
Outside of that, Batts is still effective off the ball, showing an ability to score off cuts and from offensive rebounds. He moves well off the ball and has good, soft hands, with a quick jump and doing a good job of going up strong. His 3.7 offensive rebounds per 40 minutes pace adjusted was by far the worst mark of his career at Providence, likely more a result of his changing role and generating more offense for himself than a loss of skill, as he was a prolific offensive rebounder in year's past.
Batts also finds ways to contribute on the defensive end, despite not being much of a shot blocking threat. Batts is a good post defender, able to hold his position well and using his length to effectively challenge shots. He plays angles well and uses his length well when defending the pick and roll, allowing him to effectively defend the pick and roll despite possessing just average lateral foot speed.
Batts took a major step forward in his game during his junior season, with his development as a post scorer and a midrange shooter allowing him to assume a much larger role in the Providence offense. If Batts is able to further refine his post game and prove that his greatly improved midrange game is here to stay, he could find himself competing for a spot in the NBA at this time next year.