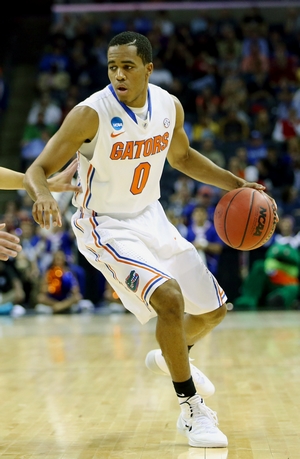 Josh Riddell
After being a key member of a Florida team that made it all the way to the Final Four before falling to Connecticut, Kasey Hill will take the reins from departing senior Scottie Wilbekin and will look to lead the Gators deep into the NCAA tournament yet again. Hill came into Florida as a McDonald's All-American and the
8th best recruit in the country according to the RSCI
, and will be asked to step into a bigger role in his sophomore season.
Measured at 6'1", 180 pounds, Hill has just average size for a pro point guard but he is helped by his long 6'5" wingspan and strong athleticism. He's exceptionally quick with the ball in his hands, particularly in transition. He also possesses nice explosiveness, both with his first step off the dribble and his leaping ability, which gives him the potential to be a dangerous offensive player. His combination of physical tools is intriguing and puts him on the path to becoming a draft prospect.
Hill wasn't asked to do too much offensively last season, so we don't have a clear picture of his offensive skills over a relatively small sample. He did display some promising point skills, as he averaged 6.0 assists per 40 pace adjusted,
6th among all freshmen point guards
. He reads the floor well and has good vision to see the passing lanes. Florida does return some nice offensive pieces in Michael Frazier and Dorian Finney-Smith, among others, so Hill should have ample opportunity to display his passing ability.
Hill struggled when creating his offense in his freshman season and will need to become a more efficient scorer this year. A large portion (27%) of his offensive possessions came in transition opportunities, according to Synergy Sports Technology, as he wasn't relied on very heavily in the half-court. He showed flashes of potential with his speed and ball-handling skills, able to navigate through the defense off the dribble but he struggled at times playing under control, which caused him to turn the ball over or throw up wild shot attempts. Learning to harness his speed will be a big area of improvement for Hill this season and doing so will help him become a much more effective offensive weapon.
Hill also had a large portion of his offensive possessions derived from Florida's ball screens and had his ups and downs when running the offense through the pick and roll. He wasn't always the best at using the screen to his advantage but he made up for it with exceptional slashing skills and footwork, allowing him to get to the rim. He struggled on attempts in the paint though, converting 55% of his 29 attempts at the rim and 25.9% of his 27 floaters, according to Synergy Sports Technology. His size indicates he may struggle to finish at the rim throughout his career, so he will need to develop a more consistent floater to become a better finisher in the paint.
In a limited sample, Hill struggled badly from behind the arc, making just 5 of 35 three point attempts. He doesn't have the best shooting mechanics, so it remains to be seen how effective he can be in this area moving forward, something he will definitely need to do to carve out a role in the NBA. He has a bit of a ways to go before he becomes a capable shooter and will need to be somewhat able to make jump shots to have a second option if the defense takes away his ability to penetrate.
Defensively, Hill works hard and has quick hands and feet that help him bother the offensive player. His hands and athleticism helped him to 2.2 steals per 40 pace adjusted
one of the higher marks among point guards
. Hill makes up for his lack of size with his long wingspan helping him to challenge jump shooters. With his expected increase in minutes, we will have to wait and see whether Hill can keep the energy level on defense while playing a larger role offensively. He has the skills and physical tools necessary to become a useful defender player and if he embraces that role, could become attractive to professional teams.
Turning 21 in December, Hill is one of the oldest members of the sophomore class, being even older than some of the juniors who are considered serious draft prospects.
Hill will be a player to watch this season to see how he performs as he steps into a larger role, asked to lead the offense on a full-time basis. Although he has the physical tools of a pro player and showed some flashes of potential last season, it's probably still a bit too early to make any strong statements about his future as a draft prospect. This season should teach us a lot about his ability to run a team and how he has matured as an offensive player. It will then be a little easier to make more declarative statements about his future as a draft prospect.