Josh Riddell
The two-time
Horizon League Player of the Year
,
Keifer Sykes
never got to experience playing in the NCAA Tournament, despite reaching the conference tournament championship game twice, once while playing alongside NBA draftee Alec Brown. He'll look to put this behind him and use his regular season success as a springboard to the next level. Sykes was lightly recruited coming out of high school, but has turned into one of the best mid-major guards in the NCAA, and will hope to become the sixth player drafted from the Horizon league since 2000.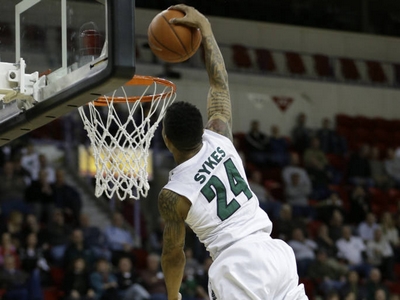 Sykes was listed at 5'10" his freshman season and ended his collegiate career measured at 6'0", which is still undersized for an NBA point guard. He compensates by being lightning quick with the ball, which allows him to create offense in transition, and uber-explosiveness, as he is capable of finishing around the rim impressively in half-court situations. Sykes will need to utilize the athletic tools he has to overcome his lack of size, as he would be one of the smallest players in the league. Despite playing four years of college basketball, he only turned 21 around New Year's, making him the youngest senior in our rankings.
Averaging 20.7 points per 40 minutes pace adjusted, Sykes was one of the
most prolific scoring point guards in our top 100
. He struggled with efficiency at times, ending his senior season with a 54.7% true shooting percentage, down from 58% as a junior.
His biggest strength offensively is his ability to leverage his speed and quick first step to beat his defender and attack the defense. He is fearless attacking the rim and converted 60% of his shots at the rim, according to Synergy Sports Technology, although he only got there less than three times per game. He did average 6.2 free throw attempts per 40 minutes pace adjusted
sixth among point guards in our top 100
. He also incorporated a floater into his arsenal, which he will need at the next level as he faces better rim protectors. He had moderate success with this shot (35.5% FG%) and will need to improve on his touch on these shots to make him a more dangerous finisher on dribble penetration, as he will be at a significant size advantage in every game he plays at the pro level.
Despite his quickness, Sykes relies primarily on straight-line drives and didn't regularly show advanced dribbling skills that could help him beat a defender in isolation or navigate through traffic. He has a quick first step, but if he cannot beat his defender off his initial move, he isn't always able to shake him with pure ball-handling ability. This leads to Sykes pulling-up for long twos off the dribble frequently, and while he is capable of hitting these shots, shooting 36.6% on 153 off the dribble attempts (including 3s) according to Synergy Sports Technology, this is not the most efficient way of scoring.
Sykes isn't a great three point shooter, as he converted just 30% of his 143 attempts this season, and 32.5% over his college career. He gets good elevation on his jumper and has a quick release, which should help him get his shot off over taller defenders. His lower body tends to get off balance at times, which could hurt his consistency as he adjusts to NBA shooting range. With the exception of Ish Smith, all of the sub-six foot guards in the NBA rely on the 3-point shot fairly heavily, so it will be important for Sykes to hone this part of his game if he's to carve out a career for himself.
On defense, Sykes is a hard worker, but his lack of size and length is a definite concern when projecting him to the NBA level. He moves well laterally when in a stance, so he can limit dribble penetration, but is often unable to contest shots or block the vision of opposing point guards to make running the offense difficult, and has a tendency to get lost off the ball. What will be beneficial for Sykes is keeping his energy level and being as pesky as possible with his quickness to make initiating the offense more challenging for the opposing point guard. Playing such a heavy role for Green Bay (36 minutes per game), and not able to afford the risk of getting in foul trouble, it wasn't rare to see Sykes take plays off and look apathetic on this end of the floor, which is definitely not something he can afford considering his size.
One area that NBA teams will want to see improvement as his career moves on is with his playmaking ability. While capable of making some simple passes, particularly in drive and dish situations, he looks far more comfortable as a scorer, often getting tunnel vision when driving the lane and making a fair share of poor decisions with the ball. He saw a decrease in his assists this season, from 5.5 to 4.4 per 40 minutes pace adjusted, with his other point guard metrics seeing a drop as well. He wasn't always careful with the ball, as he had a tendency to make sloppy passes or dribble into bad situations, leading to turnovers. This resulted in a pure point rating of 0.95,
one of the lowest among point guards in our top 100
.
Sykes will draw the attention of NBA scouts due to his athletic tools, aggressiveness and scoring ability. To stick at the NBA level, he will need to improve his decision making ability with the ball and shot selection, as well as his defense and outside shooting. His size will put him at a disadvantage to be drafted, but his skill set could see him earn a shot with the NBA at some point in his career. Even if he goes undrafted, it wouldn't be surprising to see him make a NBA team's roster out of training camp or by way of the D-League.