Part One: Inside Scoring & Post Skills
Then:
"For all his skill on the low block, Love does run into some problems in the post, specifically when he's going up against a longer defender. He is prone to having his shot blocked, and has trouble trying to score over bigger defenders. He doesn't show much in terms of vertical explosiveness, being a mostly under the rim player. To his credit, he does a great job pursuing his own misses, as his motor never stops, and he's often able to convert on his second effort."
- NCAA Weekly Performers--Freshman Edition, Part Two - 11/25/07
Now:
After spending just one season at UCLA, the Minnesota Timberwolves hoped
Kevin Love
would provide frontcourt toughness and another post scoring threat to compliment
Al Jefferson
's dominant inside game. Nearly finished with his first NBA season, Love has struggled in one-on-one post situations against much more athletic opponents; however, he excels when given the chance to out-position his man and utilize his high basketball IQ to score down low. According to Synergy Sports Technology,
Kevin Love
is converting 55% of his shot attempts around the rim, but just 37% of his post-up chances. This is a significant drop-off from last season at UCLA, where he finished 63% of his shots around the hoop, including 53% of his post possessions –an indication that Love's critics did a good job projecting his weaknesses on the next level. As evidence, his 2-point percentages have dropped from an outstanding 61% to just 48% in the NBA, which ranks him [url=http://www.draftexpress.com/stats.php?year=2008/09&league=NBA&per=pergame&qual=all&sort2=DESC&pos=PF&stage=&min=15&conference=&sort=12in the middle of the pack amongst all power forwards.
One area of concern for the Timberwolves has been Love's inability to score against quality NBA post defenders, especially since he's being asked to log such heavy minutes at the center position. In fact, the Wolves rarely feed Love on the block, as only 18% of his NBA possessions are coming in the form of post ups. Compare that with 33% of his offensive possessions last year at UCLA, and it becomes clear why Love's offensive numbers have been rather inconsistent this season. This lack of post touches has had a wider impact on his efficiency, decreasing his free throw attempts per game (9.2 per-40 to a still very solid 6.4 per game), something that hurts his scoring rate since he shoots about 80% from the charity stripe. Surprisingly, Love's tendency to play slightly off the block hasn't affected his offensive rebounding numbers since he moves well without the ball, attacks the glass with tenacity every chance he gets, and reads the ball extremely well off the rim.
In instances where he does catch the ball inside with his back to the basket, Love prefers to operate over his left shoulder nearly three times as often as his right, almost always relying on a baby hook shot over his defender. Due to his lack of explosiveness and athleticism, Love struggles to finish many post attempts, and he is extremely susceptible to having his shot blocked by longer, more athletic weak side defenders. When he's at his best inside, Love utilizes a variety of crafty moves and fakes to gain position over his defender, and is able to finish with either hand at the rim. As we've observed, the transition from college to the NBA is absolutely massive for young big men. Considering Love's basketball IQ, we expect him to improve his effectiveness in the post and make the proper adjustments to steer away from getting his shot blocked as frequently as he does.
Part Two: Rebounding & Athleticism
Then:
"Love is also a dominant rebounder on both ends of the court, using his massive frame to establish outstanding position and showing excellent timing and instincts in tracking down boards. His strength allows him to pull rebounds away from the opposition, and he does a great job sealing out his man."
- NCAA Weekly Performers--Freshman Edition, Part Two - 11/25/07
Now:
Through just one professional season,
Kevin love
has proven one thing: he is already an
elite
NBA rebounder. By combining a terrific work ethic with an outstanding feel for cleaning the glass, Love ranks as one of the League's top rebounders in a variety of categories, including ranking
#2 in offensive rebounding
per-40 pace adjusted, and
5th in total rebounding
. Although he lacks the vertical explosiveness most great rebounders possess,
Kevin Love
has an uncanny knack for out-positioning his opponent moments before a shot is released. In analyzing Love's game film, it becomes apparent that once he senses a shot will be fired, he almost always sprints to the backside glass to initiate contact, gain position, and snatch up any potential caroms. This quality contributes to his offensive rebounding prowess in particular, which has made a significant impact on his scoring numbers –accounting for an outlandish 25% of his offensive possessions, and providing his teams with plenty of easy looks at the hoop in turn. This percentage is right on par with his production last season at UCLA, where Love enjoyed a far more pronounced physical advantage over many of his competitors. It's extremely impressive see him be able to translate his incredible rebounding skills to the NBA so soon already at the tender age of 20.
Love has also been exceptional on the defensive glass, boxing out his man on the release of the shot and maintaining contact until the ball is secured. He displays great timing when leaving his man to pursue the ball and great toughness in his efforts to secure it with both hands. By grabbing loose balls with both hands, Love is able to endure a lot of contact from the more athletic and physically imposing opponents his faces on a nightly basis.
Part Three: Shooting
Then:
"One of Love's more notable strides as the season has gone on has been his three point shot, which he's using much more frequently, and having good success with, hitting for 37% from deep. He also will occasionally use a shot fake from behind the arc that he follows up with a drive to the basket, but it's not something he's consistent with, as his quickness isn't great and his ball-handling, while respectable, could still improve."
- NCAA Tournament Performers, Part One - 3/25/08
Now:
The Timberwolves had hoped
Kevin Love
would help space the floor and provide a solid pinch post scoring threat; however, his jump shot has been wildly inconsistent thus far. Throughout his rookie campaign, Love has been an ineffective shooter, connecting on just 37% (40/107) of his shots between 17 feet and the three-point line. Love has also struggled to adapt to the deeper NBA three point line, which has taken away a key component of his collegiate skill set. At UCLA last season, Love shot 35% from downtown, on over two attempts per game, compared to just 13% on 6 for 12 shooting this season. One reason for Love's shooting woes has been his inability to attack the rim off the dribble. Longer, more athletic defenders have been able to crowd Love when he faces up from mid-range without having to worry about him blowing by them and getting easy looks. He also seems to be settling
Mechanically, Love's jump shot has a slow, yet sound release when he's left unguarded, with excellent touch and terrific follow-through. Looking at most of his jumpers, it seems like his problems have more to do with shot-selection and range more than anything else really. As he continues to put the time into his jumpers, look for him to become more consistent in this area, particularly on pick and pop plays. Unless he's making shots on a consistent basis, and being semi-capable of putting the ball on the floor and creating his own shot, Love won't be anywhere near as effective an offensive player as he needs to be to stay on the floor next to
Al Jefferson
.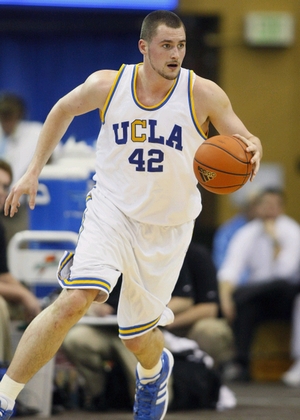 Part Four: Defense
Then:
"On the defensive end, Love plays a very smart game and is always hustling, showing his most prowess as a man-to-man defender in the post. Here, he holds excellent position and does a very good job of always keeping his hands up, getting a good deal of blocked shots when opposing players try to shoot over him. Most of his blocks come in this vein, as he doesn't really have the athleticism to be much of a force as a help defender, even though he almost always makes the right rotations. While Love usually does well defending the post, he really only excels with players that try to go over or through him, showing problems against players with quick feet who will try to out-finesse him, which is concerning for those who project him as a power forward at the next level. For those who project him as a center, he may have problems defensively there as well, as many centers in the NBA will be able to shoot over him.
On the perimeter, Love hustles hard and shows a good stance on defense, but he often has to give up too much space to stay in front of his man, and this is definitely a concern at the next level, especially if he projects as a power forward. Love has problems with the pick-and-roll as well, not showing the quickness to consistently hedge and recover, despite his smart play. "
- NCAA Tournament Performers, Part One - 3/25/08
Now:
Much of what we previously wrote about Love's defense at UCLA has held true throughout this rookie season. He's not a defensive stat stuffer and his abilities at this end are extremely limited by his height (6'7 ¾ without shoes), athleticism and poor conditioning, so Love has struggled when guarding perimeter-oriented big men. He makes up for some of his physical shortcomings by showing great anticipation and awareness; however, he still leaves too much space between himself and his man when defending the wings. Love must continue to work on his lateral quickness and pick-and-roll defense if he wants to avoid being labeled as a liability moving forward. He's been able to mask his weaknesses somewhat lately by playing primarily at the center position, but moving back next to playing alongside
Al Jefferson
(an extremely poor defender himself, particularly on the perimeter) next year will likely mean that Minnesota will continue to find itself amongst
the league's worst
on this end of the floor.
When defending the interior, Love has been able to sufficiently hold his ground and force players to shoot over him. Although this technique doesn't lead to many spectacular defensive plays, it's fundamentally sound and puts him in great position to snatch up defensive rebounds. Very similar to his defense last season, Love has struggled against smooth, finesse-oriented post players with quick first steps. Though it won't be easy for him to remedy this issue, he can still improve his body to maximize his ability to keep his man away from the rim.
Love has clearly added on most, if not all, of the baby fat he sported last season at UCLA, despite losing a great deal of weight before the draft. His poor conditioning does not help him in the least bit on this end of the floor, making him even slower and heavy-legged than he already is. If he wants to reach anywhere near his full potential, he must rededicate himself and get back to his optimal playing weight—something that will likely always be an issue for Love moving forward.
Because of the cerebral way he approaches the game, Love can an times be an effective help side defender, even though he doesn't block many shots from the weak side. In analyzing his game film, Love recognizes when to play his man tight off the ball and when he can sag into the painted area to provide defensive insurance to his teammates. It would be nice to see Love step in and take a few more charges on penetrating guards since he's often in a position to draw the offensive foul. Generally speaking, you don't see a great deal of energy from him on this side of the floor-- he's certainly not as active and intense as he was at UCLA. The same can be said about virtually any of the players on Minnesota's roster, though, particularly for the past few months of the season.
Part Five: Decision-Making
Then:
"Love's prowess as a passer on the offensive end is something that has been well publicized, especially with his outlet passes, which he throws with exceptional speed and accuracy. He's also a good passer out of the post, though, making passes to fellow post players and cutters alike, showing good court vision and decision-making."
- NCAA Tournament Performers, Part One - 3/25/08
"Though he's not the most athletic player, his incredible basketball IQ allows him to get shots off in situations where players his size normally struggle. He has the tools to be a solid big man in the NBA at least, and could turn into much more than that in a couple seasons. His outlet passes in the second half were just a pleasure to watch."
- Las Vegas Summer League Day Six - 7/17/08
Now:
Because
Kevin Love
possesses such a high basketball IQ, he fully understands his role on the floor and rarely tries to do too much –his turnover rate is not much higher in the NBA than it was in the NCAA. As we previously documented, he throws terrific outlet passes and handles the ball relatively well for a player his size.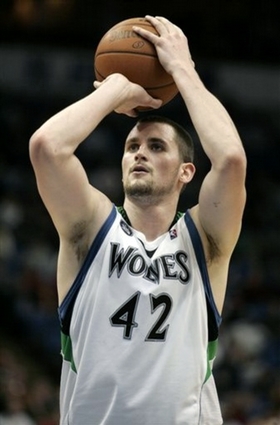 One key component of Love's game that we haven't documented is his ability to set effective screens. On many pin screens with a wing player running off a baseline cut toward the ballside wing, Love frees his teammates for open jump-shots or penetrating drives off of poor perimeter closeouts. When it comes to ball screens, Love sets effective screens; however, he still needs to improve his jump shot and become a reliable mid-range scorer to allow for more pick-and-pop play.
Part Six: Intangibles
Then:
"And that is perhaps his greatest attribute. He has a remarkable knowledge of the game. He knows angles and positioning like a flight engineer knows wind drafts and velocity. He has a peculiar knack of understanding precisely where he has to be at any particular point and taking the shortest distance to get there. And once he is there, you don't move him... Statistics don't show the number of times Love has blocked out an offensive player, allowing a Bruin teammate to grab a rebound. On the offensive end, the statistics don't count the numerous times his picks have allowed teammates to score uncontested baskets. Nor do statistics account for his aggressive style under the boards that have led to second and third chance opportunities for the Bruins... While some others may have scored more points per game or grabbed more rebounds or have better style points, in my estimation, Kevin Love's instincts and awareness of how to play the game make him arguably the best big man in college basketball, certainly the best among this freshmen class..."
-NCAA Tournament: Why Kevin Love Is the Best Big Man in College Basketball - Paul Peszko - 3/29/08
"Playing time is probably my biggest obstacle this year. I think one night I'll come out and have thirty minutes and the next I'll have ten. It's mentally tough and draining sometimes, but that is just part of the game that I have to adjust to."
-
Life as a Rookie: Kevin Love
– Jonah Kuehne -1/2/09
Now:
It's widely accepted that
Kevin Love
impacts basketball games in ways which go unnoticed in the nightly box score. For all the reasons listed above, Love has been a great fit for the Timberwolves, and he's continuing to show vast improvements since
Al Jefferson
's season ended two months ago. Early in the season, Love struggled with inconsistent playing time and understanding when he should look to take over offensively. He shot just 38% from the field in the first two months of the season, but has been at 50% since then.
Since Jefferson's knee injury, Love began playing starter's minutes and averaged 15.8 PPG and 9.6 RPG over the entire month of March.
Kevin Love
has started earning his teammates' respect, as well as the respect of his competitors. Earlier in the season,
Dirk Nowitzki
called Love an "animal" on the boards and complimented his tenacity on both ends of the floor. The kind of work ethic Love possesses is hard to teach, and with his great understanding of the game, he should be an effective player in the League for a long time. Considering the amount of skepticism Love faced coming out of UCLA, he has probably exceeded the expectations most scouts set at the beginning of the season, and has given the Minnesota Timberwolves a real building block for the future-- even if it's yet to be determined whether he's a good fit next to
Al Jefferson
.