A standout at the U18 European Championships in 2008,
Kostas Sloukas
has seen his minutes nearly double from last season after being loaned to Aris Thessaloniki from Olympiakos. An extremely heady point guard, Sloukas is not a great athlete, but he has all the making of a high-level floor general on the European level, and could garner some minimal NBA attention later on in his career with the smart, consistent, low-mistake brand of basketball he plays.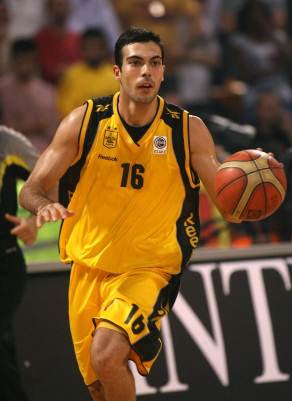 On the offensive end, Sloukas is first and foremost a floor general. He controls the tempo of the game, handles pressure, and makes good decisions. He's not a flashy ball-handler, nor will he make a highlight reel with his passes, but he plays like a leader, sees the floor well, and is not careless or over-aggressive.
Though he's a pass-first player, Sloukas does do some scoring, especially off the ball with his spot-up jump shot. A very capable shooter with his feet set, Sloukas has been very good off the dribble this season, which is a bit surprising considering his consistency drops of considerably when he shoots the ball with a hand in his face from a stand-still. Last summer at the U20 European Championships, Sloukas showed that he can add some offensive punch when he's not handling point guard responsibilities full time, playing next to a ball-dominant scorer in
Nikos Pappas
.
Though he brings some nice things to the table as a point guard and shooter, Sloukas is limited in other areas that factor prominently into his NBA potential. An underwhelming athlete, Sloukas struggles around the rim offensively and on the defensive end in the Greek League. Lacking the leaping ability to finish in a crowd and the lateral quickness to consistently deny penetration, Sloukas plays hard defensively, but simply doesn't have ideal physical tools to be effective in these areas against more athletic competition.
Despite his limitations, there's a lot to like about Sloukas on the whole. He'll post a terrific assist-to-turnover ratio, make the extra pass, and knock down shots from the perimeter. His weaknesses limit his upside to some degree, and he will need to step up and plays even more consistently in big minutes next season to garner NBA attention, but he will enjoy a fine career in Europe regardless.