Josh Riddell
After a breakout performance in the 2013 NCAA tournament,
LaQuinton Ross
was charged with being the top offensive weapon for the Ohio State Buckeyes after the departure of
Deshaun Thomas
. Ross saw his minutes increase from 16.9 to 29.0 per game, while his offensive role ramped up, as he used 20.7% of the Buckeyes' overall possessions per game, up from 12.0% his sophomore year. Ohio State's season ended in somewhat disappointing fashion in a Round of 64 NCAA Tournament exit to Dayton, and the Big 10 All-Conference Third team member decided to enter the NBA draft after his junior season, despite the mixed reviews his junior year received.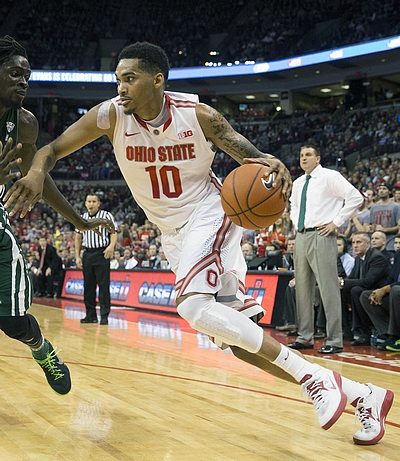 Reading back
through our previous reports about Ross, many of the same thoughts still apply as he heads toward the draft. His physical tools are strong for a player of his size, as his 7'1" wingspan complements his 6'7" (possibly 6-8) height, even if he isn't what you'd describe as an exceptional athlete. The 21-year old still has some room to add some muscle to his frame, which he'll certainly need to do in the more physical NBA.
A significant part of Ross' success at the NBA level will likely hinge around his ability to shoot the ball from the perimeter, something he's clearly capable of doing but has been rather streaky with over the course of his career. He converted a decent 36.8% of his catch and shoot opportunities on the season, down from 39% his sophomore year. He has a very fluid stroke and his high release point prevents his shot from being contested easily, which suggests he could improve in this area in time as he clearly has excellent scoring instincts.
Ross attempted 3.4 three pointers per game this season and converted on just 35.3% of these attempts, which rates
around the middle of the pack
compared with other small forwards in our top-100 prospect rankings.
Since he is a capable shooter, defenders often have to charge at Ross when they see him spotting up for a jump shot. This allows Ross the space to drive by them after a ball fake, but Ross hasn't been able to become a skilled jump shooter off the dribble, shooting only 21% on 38 possessions logged by Synergy Sports Technology. This will be a critical skill for him at the next level so that he has a second option when defenders take away the three point shot.
Elsewhere on the offensive end, Ross doesn't do anything exceptionally well that will be easily translatable to the NBA, as he was clearly thrust into too large a role for Ohio State that he simply wasn't ready for quite yet. He doesn't have a quick first step, as he relies on his long strides to break down the defenders off the dribble, and struggles somewhat finishing around the basket this season, converting just 48% of his half-court attempts inside the paint, a very poor rate.
He was able to keep his scoring somewhat reasonable (55% true shooting percentage) despite his struggles inside (48.5% 2P%) and outside the arc (35%) thanks to his propensity to get to the foul line, as his 6.7 free throw attempts per 40 minutes
ranked seventh among small forwards
in our top-100 prospect rankings. With that said, it's not clear how this might translate to the NBA considering his average athleticism and underdeveloped frame, especially once he's forced to move down a position or two and play the small forward position full time, something he rarely did in college.
If unable to put points up on the board in any particular game, there isn't a great deal Ross can help his team with otherwise. He does an exceptionally poor job of creating offense for his teammates, as he generated an assist on just 6% of his possessions this season, totaling just 47 assists in 1676 career minutes, or one every 36 minutes he's on the floor.
Ross's combination of length and height provides the basis for his defensive potential at this stage. Due to the team makeup of the Buckeyes this year, Ross found himself guarding bigs in the post regularly, where he was often overmatched from a strength perspective. At the next level, he will be guarding perimeter players more often and while he showed some improvement over the past season, he still has some major strides to make to become even an adequate defensive player. His effort when guarding perimeter players was better in his junior season, as he made a more concerted effort to be in a fundamental stance, which helped contain dribble penetration, but he too often loses his focus and thus got targeted by opposing coaching staffs frequently in one on one situations due to his lack of lateral quickness. He still struggles against smaller players and will need to put forth consistent effort, both on and off the ball, so that he doesn't hurt his team defensively.
Ross has a chance to hear his name called on draft night due to his combination of size, length and shooting potential. To stick in the league, he will need to continue to diversify his game and become a more efficient offensive player. At the same time, he will need to put forth consistent effort on the defensive end. If he does so, he could have a career as a role player in the right situation, but he will need to do so quickly, as he won't be considered a high-upside prospect, turning 22 later this year, and Europe and the NBA D-League are littered with players in his mold.