Makai Ashton-Langford, 6' 2", Point Guard, 17.8 years old, USA, Class of 2017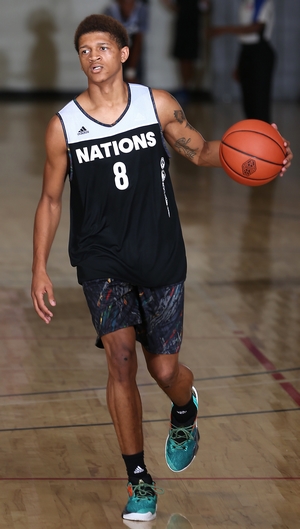 Strengths
-Nice physical profile for a lead guard—good size and frame at 6' 2" 185 lbs. Long arms, big hands.
-Smooth athlete who can change speeds with force. Dynamic in transition. Uses basic crossovers that are set up by crisp footwork. Impressive body control. Plays a herky-jerky style predicated on keeping the defense off balance. Mixes in advanced combo moves.
-Does most of his damage in the paint – 6.6 FTA per 40. Can get to the rim without a ball screen versus average defenders. Likes to drive hard left. Can use his frame to keep smaller defenders on his hip.
-Inconsistent touch but he's capable of finishing with floaters before getting to the back line of the defense. Tools allow him to finish from different angles in traffic. Willing to use either hand at the rim.
-Shows occasional flashes as a passer out of ball screens or drive and dish/kick situations.
-Not a threat to make jumpers consistently at this stage, but his shot isn't broken. Should be able to improve in time. Can create space off the dribble.
-Has the tools to be an excellent on ball defender. Quick hands and feet with the frame to contain penetration. 2.2 steals per 40 minutes. Can play with more consistent intensity on that end but the potential is certainly there.
Weaknesses
-Had very little positive impact playing a small role on a loaded Team Harden – 2.0 PER in 12 minutes a game on 4 of-12 shooting and 0-of-5 from the free throw line.
­-More combo than point guard at this stage. Plays a wild brand of basketball. Score first lead guard who gets tunnel vision while on the move. Throws a lot of jump passes. Kills his dribble regularly, especially when he's met by a secondary defender. Forces up wild floaters. Can improve his approach significantly.
-Needs a lot of possessions to get into a rhythm and score efficiently. Doesn't give you a ton if he's not playing on the ball.
-Really struggles to make shots from the perimeter consistently allowing defenders to sag off and take away the drive, which baits him into even more tough shots than he already takes. Super inconsistent mechanics. Gets too cute with fadeaways, leg kicks and big body turns. Doesn't always finish his shot with a hard snap of the wrist. 25.3% from three on 83 attempts over 72 games in our database.
-Can improve his shot creation versus high level defenders. While fairly advanced, his handle can get a bit high and loose at times versus pressure. Kills his dribble, pivots around inside the arc and either takes a tough shot or gives it up.
-Doesn't always finish at the level his tools would suggest. Can improve the touch on his floater. Has some good ideas around the rim with speed finishes or inside hand finishes, but he's not all that adept at converting versus high-level length and athleticism consistently.
-Defensive effort comes and goes. Offense fuels his defensive effort. Doesn't always sit down a stance or move his feet like he's capable of. Can take a lot more pride in stopping his man.
Outlook
Despite a forgettable Adidas Nations, there's still quite a bit to like about Ashton-Langford's blend of physical tools, penetrating ability, defensive potential and somewhat improvable shooting stroke. Ashton-Langford is certainly a high major guard who could eventually develop into a legitimate NBA prospect. With that said, the Worcester, Massachusetts native still has a long way to go in terms of his feel for the game, decision making, shooting stroke and defensive intensity. Simply put, Ashton-Langford needs to learn how to play, especially as a lead guard, and if he's able to do that, he becomes much more than an occasional bucket getter who should, in theory, be able to lock up.