Derek Bodner
6'8 combo forward Marc Loving appeared in every game for Thad Matta during his freshman season, a valuable learning experience for a young player on a deep, veteran-laden Ohio State squad.
Despite that playing time Loving struggled to consistently make a positive impact, shooting just 36.8% from the field and 25.9% from three point range during his freshman season. According to Synergy Sports Technology Loving shot just 27.1% on jump shots in the Buckeye's half court offense as a freshman, a disappointing output for somebody playing primarily at power forward who could, in theory, operate as a floor spacer.
However, when you watched Loving closely, he appeared to have the touch and form to develop into a shooter down the line, and you got the feeling that his low output was more the result of inconsistent playing time and low sample size than it was in skill level or potential.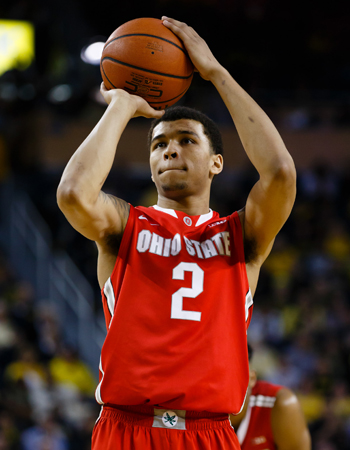 With those caveats out of the way, the improvement in Loving's production as a jump shooter as a sophomore still took just about everybody by surprise. It's not that Loving improved, as that was to be expected, it's that he improved to the point where he was one of the most efficient spot-up shooters in the country.
Loving connected on 46.1% of his 102 three point attempts last season, up from 25.9% as a freshman, and shot 43.4% overall as a jump shooter, up from 27.1%. He produced 1.232 points per jump shot and 1.354 in catch and shoot situations, which ranked in the 96th and 94th percentile in the nation, respectively. Those numbers are especially impressive when you take Loving's struggles from the perimeter over the last two months of the season into account, as he fell out of the team's rotation following a
three game suspension
.
Loving sports an incredibly compact release, with a high release point and no discernible extra motion. This allows him to not only get the shot off extremely quickly and with little space, but it's created an extremely repeatable shooting motion that should yield relatively consistent results. Whether or not he can maintain being one of the best catch and shoot players in the country as he ramps up the volume, and difficulty, of his shots might be a little bit unrealistic, and the impact the games he missed due to suspension on his numbers are a concern, but it's clear Loving is a very good spot-up shooter.
Loving also shows an ability to shoot on the move and when coming off of screens, and that's an area of his game that he could definitely expand in the coming seasons. His balance and footwork is strong here, and he gets good elevation that allows him to get separation from his defender.
The rest of Loving's game still needs work to round itself out, however. He doesn't do much off of the pick and roll, he's not yet as comfortable shooting off the dribble as he is from the catch, and he doesn't have the ball handling or elite athleticism to turn the corner dribbling off of a ball screen. He doesn't create much, either for himself or for his teammates, off the dribble, held back mostly by ball handling skills that need considerable refinement.
When Loving does get into the lane, he's an average athlete vertically who can stand to gain considerable upper body strength to finish against NBA level defenders. He does have decent toughness around the hoop with either hand and has good body control, so there's some potential here, especially because of the attention he draws as a jump shooter.
On the defensive side of the ball, Loving has some tools, namely his 7'1.5" wingspan. That being said, Loving has yet to really turn those tools into being a consistently plus defender. At times, he leaves his man and over-helps, is only an average athlete laterally, and needs to put on a significant amount of muscle to really become the versatile defender that he can be. The frequent zone defense that Ohio State played last season certainly factored into some of these problems, and it will be interesting to see how Loving grows as a defender down the line.
Marc Loving's development into one of the best catch-and-shoot players in the country was a huge boost to his pro outlook. For as much as you can look at his form during his freshman year and believe that the results will come, actually seeing those results has a predictably positive impact on perception. When Loving transitions to the next level, he's much more likely to do so as a small forward than the mostly power forward role he currently plays for the Buckeyes, and improving the rest of his perimeter skills – namely his ball handling and ability to attack closeouts off the dribble – as well as his defense, would be the next step in improving his draft stock even further.