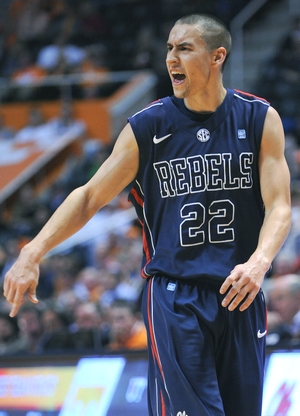 Derek Bodner
Marshall Henderson has taken a long and controversial path to his senior season, one which we still do not know exactly when it will start for the Mississippi guard, as he is currently suspended.
Henderson began his career at Utah all the way back in the 2009-10 season, but transferred to Texas Tech following his freshman season. After sitting out the 2010-11 season, Henderson would transfer to South Plains Junior College before playing a game for Texas Tech, deciding to leave after Texas Tech fired head coach Pat Knight. Henderson would lead South Plains to a 36-0 record and NJCAA national championship before transferring to Mississippi to begin his junior season.
Once there, Henderson had an outstanding year for the Rebels, scoring 20.1 points per game while leading Mississippi to its first SEC championship in over 30 years, with Henderson winning SEC tournament MVP honors. His offseason, however, started on a sour note, as Henderson was pulled over during a traffic stop by police in May and found to be in possession of small amounts of cocaine and marijuana, although he would officially only be charged with not having proof of insurance, earning Henderson an indefinite suspension from Ole Miss for conduct detrimental to the team. While Mississippi head coach Andy Kennedy is confident Henderson will be back at some point and will be trouble-free once he returns, as of this past week he has labeled the situation as fluid and was unsure of exactly when Henderson would be back in the lineup.
The incident last summer was not Henderson's first off the court transgression. Henderson was arrested back in 2009 while still in high school for trying to buy marijuana with counterfeit money, and then again in 2011 for misdemeanor possession of marijuana while still on probation, earning him time in jail. These recurring issues will certainly be something decision makers will have to think long and hard about when trying to determine his value at the next level, particularly considering his controversial on-court demeanor.
On the court, the 6'2" guard shows outstanding scoring instincts. He gets the vast majority of his offense from jump shots, nearly 90% of his half-court offense, according to Synergy Sports Technology. The vast majority of those are from beyond the three point line, as he averaged an incredible 10.9 three point attempts per game, which is second in our database, only a shade below the 11.0 per game Travis Bader of Oakland averaged (and having done so in 7 less minutes per game). The high percentage of three pointers helps Henderson maintain his efficiency (57% true shooting percentage) despite shooting only 38.1% from the field.
Marshall is most comfortable shooting coming off of screens, needing very little time or space to square himself up and get a good look at the basket. According to Synergy Sports Technology, shooting off of screens amounts to nearly 40% of his offense, and his 1.124 points per possession in these situations ranks in the top 20% of college basketball, quite an achievement for somebody who generates so much offense from this aspect of the game. According to Synergy, Henderson led the nation in possessions used off of screens, using nearly 40 more possessions than the next closest player on the list.
Henderson does a good job cutting close to the screen and getting in excellent position to receive the pass, doing plenty of work before receiving the ball to make sure he can get his shot up quickly and with little wasted motion. His balance and form when pulling up off of these screens is impeccable, and this allows him to shoot frequently and efficiently even if well defended. He also shows a knack for contorting his body and creating the tiny sliver of space he needs to get his shot off, showing good concentration and coordination to shoot off balance if necessary.
He's similarly effective in catch and shoot situations, once again doing a good job of being ready for the pass and with a very quick, compact release that he needs very little room for. His 1.069 points per possession in catch and shoot situations only ranks in the 65th percentile, but his usage and role once again play a key factor in this, as over 70% of his catch and shoot attempts came with a hand in his face according to Synergy Sports Technology.
Henderson is also capable of shooting off the dribble, connecting on an excellent 0.932 points per possession. This has helped improve his ability to score off the pick and roll which, while not an incredibly large portion of his offense, is another weapon in his arsenal. Henderson takes more than a few shots off balance and with a hand in his face, which is partly due to his role in Mississippi's offense, but he could definitely stand to improve his shot selection, as he frequently takes tough, contested, off balance shots with 10+ seconds left on the shot clock.
Henderson isn't much of a threat to get all the way to the basket at the college level, and almost certainly lacks the size or athleticism to do so at the NBA level. He has fairly good control of his dribble, but rarely will he even attempt to drive all the way in, usually pulling up for a jump shot well before he reaches resistance down low. On the rare instances he does get deep into the lane, Henderson has decent touch and is fairly crafty, but he has very little elevation around the rim and very much plays a finesse game. This is unlikely to be a major part of his game at any level, and he doesn't show much ability or interest in driving deep into the lane either from isolation situations or off the pick and roll.
For somebody who is 6'2" with a very small wingspan, you would hope to see more of an ability to play the point guard position than Henderson has shown thus far. Henderson is pretty much a wing player at this stage of his career, not showing much in the way of court vision, instincts, or an ability to control the tempo. He averaged only 2.0 assists per 40 minutes pace adjusted with a -3.04 pure passer rating, both figures that would be near the bottom of our list of shooting guards.
The defensive side of the ball presents another big challenge to Henderson's prospects to play at the next level. Standing 6'2", with a small wingspan, average lateral mobility and without the upper body strength to defend shooting guards at the next level, Henderson will be at a major physical disadvantage every night on the court at either guard position, but especially if forced to play the shooting guard position. He also struggles to fight through screens and tends to lose his man when playing off the ball. Overall, it would be hard to see Henderson developing into even an adequate defender at the next level.
While Henderson's ability to shoot the ball with very little free space is something that could potentially be valuable in the right situation, he has plenty of question marks in his overall game and his defense. Perhaps even more troubling are the off-court red flags and on-court antics. For a player who will have to fight tooth and nail just to get a look at the next level, those kinds of transgressions and question marks could doom his chances. When Henderson's suspension is finally lifted and he returns to playing basketball for Mississippi, it is of utmost importance for the senior guard to have a clean season and begin showing decision makers that his judgment can be counted on, even if the damage may have already been done.