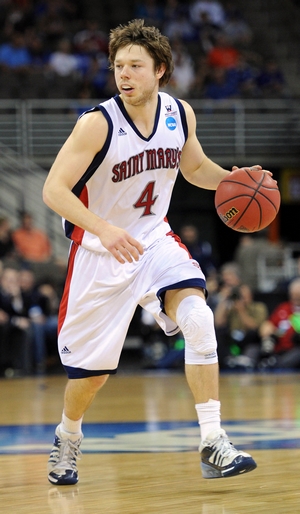 Jonathan Givony
It's been three years since our last writeup of
Matthew Dellavedova
, and he's made some pretty substantial progress since. His scoring rate, 2-point percentage, free throw rate, assist rate and pure point rating have all improved in every college season he's played thus far, and he played a substantial role for the Australian national team in the Olympics in London this past summer.
Dellavedova returns for his final collegiate season trying to make one last impression on NBA scouts who have evaluated him extensively.
Listed at 6-4, Dellavedova has good size for a point guard, even if he does not possess great strength or a long wingspan. What he does possess is an extremely versatile skill-level and high basketball IQ, showing terrific creativity with the ball in his hands.
Dellavedova ranked as one of the most efficient players in college basketball last season when taking his passing and scoring into account, and has continued along the same lines in the early going this season thus far. He has been Saint Mary's primary ball-handler for a few years now even if he can also see some minutes off the ball, and is at his best in the pick and roll, where his tremendous timing and creativity really shine through.
Dellavedova is an extremely gifted and unselfish passer, being capable of getting the ball to teammates in virtually every way possible, be it with the bounce pass, lob, chest passes, post-entries and everything in between. Playing at his own unique pace, he does a terrific job of using his picks patiently and waiting to see how the defense reacts, before making the read and getting the ball to where it needs to be. He ranked in the top-10 amongst point guard prospects in assists per-40 and pure point rating last season, and is likely to do the game again this season.
Not just a distributor, Dellavedova is also capable of putting points up on the board as well, something his team needs him to do at times. He scored 15.5 points per game last season, shooting an efficient 53% from 2-point range and 35.5% from beyond the arc. He boasts a very quick and compact release on his jumper, being capable of making 3-pointers with deep range both off the dribble and with his feet set.
While Dellavedova has the quickness and ball-handling skills needed to create his own shot effectively from the perimeter at the college level, his athletic limitations show up a bit more when he's forced to drive into the paint and finish over the top of physically gifted defenders in traffic. He has a difficult time finishing over length in both half-court and transition situations, not possessing the strength or explosiveness needed to get all the way to the basket and still get off a high percentage shot. He's adapted somewhat by developing a very potent floater that he sometimes likes to shoot off one leg from 5-15 feet away, but there are question marks about how this will translate to the NBA level. In the Olympics
for example
, he struggled inside the arc.
Another question mark Dellavedova faces at the pro level revolves around his potential defensively. His lack of strength, length and lateral quickness makes it difficult for him to stay in front of opposing point guards, as he doesn't cover ground very well, and has a difficult time getting through screens. He counters this by putting a good effort in, and shows nice anticipation skills on this end of the floor, but his potential at this end of the floor is a bit murky against elite athletes.
While Dellavedova has his flaws, it's difficult these days to find creative point guards with size who can both distribute and score effectively. Dellavedova pick and roll prowess combined with his ability to make shots with his feet set and off the dribble are attractive traits. His quick and decisive style of play looks very well-suited to professional basketball, so he is bound to get some serious looks from NBA teams. If he's unable to latch on here, he will certainly have no shortage of offers to play at the highest levels of European basketball.