Matt Williams
One of most efficient role-players in the country,
Pat Connaughton
did an outstanding job playing off of the much improved
Jerian Grant
and talented sophomore
Demetrius Jackson
as a senior at Notre Dame, excelling in a similar role to the one he'd be asked to play at the NBA level.
A player we first wrote about at the high school level when he was a senior at St. John's Prep (MA),
Pat Connaughton
has taken one of the more unique roads to the 2015 draft among college seniors. A gifted multi-sport athlete who fielded scholarship offers in both basketball and baseball, the Arlington, MA native has moonlighted as a promising right handed pitcher throughout his time on the NBA radar. Forthright about his intention to play college basketball instead of pursing a professional baseball career out of high school, Connaughton, deemed to be a terrific long-term pitching prospect, fell all the way to the San Diego Padres in the 38th round of the 2011 MLB Draft less than a year after our first report on him.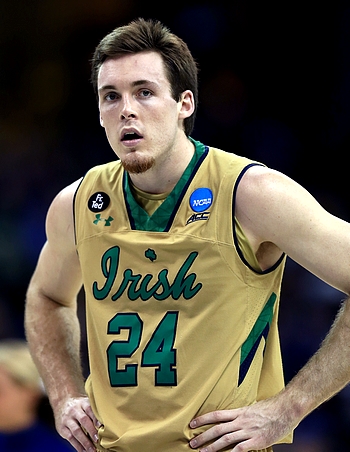 Averaging 7 points and 4.4 rebounds per game as a freshman, Connaughton would subsequently join the Irish baseball program, making 12 appearances. Doubling-up once again as a sophomore and junior, Connaughton did his due diligence on the diamond appearing in the Cape Cod Baseball League in the summer of 2013 and then briefly playing Class-A ball last summer for the Aberdeen IronBirds after the Baltimore Orioles selected him in the 4th round of the 2014 MLB Draft. Adamant about getting his degree, Connaughton returned to South Bend for his senior basketball season.
Standing 6'5.25 in shoes with a 6'9 wingspan, Connaughton has good, but not outstanding size for a wing. He is, however, a terrific athlete with great explosiveness and a strong frame who competes and gained plenty of experience against bigger players as he frequently played the power forward position this season, as the Irish employed a small lineup that devastated opposing defenses.
Connaughton's intrigue at the NBA level starts with his role-player potential on the offensive end. Finishing as the Irish's third leading scorer last season behind
Jerian Grant
and
Zach Auguste
, Connaughton ranked fifth among NCAA players using 400 or more total possessions this season scoring 1.113 points per possession. Nestled in between
Jahlil Okafor
and
Frank Kaminsky
, Connaughton was one of the more comprehensively efficient players in the college game.
Though he was efficient in a variety of areas, his role was predicated on a healthy diet of spot up opportunities generated by Grant and Jackson out of isolation and pick and roll situations. 45.6% of Connaughton's possessions were spot ups according to Synergy Sports Technology and he scored an elite 1.253 points per possession, leading the nation in total spot up points. An exceptional set shooter with great range and a knack for making shots under duress, Connaughton's ability to spread the floor and make 3s consistently at the NBA level is a key part of his value proposition.
The 22 year old also shows some promise as a pull-up jump shooter. He did a great job shying away from such attempts last season (which are normally poor shots for an offense like Notre Dame at the college level), going 7-21 from the midrange off the bounce, but did make a number of impressive shots in the process. His lack of dynamic ball-handling ability limits his ability to create for himself on a regular basis when he can't blow by his defender with his first step, but he's shown the skill level to take what defenders give him in a variety of ways, even scoring at a nice rate in isolation situations when he was asked to create a bit more off the bounce as a junior.
With so many of his possessions coming on spot ups, Connaughton wasn't overwhelmingly productive in other situations. Nonetheless, his basketball IQ and athleticism translated to a number of areas. Doing a nice job moving without the ball cutting backdoor, Connaughton flashed his timing and athleticism shooting 69% converting cuts inside. He shot a solid, but not spectacular 54.5% finishing inside on the whole, struggling at times to convert over length, which isn't surprising considering his size. Doing a terrific job hunting shots in transition, Connaughton scored a very respectable 1.127 points per possession on the break as well.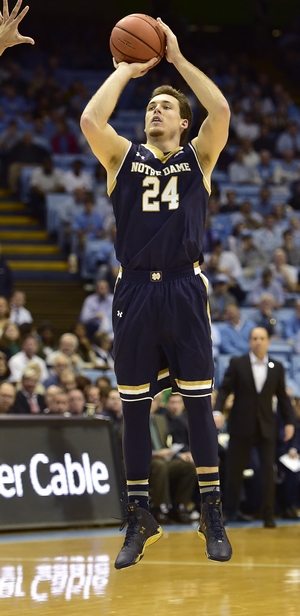 More than just a shooter, Connaughton also pulled down a terrific 8.5 rebounds per-40 minutes pace adjusted, which places him just off the rate set by the elite wings in this draft class including
Kelly Oubre
(9.2),
Stanley Johnson
(8.9), and
Justise Winslow
(8.7). Leading the Irish on a per-game basis pulling down 7.4 boards per game, Connaughton's grittiness and knack for reading the ball was a key reason they were able to survive playing small all season. Attacking the ball at its highest point, scrapping for rebounds away from the rim, boxing out bigger players, and reading the ball well off the rim, he's one of the more capable rebounders among wings in this draft.
As a passer, Connaughton took a back seat this season, dishing out only 1.7 assists per-40 minutes pace adjusted, down from 3.3 a year ago. Again, his willingness to blend in and do what's asked of him hurts him from a statistical perspective, but the vision that helped him post a 2.6 assist-to-turnover ratio last year shined through from time to time.
The biggest question-mark for Connaughton is how he fits in defensively at the next level. Struggling to defend bigger players in the post this season and only possessing average lateral quickness, the senior doesn't have outstanding potential on this end from a NBA perspective, but won't struggle for lack of effort or awareness.
Trending upward since the end of the college season performing well at the Portsmouth Invitational Tournament where he averaged 10 points, 6 rebounds and 1.7 assists per game while shooting 42.9% from three, and the NBA Combine, where he scored 24 total points in two appearances, Connaughton has been one of the highest rising senior prospects in this draft class. With plenty of experience playing the same spot-up-centric role he's likely to play at the next level, Connaughton has put himself in position to hear his name called in the second round of draft night, which is no small feat for a non-top-100 recruit coming out of high school who never functioned as a first option and split time playing two sports at a high level.