Josh Riddell
A three year starter at Tulsa despite being an unheralded recruit coming out of high school, Shaquille Harrison has been an integral part of a Hurricanes squad that has made a postseason tournament in all three of his seasons. Now a senior, Harrison will look to lead the team back to the NCAA tournament, while raising his NBA draft stock in the process.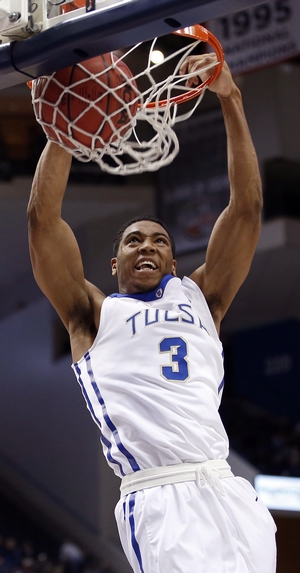 Harrison was a high-usage player, using 28% of his team's possessions in conference play, but was just average from an efficiency standpoint with a true shooting percentage of 50%. He's a productive player at 16.5 points, 6.5 rebounds and 4.7 assists per 40 minutes pace adjusted as he is asked to do a lot of things on the floor for his team.
At 6'4", Harrison has nice size for a combo guard, although his overall package of athletic tools aren't overwhelmingly impressive. He has long arms, but a very skinny frame at around 190 pounds. He will need to improve his overall strength level to compete with NBA players and hold up over an 82 game season. He has above average speed and explosiveness that allows him to make nice plays in transition or above the rim at times, but doesn't dominate opponents in the AAC athletically.
The majority of his possessions come out of pick and rolls, and if he can improve as a facilitator, NBA teams will get a clearer picture of how he fits into their offense. He is a crafty slasher who can turn the corner off the screen and get to the rim with nice timing and footwork, but doesn't always have the quickness or advanced ball-handling skills needed to shed his defender, which leads to contested shots in the paint. This is true of isolation situations as well, as he just doesn't have the dribbling skills at this point to navigate through traffic for a clean look. Harrison took the 17th most shots of any players in college basketball at the rim, according to Synergy Sports Technology, but made just 48.6% of these attempts. With his smaller frame, he will have to develop better touch on his floater to score consistently over the defense once he gets into the paint.
Harrison isn't yet a great creator out of ball screens, and while he displays vision to find his open teammates, he doesn't deliver accurate passes to put them in position to score. This leads to a pure point rating of 0.18,
one of the lowest among AAC point guards last season
. In such a high usage role, his shot selection can suffer as much of the offensive burden is placed on him, so if he can improve as a distributor, it will help both Tulsa's offense and his draft stock.
Harrison can also play off the ball, as he can run off screens and drive at open space after ball movement, but the fact that he isn't a great shooter and doesn't have great size limits his potential to play alongside another point guard. He has shot just 22.5% on three point attempts for his career, and while his form isn't completely broken, he will need a major overhaul and a confidence injection to become a more consistent shooter. At this point in his career, he is more comfortable with the ball in his hands, but will need to show better potential as a playmaker to be trusted to run a NBA offense.
On the defensive side, Harrison has some potential to be a pest, but may struggle to be a lockdown defender. He moves well laterally to stay in front of dribble penetration and harasses the ball handler. This combined with his wingspan and ability to jump passing lanes leads to an impressive 2.5 steals per 40 minutes pace adjusted.
He does need to improve on some defensive principles, as he struggles with tunnel vision when guarding the ball, which causes him to run into screens, taking him out of the play. He gambles a little too much for steals, finding himself out of position on his own man or to rotate to help his teammates and doesn't appear to have a high basketball IQ.
Harrison has some potential to be a microwave scorer off the bench but will need to show some improvements in his senior season to be recognized as a viable draft prospect. On a veteran Tulsa team, with the top seven contributors entering their senior season, Harrison will have to show he can run the offense efficiently and balance his own scoring while getting his teammates involved. Harrison will be one of the best scorers in the AAC and rounding out his playmaking skills and perimeter shooting ability could help put him on the NBA map.