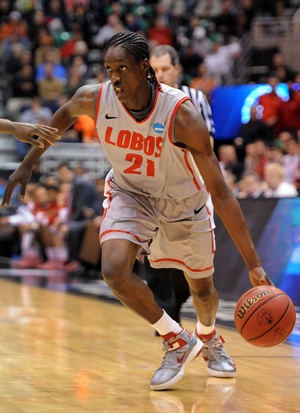 Walker Beeken
New Mexico's
Tony Snell
had a solid junior season as a major contributor for the Lobos, who won the Mountain West regular season and conference tournament. Snell's season ended in disappointment, however, as the Lobos were upset by Harvard in the first round of the NCAA tournament, marking an end to his college career, as he decided forgo his senior season and make himself eligible for the 2013 NBA Draft.
Snell played the small forward spot for Head Coach
Steve Alford
and the Lobos, and he brings a nice package of physical tools to the table as an NBA wing prospect, measuring in at over 6'7" in shoes with a near-7'0" wingspan at the NBA combine. He's improved his body some since arriving at New Mexico, but he'll need to continue to add strength to his thin frame to compete physically at the NBA level. He also stacks up well athletically, possessing good speed, quickness, and leaping ability.
Snell's game on the offensive end is built around his outstanding perimeter shooting, and he does a very good job moving without the ball to get open for his shot, as he was constantly being run off of screens in the Lobos' offense. He connected on 39% of his 3-pointers as a junior and has range that should stretch out past the NBA 3-point line. He does a nice job of rising and squaring himself up for jumpers off of screens or spotting up, and he's also able to pull up smoothly after a dribble or two.
Tony Snell Pre-Draft Workout Pull-Up Jumpers
Tony Snell Pre-Draft Workout Catch and Shoot NBA 3s
Despite his smooth outside shooting stroke and strong physical tools, Snell wasn't overly productive as a college player at New Mexico, as he seemed to lack a degree of assertiveness and toughness. Some of this can be attributed to a lack of advanced ball-handling skills and his role in a balanced offense as more of an off-the-ball shooter, spending most of his time being run off of screens or spotting up, but Snell also seemed to lack an attacking mentality, and he too often settled for contested jumpers as a junior.
While Snell's ball-handling skills did looked improved from his sophomore to junior season, he still wasn't much of a threat to create his own offense off the bounce. He did do a better job of using shot fakes and looked more comfortable putting the ball on the floor on close-outs, but he ended up taking a much higher percentage of 2-point jumpers as a junior, which dropped his efficiency, as his 45% on 2-pointers was the second lowest percentage of all small forwards in our Top-100 rankings. His also didn't get to the free throw line all that often, with his 3.8 attempts per-40 ranking fourth worst among Top-100 small forward prospects.
In addition to his passiveness attacking the rim, Snell's 3.4 rebounds per-forty was also the lowest of any small forward in our Top-100, further highlighting his lack of aggressiveness.
With his likely NBA role as a floor-spacing, catch-and-shoot player, Snell won't be asked to create much offense or be a major contributor on the boards, but being more of a well-rounded offensive threat and a player that do some of the dirty work would certainly help him carve out a niche at the NBA level.
Snell does show some potential as a passer and ball-mover on the offensive end, as his 3.7 assists per-forty actually led all small forwards in our Top-100, despite his lack of creating responsibility offensively. He has a nice feel for the game and makes the extra pass and shows some potential finding open shooters on drive-and-kick opportunities.
Defensively, Snell's physical tools make him an intriguing piece, as he has the size, length, and lateral quickness to be a versatile defender capable of defending both wing positions. If he makes a commitment to focusing on the defensive end, it would go a long ways towards helping him solidify a role at the NBA level. He'll need to continue to get stronger and play tougher, but he certainly has the potential to excel on this end of the floor.
Snell's lack of ability to create off the dribble likely limits his upside, and NBA teams will want to do their research and hear from him in interviews regarding his lack of aggressiveness, but he certainly has some qualities that make him an attractive prospect for NBA teams. His size, length, and athleticism give him nice potential to defend both wing positions at the NBA level, while his ability to knock down perimeter shots with his feet or off of screens, and play within the flow of the offense give him potential as a floor-spacer and ball-mover.
With only a few weeks left until draft day, Snell will likely be one of many players hoping to land a spot late in the first round, or somewhere early in the second round, depending on how his workouts and interviews go throughout the rest of the pre-draft process.