Josh Riddell
Vince Edwards has quickly established himself as a key member of the Purdue Boilermakers by starting nearly every game in his two year career, while being a significant contributor to back to back NCAA Tournament teams. Edwards is a well-rounded offensive contributor as he is the only power five conference player who will return to the NCAA for the 2016-17 season to average 16.5 points, 7.8 rebounds and 4.2 assists per 40 minutes last season.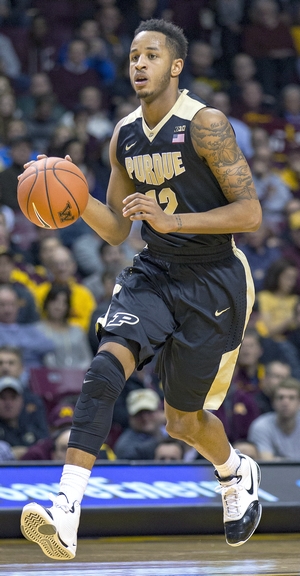 Measured at 6'8" with a 7'0" wingspan, Edwards has ideal size for the small forward position and with his chiseled 225 pound frame, has the strength to play the power forward spot. Athletically, he is just average, lacking a degree of quickness and explosiveness.
While A.J. Hammons has graduated, Purdue still features two prominent big men in Isaac Haas and Caleb Swanigan and are expected to continue to feature them together in lineups. This has allowed Edwards to display his versatility by playing both the small forward and power forward spot in various lineups, which has demonstrated to NBA teams that he can be used in different ways at the next level.
Edwards made a substantial leap in his three point shooting accuracy in his sophomore year, as he saw his percentages rise from 32.6% to 40.7% on 4.7 attempts per 40 minutes. There is still a substantial dip in his somewhat mechanical looking jump-shot, which can slow his release and renders him more ineffective when closely guarded, but it's encouraging to see an uptick in his overall efficiency. If he can replicate his accuracy from the three point line as a junior, and speed up his release somewhat, it will go a long way in proving he can be a credible shooting threat from the perimeter at the NBA level.
He has displayed some potential as a slasher from the wing, but this area of his skill-set is still a work in progress. He reads the defense well on drives and recognizes the open areas to find the best possible shot for his teammates or for himself, whether that means passing out early, a pull-up jump shot or navigating all the way to the rim. He's becoming more adept at getting to his spots off the dribble for a mid-range pull-up and he converted 43.6% of his 39 jump shots off the dribble according to Synergy Sports Technology, despite not possessing the most fluid looking jumper.
One area that he will need to improve upon as he develops his attacking game is his ability to finish around the rim in traffic. He lacks a quick first step or creative ball-handling skills to create separation from his man easily, and doesn't have a ton of explosiveness off the move, which can lead to some tough finishes in the paint. He converted just 48.5% of his half-court attempts inside the paint last season according to Synergy Sports Technology, a poor rate for his physical profile. He was able to get to the line 3.7 times per 40 by using his strong frame to absorb contact which helped his efficiency on dribble penetration, but he will need to find more ways to score off the bounce since he may struggle to finish against NBA length.
Edwards flashed some skill as a passer by averaging 4.2 assists to 2.4 turnovers per 40. He can make the right reads from a standstill by seeing cutters, entering the ball into the post or swinging the ball in the flow of the offense to keep the action moving. He started to show some skill as a passer on the move and adding that ability to his arsenal will be the next step in his player development. This will help cement his ability to play from the wing as a multi-faceted offensive attacker.
While Edwards took a step forward in demonstrating what roles he can fill on the offensive end, he is still struggling to show off his defensive value, which is a major component of his potential role at the NBA level. He does have the physical tools and agility to hold his own against either forward position, but he doesn't always play with the energy needed to make plays, which doesn't work considering he's already at a disadvantage athletically. He can switch everything on the perimeter, but he uses this as a crutch to sag way off his man and fails to fight through screens, which allows the offense to move freely.
He did improve as a defensive rebounder and showed more of a desire to help his team finish plays as a sophomore by averaging 5.2 defensive rebounds per 40. However, he failed to produce steals (0.8 per 40) or blocks (0.5 per 40) which demonstrates and awareness his lack of aggression on that end. He's not a finished product defensively and he will need to develop into a versatile defender by improving his motor while taking more pride in slowing down his man to show his potential as a two-way player.
Edwards will continue to have ample opportunity to round out his skill set from the small forward position in a two big lineup while also being able to play some minutes as a power forward to show off his versatility. He will be 20 for the entire season, a young player for his class, and after making some clear improvements to his game as a sophomore after gaining comfort playing in the Big Ten, he will be looking to take another leap as a junior to make a bigger impression with NBA scouts.