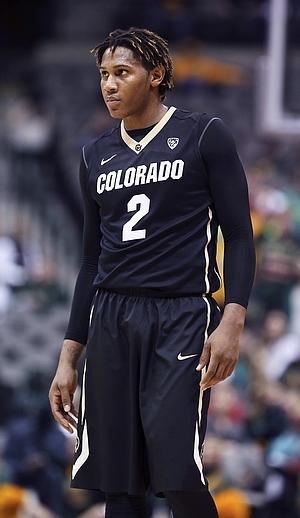 Matt Williams
After busting onto the scene as one of the more productive freshman in the Pac-12 during the 2012-2013 season, Xavier Johnson put together a fine sophomore campaign, averaging 12 points and 5.9 rebounds per-game as Colorado made the NCAA Tournament despite losing Spencer Dinwiddie to a knee injury mid-season.
Standing 6'7 with good length and solid, but not spectacular, all-around athleticism, it isn't hard to see what makes Johnson an intriguing NBA prospect on first glance. The 69th best prospect in the 2012 high school class according to the RSCI, Johnson combines nice physical tools for a small forward at any level with an above average feel for the game and the ability to do a number of things well on both ends of the floor.
Skill-wise, Johnson remains largely the same player we wrote about a year ago. He's an opportunistic slasher and finisher whose body control helps him overcome the fact that isn't always able to explode and finish everything above the rim. His size and feel for operating inside allow him to make contributions in the post and crashing the offensive glass as well, which is reflected in his 52% shooting from inside the arc. Away from the rim, Johnson can put the ball on the floor a bit and make shots both off the catch and off the dribble.
As we noted in our last report, Johnson made an outstanding 46% of his catch and shoot jump shots as a freshman according to Synergy Sports Technology, but did so in a small, 46-shot sample that would make his sophomore numbers worth monitoring. As a sophomore, Johnson showed an improved pull-up game, but made just 33% of his 83 catch and shoot jumpers, forcing some attempts and appearing quite streaky for stretches of the year. While Johnson is by no means an incapable shooter, he was unable to replicate his numbers as a freshman as perimeter attempts became a bigger part of his offensive repertoire –more than half of his attempts were jump shots as a sophomore, compared to only 35% of his attempts as a freshman.
Looking ahead, it will be Johnson's ability to step into a feature role offensively that helps determine how he's perceived by NBA scouts in the coming years. He's a jack-of-all-trades type at this stage who can score in bunches when his shot is falling, but still makes fairly efficient contributions when it is not. With much of its core returning, aside from Dinwiddie who was sidelined for much of Pac-12 play, Colorado won't be starved for scoring, but if Johnson can find his rhythm from the perimeter on a more consistent basis and shoot a better percentage from the line, there's no reason he can't make an impression on scouts and carve out a bigger role for Tad Boyle's Buffalos.
Aside from his scoring ability, the Mater Dei (CA) product brings plenty of other things to the table at the NCAA level. He's a capable rebounder who shows good instincts pursuing the ball of the rim, an engaged, active defender, and an improved interior defender from his freshman year when he struggled mightily when matching up against interior scoring power forwards.
More of a roleplayer during the first two years of his college career, Johnson has some interesting tools for the NBA level, but will need to step into a more prominent role or improve as a shooter to solidify his potential as a roleplayer and take the next step as a prospect. Colorado is in position to have a terrific season, which will give Johnson every opportunity to improve his standing among NBA decision-makers.