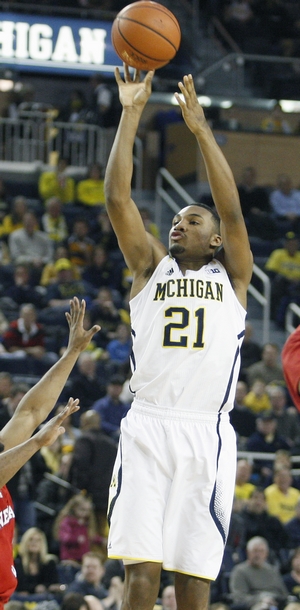 Jonathan Givony
Indiana's Mr. Basketball and a Top-30 high school recruit according to the RSCI, Zak Irvin played a small, but important role as a freshman last season on a stacked Michigan team featuring one of the best wing combos in the country in Nik Stauskas and Caris LeVert.
With Stauskas and Glenn Robinson moving on to the NBA, a good amount of minutes and shots are opening up, which should bring Irvin to the forefront of what's expected to be one of the better teams in the highly competitive Big Ten.
While only seeing 15 minutes per game, Irvin was nevertheless very aggressive when he was on the floor, evidenced by his relatively high 22% usage rate—something that suggests his scoring rate will increase accordingly with additional playing time.
It's easy to tell what kind of player Irvin was last year simply by looking at his shooting splits—he shot 146 3-pointers, but only 50 2-pointers to go along with 21 free throw attempts. Digging further into his Synergy Sports Technology profile reveals just how one-dimensional he was--93% of his half-court shots were jumpers, while in transition he rarely handled the ball and would almost always run to the corners for an early-offense 3-pointer.
While it's safe to describe Irvin as a one-dimensional player last season, that's not to suggest that he wasn't extremely effective in that one (highly coveted) area he was asked to specialize in. He made 42.5% of his 3-pointers and posted a 60% true shooting percentage, both of which rank among the top players in the freshman class last season.
Irvin sports fluid and consistent shooting mechanics, to go along with excellent balance and deep range, making him a terrific option to space the floor, use in dribble-handoffs, or bring off screens. He dips the ball below his hip somewhat upon catching the ball, which slows down the speed of his release, but nevertheless shoots it virtually the same every single time, helping him see excellent results. NBA shooting coaches may decide to tinker with his jumper a little to try and eliminate the unnecessary wind-up slowing down his release, but there's no question that Irvin is a very dangerous outside shooting threat, which already on its own makes him an intriguing NBA prospect at his size.
Besides Irvin's ability to make shots with his feet set, the rest of his game is somewhat of a mixed bag at this stage. He made only 29% of his off the dribble shooting attempts as a freshman, although not on a huge sample size—only about one per game.
His slashing game is even less proven, as Irvin attempted just ten shots inside the paint all season in half-court situations, as he almost never put the ball on the floor. He didn't look that bad attacking unbalanced defenses in closeout situations and going to the basket, so it will be interesting to see if that's something we'll get to a watch a lot more of as a sophomore. As you'd expect from someone who is asked to handle the ball as little as he is, Irvin generates very few assists (4.7% of possessions), but also almost never turns the ball over (7.2%), with both figures ranking close to last among wing prospects.
It will be interesting to see how things evolve this upcoming season, as Irvin added quite a bit of weight to his frame this past summer, but had a very poor showing at adidas Nations, shooting 11/43 from field with zero free throw attempts in five games. He was reportedly much better in Michigan's preseason trip to Italy, though.
The defensive side of the floor is where NBA teams might be watching Irvin the closest this upcoming season, as if he can prove to be a capable player here at the next level, he is almost certain to carve out a role considering his outside shooting prowess.
Irvin boasted a skinny frame as a freshman, which made it difficult for him to get through screens and made him a target for opposing post-ups, especially when operating as a floor-spacing power forward. His intensity-level and focus wavered as a freshman—not all that uncommon considering his age, but he tended to struggle off the ball, something teams will want to see him improve on.
As a man to man defender, Irvin showed solid potential as a freshman and has plenty of tools to build on with his excellent size and very long wingspan. He willingly gets in a defensive stance, has solid lateral quickness, and does a nice job contesting shots on the perimeter with his length. While John Beilein is largely considered an offensive wizard, his teams have never been known for their defense, so it will be interesting to see how Irvin grows here, since he certainly has some potential in this area.
This will be a telling season for Zak Irvin, as he'll be asked to play a much heavier role on a team expected to contend for Big Ten supremacy once again. Michigan's wing players (Stauksas, LeVert, Tim Hardaway Jr) have improved substantially as they've matured the past few years thanks to their strong player development program, so it will be very telling how Irvin produces like as a sophomore.