Wassup, this is
Pooh Jeter
, and I'm the newest member of DraftExpress.com's blog team. I signed a one year deal with DraftExpress for a million dollars. Yes, I said it, one milllllllliiiiiiiioooonn dollars to blog for them while I'm playing in Europe this year. I'm just joking about the million dollars part, I know u was saying 2 yourself "A MILLION DOLLARS, I need 2 start writing blogs if Pooh is getting paid a million dollars". Hahahahhaa.. I'm doing this for FREE dollars and I'm so excited about writing blogs this year. Since a lot of people don't know who I am, my first blog would be an introduction to who is
Pooh Jeter
???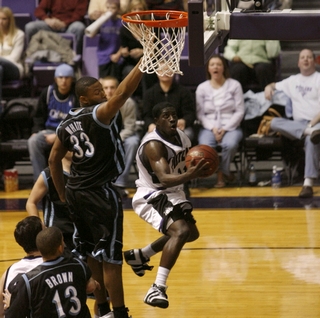 My government name is Eugene Jeter III, and I was born December 2nd, 1983. I'm from GARDENA, California. I capitalize Gardena like that because it's time 2 put my city on the map. A lot of people in LA show us no love for some odd reason. Everybody around the world knows about other cities in LA like Compton, Inglewood, South Central, Watts, and etc. Don't get me wrong, I like all the cities in LA, but now it's time for GARDENA 2 get some love. SO GARDENA STAND UP!!!
My parents/best friends are Eugene and Gloria Jeter. I have one brother and two sisters.. My brother's name is Demond. My sister's names are Carmelita and Simone. My sister Carmelita runs for the USA track team and she will be running in the Olympics next summer in the 100 meters and hopefully the 4 x4. She is currently 3rd fastest woman in the world and she isn't taking any drugs, ladies and gents.
I got the name Pooh from Grandma Ethel " Madia" White, R.I.P. She said I looked like a Pooh Bear when I was born, and the name Pooh stuck with me ever since. Everybody and they momma call me Pooh. The only time I hear the name Eugene is when I'm in trouble. I have a lot of nicknames: Pooh the Jet, Poohskee, Poohness, Eugenius, Pooh Snickens, PJ3, and Armor All (cuzz that black boy will always be shinning). And of course, you know the woman call me Pooh Bear. Just 2 get this straight.. My last name is JET-ER. Like the word Jet. Like I'm fast like a Jet. Not like Derek Jeter, pronounced GEEE-TER. Remember that I'm the JET. So say it with me, JET-ER!!
My pops and my cousins Ken Horton and Justin Love taught me how 2 play the game of basketball, and I've been loving the game ever since. My dad is from Detroit and he always had me watching
Isiah Thomas
and the Detroit Bad Boys. He told me to watch Isiah because he wanted me to play just like him. He wanted me be like Isiah or like Nate "Tiny" Archibald.
My cousin Ken is ten years older and we would always work out together. He even took me to play pickup games with his friends. Playing against older people when I was young helped me out a lot because they were stronger and better than me. I still had to prove that I belonged out there with them, because if I didn't, they wouldn't let me play with them anymore. My other cousin J Love is two years older than me and we used 2 play against each other a lot when I was young. He taught me how to do a lot of moves like
Tim Hardaway
's killer crossover.
I started playing at the Inglewood YMCA at the age of 5. My dad decided he wanted to coach me, so he took me out of the YMCA. He coached with Andy "The Hawk" Price, my best friend's (Boobie) dad at Denker Park located in South Central. Denker Park is where I developed my skills, and it got me ready to go to basketball camps. The first basketball camp my parents sent me to was the Bryon Scott camp. They sent me there so I could learn more about the game of basketball and to get away from them for about a week.
I went to the Bryon Scott camp for three years straight and won a lot of awards. At the
Byron Scott
camp, I met one of my closest friends till this day, Kevin Bell Jr. aka BJ, who is the starting point guard for Fresno State. His dad, Kevin Bell, saw BJ and I play against each other in camp. He wanted me to play on his AAU team back then, which was called KSWISS. I played for KSWISS for less than a year until coach Bell left.
After I left KSWISS, I went to play with VBA (Values for a Better America), coached by Dart Stamps. I was about 11 years when I started playing for VBA, later changed to TPI ( Top Prospects Inc). I got a lot better playing with TPI because I practiced against the best guards in my age group in the city (
Brandon Heath
and Jason McKinney), and we also played against the top teams in AAU national tournaments. When I was younger, I watched the top high school point guards in the city like Ba
ron Davis
,
Jason Hart
, and Kenny Brunner. Watching them play helped me a lot, because whatever they did on the basketball court, I would go home and work on it, so I could use it against my opponents. I wanted to get the same type of attention like they were getting.
I went to Junipero Serra High School in Gardena, CA. When school started my freshmen year, Coach Dwan Hurt let me train with the varsity team before the season started. I thought I was going to play Varsity my freshman year, but I guess I was wrong. Coach Hurt didn't want me to play Varsity my freshmen year, because I wouldn't get any playing time. He gave me the choice to play on the JV or freshmen team. I decided to play on the freshman team, because the coaches at the time were point guards when they played at Serra in the early 90's. I had a good freshman season and coach Hurt decided to move me up to Varsity for the playoffs. We were CIF Champs my freshmen and sophomore years, and we lost in the CIF championship my senior year.
I didn't really play AAU basketball during high school, because my AAU coaches didn't give me no playing time. I went to the Boo Williams and Peach Jam with Sports Express but I didn't get the chance to showcase my talents. During the summers, I played in high school tournaments with my high school team. I gave Compton Dominguez, one of the best teams in the country, 40 something points in the Carson summer league. They had a lot of D1 players on their team. The only person they were missing was
Tyson Chandler
. After that game, I was ranked a top five point guard on the West Coast by Pacwest Hoops, but I never got invited to the Nike or ABCD Camp.
My junior year, I went to the Superstar camp in San Diego, and that's where I was seen by some D1 schools. I didn't really get any exposure in high school, because I wasn't on the AAU circuit So I never got the chance to go to the top camps: Nike, ABCD, and NBA. And I didn't get to showcase my skills playing in the Las Vegas Big Time tourney or any other tourneys in the USA. All my friends got the chance to do all those things.
Since I didn't really play AAU basketball, Coach Hurt and I would work out all the time, so I could get ready for the next level. I also started working out with a well known trainer in LA by the name of Wayne Slappy. Slappy helped me with my shooting, ball-handling, and many other things. I put in a lot of hard work, which paid off my senior year of High School.. I averaged 23 points and 10 assists my senior, and was Del Rey league MVP. I started getting more attention from D1 schools in the Big West, Big Sky, and WCC. Gonzaga had a lot of interest in me, but my high school coach said they probably wanted to red shirt me my freshman year. I didn't want to red shirt my first year of college, because I felt I was ready to play. My friend Donald Wilson and I went on a visit to the University of Portland, and we felt that that would be a good spot for us. While on the trip, Donald and I committed to U of P.
My main problem in high school was the SAT and ACT. I took the SAT three or four times, and ACT twice. My grade point average in high school was over a 3.0, but I had problems passing those tests. At the time, I had a girlfriend that I was dating for a while, and I decided to break up with her so I could focus more on passing the test. I needed to pass this test because I didn't want to go the prep school or Junior College route. I had to buckle down and get straight to bizzness. All the studying paid off, and I found out that I passed my SAT the morning of graduation day. That was the best day of my life, because it was now official that I was going to college.
I went to the University of Portland, and that was the best experience of my life. I finally was away from LA, and now living on my own. I grew as a person and as a basketball player while in college. My head coach in college was
Michael Holton
. Coach Holton was the assistant coach at UCLA before he took the job at the University of Portland.
I went to the University of Portland for 2 reasons: #1, I wanted to be a part of this rebuilding process and put U of P on the map. And #2, coach Holton was an NBA point guard and I wanted to learn about being a point guard and leader from him. I want to be an NBA point guard, so why not learn from somebody that been in the league. Ya dig?
I never had a winning season in college. My best record was 15 and 15. We were always supposed to have good seasons, but it never went our way. Individually, I was all-conference three years straight, and top five in a lot of categories in Portland history, including the #2 scorer all-time. While in Portland, I worked out with one of our assistants almost every morning before class. I wanted to win and be the best player to ever come out of Portland.
On the weekends after the season, I would work out with some trainers in Portland like Beno, Erwin Cowan, and Howard Avery. The city of Portland produced some good guards, like
Terrell Brandon
,
Damon Stoudamire
,
Salim Stoudamire
, Brandon Brooks, and
Aaron Miles
.
When I went back home during the summers, I started working out with my blood-brother Ba
ron Davis
(AKA Boom Dizzle),
Earl Watson
,
Jason Hart
,
Dijon Thompson
, and with a few of my FAM bros
Brandon Heath
and
Bobby Brown
. We would work out two to three times a day, including playing pick-up games at UCLA with other pros. I also worked out with my cardio trainer Laurian Watkins of Pro Skills Sports Academy, and we would run on the sand Monday thru Thursday.
My game continued to got better, and better, and better, while working out with the names I said above. My basketball trainers are Rico Hines, Dart Stamps, and Rasheed Hazzard. Rico has taken my game to another level and always told me to "have peace with your game". He is currently a player development coach with the Golden State Warriors, and Rasheed Hazzard is an assistant coach with the LA D-Fenders in the D-League.
I didn't get an invite to go to the Portsmouth Invitational Tournament. Portsmouth is a camp for the top seniors in college basketball. I was in the office when coach Holton called somebody that runs Portsmouth, and they told him that they heard of me, but they thought some other guard was better than me. I didn't go to Portsmouth and I wasn't invited to the NBA pre-draft camp.
I still went to Orlando with my agency at the time, Life Sports Management, and we had private workouts in front of all the NBA teams for three days. In the workouts were
Ryan Hollins
,
Guillermo Diaz
,
Alexander Johnson
, Jama
al Williams
,
Jeremy Kelly
, and myself. I did really good at the workouts. When I came back home, I worked out for the Lakers once and with the Sacramento Kings three times.
I didn't get drafted, but I already gave a commitment to play with the Kings in the Vegas Summer League. I played really well with the Kings, and I ended up signing a partially guaranteed contract with Sacramento for training camp. I was so pumped up and proud of me by signing with the Kings, because a lot of people didn't think I would make it that far. I love proving people wrong. It brings out the best in you. So I went to camp with the Kings, and did pretty well, but I was caught up in a numbers game and was released after the first preseason game against Dallas.
When I was released from the Kings, I was disappointed and hurt, but I couldn't let that bring me down. I went back home and worked out with one of my trainers, Rasheed Hazzard. Sheed was one my assistant coaches my senior year at UofP, but the staff was let go after my senior year. Sheed and I worked out every day at my high school before I went to the D-League. Coach
Joe Wolf
selected me in the 3rd round, 27th overall in the D-League draft, by the Colorado 14er's.
Going to the D-League was one of the best decisions I made so far in my life, instead of going overseas last year. It was my first year out of school, and I felt like I needed the right exposure to get this party started. We had a great team with the Colorado 14er's. We had a lot of players at that time come from NBA training camp (Von Wafer from the Lakers,
Elton Brown
from the Knicks,
Mike Harris
from the Bucks,
Louis Amundson
and myself from the Kings).
Our starting five all had the potential to get called up to the NBA. Von and Lou were the only people from the team to get an NBA call-up. A lot of people thought Elton and I were going to get called up, but it didn't happen. Of course, I wanted to get a call-up, but I couldn't let that stop me from accomplishing my goals. Before I went to the D-league, my main goal was to show everybody that I'm a true point guard, a winner, and that I'm the best point guard in the D-League. I felt I accomplished all my goals, except for losing in the championship game to the Dakota Wizards. I had a great year playing with the 14er's, and I got a lot of exposure. A lot of people said I was the spokesperson for the D-League, because I was on a lot of shows, and the commercial with
Mikki Moore
. I just want to thank the D-League and Coach Wolf for giving me the opportunity to showcase my skills and developing me into a good point guard.
When the D-league season was over, I went to Miami Heat mini-camp and I did real well against other D-League players. Coach
Pat Riley
invited me back to work out and get ready for summer league. I was in Miami for about three weeks until I had to go Toronto's mini-camp.
I was killing at the Toronto mini-camp. You can ask Coach Mitchell how I was playing, because he saying out loud "don't do them like that Big Fella".
Jamario Moon
was also at the mini-camp and he was ballin too. Aye Jamario, if you read this, I just want to say congrats on making the team and keep striving for excellence. I decided to play with the Kings again in summer league, and I played real cool. The Kings always wanted to play an up-tempo game and that's what I loved to do. I averaged 12 points, 3 rebounds, and 3 assists in the Vegas Summer League.
After my last game in Vegas against the Clippers,
Dell Demps
from the Spurs called me and ask me if I wanted to play three games with the Spurs in the Rocky Mountain Revue? I was like, of course. I averaged around the same type of stats I did in Vegas. I felt I had pretty good summer league.
After the summer league, Chris Albert and Brandon Barnett asked me if I wanted to go to China in August to play with the D-League Ambassadors, and of course I said yes. In China, we played against other national teams like Angola, New Zealand, Slovenia, Venezuela, and of course China. We came in third place in the Stankovic Cup, and that whole experience in China was great. When I got back home from China, a lot of NBA teams really wanted me to go to training camp, but they weren't going to guarantee me any money.
Since teams from the NBA weren't offering me no money to go camp, I had to look at my plan B options. Plan B was going across the H20, and I had a lot of offers from teams in Europe. Teams were offering me good money that I really couldn't pass up. I decided to head to the Ukraine to play for a team called BC Kyiv. BC Kyiv plays in the Ukraine Superleague, and in the ULEB Cup. The ULEB Cup is the second best league or cup in Europe. It's right under the Euroleague. So far, my team is 8 and 0 in the Ukrainian league, and 3 and 0 in the ULEB Cup. We have to keep winning to accomplish our goals this season. Me being the point guard on this team, I have to make sure that we get the job done. The motto for now on is "GET MONEY OR GET LOST". Like Young Jeezy would say LET'S GET IT!!!
GRACE, PEACE, AND BLESSINGS TO YOU AND YOUR FAMILY. REMEMBER TO KEEP GOD FIRST AND EVERYTHING ELSE WILL FOLLOW!!!!!
P.S... I would like to give a shout out to all my FAM Bros, BloodBrothers, 2G'D Music, GCE, Too Easy Entertainment, and to everybody that's grinding all over the world.. 2008 is our year.. Like my bro Kool Breeze would say "The movement is moving, we call it SKY'S THE LIMIT!!!