Players at the adidas EuroCamp underwent similar testing to what was administered at the NBA Combine. The results of those tests were released today.
You can find all the results from this year's testing in our
historic measurements database
.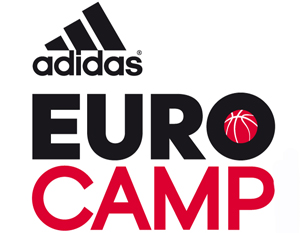 Notable Players
-
Adin Vrabac
posted a lane agility drill time of 10.29, which is the fastest recorded by a member of the his draft class.
-
Nemanja Dangubic
posted a 34.5 inch maximum vertical leap to lead all campers, which is 3 inches higher than he jumped a year ago.
-
Boubacar Moungoro
ran a 3.18 ¾ court spring, which would is one of the top fastest marks run by a player in this draft class.
-
Moussa Diagne
amd
Cristiano Felicio
registered 33 inch maximum vertical leaps, a solid mark for the pair of international big men.
-
Awudu Abass
had the highest maximum vertical leap at 36.5 inches, which would just crack the top-25 among plays in this draft class.
Athletic Testing Composite Rankings
Out of curiosity more than anything else, we've compiled our own Athletic Testing composite rankings. These were made by assigning players points depending on where they graded out compared with the other prospects in each of the tests done in Treviso.
| PLAYER | COMP RANK |
| --- | --- |
| Axel Toupane | 1 |
| Nemanja Dangubic | 2 |
| Safak Edge | 3 |
| Paolo Marinelli | 4 |
| Mikhail Kulagin | 5 |
| Ovie Soko | 6 |
| Awudu Abass | 7 |
| Giffey Niels | 8 |
| Boubacar Moungoro | 9 |
| Adin Vrabac | 10 |
| Ludvig Hakanson | 11 |
| Eric Lombardi | 12 |
| Louis Labeyrie | 13 |
| Guillem Vives | 14 |
| Viktor Gaddefors | 15 |
| Orlando Sanchez | 16 |
| Rafael Freire | 17 |
| Erjon Kastrati | 18 |
| Marcus Erikkson | 19 |
| Jaime Fernandez | 20 |
| Ioannis Papapetrou | 21 |
| Rokas Giedraitis | 22 |
| Yannis Morin | 23 |
| Cristiano Felicio | 24 |
| Klemen Prepelic | 25 |
| Amedeo Della Valle | 26 |
| Dmitry Kulagin | 27 |
| Ojars Silins | 28 |
| Phillip Neumann | 29 |
| Marius Grigonis | 30 |
| Moussa Diagne | 31 |
| Strahinja Stojacic | 32 |
| Eleftherios Bochoridis | 33 |
| Berkay Candan | 34 |
| Hugo Invernizzi | 35 |
| Lucas Mariano | 36 |
| Emir Sulejmanovic | 37 |
| Ilja Gromovs | 38 |
| Dragan Bender | 39 |
| Artem Pustovyi | 40 |
| Johannes Voigtmann | 41 |
| Victor Arteaga | 42 |
| Moustapha Fall | 43 |
| Daniel Mayr | 44 |
3/4 Court Sprint
Top 5
Boubacar Moungoro
3.182
Axel Toupane
3.217
Nemanja Dangubic
3.218
Orlando Sanchez 3.235
Rafael Freire 3.258
Bottom 5
Moussa Diagne
3.619
Victor Arteaga
3.635
Lucas Mariano
3.659
Moustapha Fall
3.675
Daniel Mayr
3.698
Lane Agility
Top 5
Adin Vrabac
10.289
Paolo Marinelli
10.704
Viktor Gaddefors
10.781
Jaime Fernandez
10.934
Marcus Erikkson 10.993
Bottom 5
Yannis Morin
12.988
Emir Sulejmanovic
13.015
Daniel Mayr
13.105
Moussa Diagne
13.513
Ilja Gromovs
13.590
Reaction Shuttle
Top 5
Viktor Gaddefors
2.722
Axel Toupane
2.858
Marcus Erikkson 2.912
Giffey Niels 2.936
Paolo Marinelli
2.946
Bottom 5
Johannes Voigtmann
3.391
Daniel Mayr
3.445
Rafael Freire 3.477
Cristiano Felicio
3.479
Moustapha Fall
3.503
Standing Vertical Leap
Top 5
Nemanja Dangubic
34.5
Awudu Abass 33.5
Ovie Soko 32.5
Eric Lombardi
30.5
Axel Toupane
30.5
Orlando Sanchez 30.5
Bottom 5
Marcus Erikkson 22.5
Moustapha Fall
22.5
Marius Grigonis
21.5
Artem Pustovyi
21.5
Berkay Candan
21.5
Daniel Mayr
21.5
Maximum Vertical Leap
Top 5
Awudu Abass 36.5
Ovie Soko 35
Eric Lombardi
34.5
Nemanja Dangubic
34
Safak Edge
34
Bottom 5
Artem Pustovyi
27
Victor Arteaga
26
Dragan Bender
25.5
Berkay Candan
24.5
Daniel Mayr
23