Tristan Thompson, like many top-ranked freshman, struggled with inconsistency this season while showing tantalizing flashes of potential. Where does his unique blend of length and assertiveness fit in the NBA?
Report by Kyle Nelson, Video Breakdown by Sebastian Pruiti
Tristan Thompson
was the 12th ranked member in the class of 2012 and, like many of his fellow top-ranked freshman, struggled with inconsistency this season while showing tantalizing flashes of potential. While he registered 10 double-doubles and emerged as one of the top big men in the Big 12, he struggled offensively in high profile match-ups against North Carolina, Southern California, Kansas, and Arizona, all teams with NBA-caliber frontcourt players.
Despite his up-and-down freshman campaign, however, Thompson entered the 2011 NBA Draft and hired an agent. While he is currently projected as a lottery pick questions remain, however, as to what Thompson's role will be in the NBA and whether his skill set translates favorably to the next level.
From a positional standpoint, Thompson projects as a power forward. While he may lack ideal size at around 6'8, he compensates with a long 7'2 wingspan and a solid 235-pound frame. He must continue to get stronger, but he already has a strong lower body and core, which allowed him to hold his own in the post despite his low skill level as a freshman and should continue to work in his favor at the next level.
Thompson is a good overall athlete, adequately quick and explosive, bouncy and active around the basket. Even if he is not an elite athlete by NBA standards, his freshman season was characterized by his energy and while he is not particularly skilled, he asserted himself simply through his consistently high effort level.
Fittingly, Thompson found nearly half of his offensive possessions by making athletic plays off of the ball: scrapping for offensive rebounds, cutting to the basket, and in transition, where was an excellent finisher.
His ability to move without the ball, in particular, is promising to his early NBA prospects, as he will not likely have many plays run for him until he develops further. He is most effective cutting to the basket and finishing off of dump passes and lobs at this point. Texas rarely utilized him in the pick-and-roll, but he looked very solid in limited possessions where he showcased his quickness and mobility—something that could become a staple of his game in the NBA.
He also does a good job of crashing the offensive glass, averaging 4.9 offensive rebounds per 40 minutes pace adjusted,
which ranked eighth amongst prospects in the DraftExpress Database this season
. His quick second bounce and active hands allow him to remain a factor for most loose balls in his immediate vicinity, a skill that should translate favorably to the next level.
---
Tristan Thompson (#13) Strengths/Weaknesses Video
Watch in full screen mode by clicking button in upper right hand corner of video
---
More DraftExpress Video Breakdowns:
-
Brandon Knight
-
Terrence Jones
-
Alec Burks
-
Derrick Williams
-
Jimmer Fredette
-
Kenneth Faried
-
Harrison Barnes
-
Marcus Morris
-
Perry Jones
-
Kawhi Leonard
-
Brandon Knight
---
While he is productive as a scorer off of the ball and will likely improve with a more experienced point guard, he is less successful when he is expected to create with the ball in his hands. According to Synergy, he receives nearly 38% of his touches in the post, but he finishes at a below average rate.
This inefficiency is curious for a post player with a 54.6% FG and a reputation for playing with energy, but his lack of skill is abundantly clear on video. His footwork and instincts are both raw and he largely succeeds at this point by powering the ball to the basket and out-hustling his man. He has very few post moves that take him towards the basket and very little resembling a countermove. He is adept at quickly turning the corner, but little else, if he cannot initially beat his man for an athletic finish—something that will likely be more difficult in the NBA considered his average size and strength.
Most of his moves dissolve into an array of contested fall-away shots and jump hooks, low percentage shots that he does not appear to have the touch to consistently knock down. He resorts to this offense against bigger and more athletic post players, in particular, which suggests he may similarly struggle if he cannot further develop his post game at the next level.
He must also work on recognizing and passing out of double teams. Though he seemed to improve towards the conclusion of his freshman season and considering
his low turnover rate relative to power forward prospects in DraftExpress's database
, he still turned the ball over on 14.8% of his possessions in the post. He must get more adept at moving the ball out of the post as an NBA player, at least until his skill level improves dramatically.
Intriguing, however, is Thompson's burgeoning face-up game. While he is by no means consistent, he looked more comfortable as the season wore on at facing his man up and taking one or two dribbles into a move around the basket. He also showed very occasional flashes of being able to pull up and shoot off of the dribble.
He hardly excels consistently in this area yet, as he particularly struggles in isolation sets, but he certainly shows potential to develop. As he lacks ideal size and strength in the post, he would be well suited to improve both his face-up and mid-range games, where he could better utilize his athleticism to his advantage.
Another area in which Thompson must improve significantly is his shooting. Most slightly undersized power forwards in the NBA are reliable spot-up shooters, but at this point, Thompson is miserable at best. He attempted only a handful of shots at Texas and the results were mixed, marked by inconsistent shooting mechanics that must be completely overhauled at the next level.
Furthermore, though he attempts an outstanding 9.3 free throws per 40 minutes pace adjusted, he converts on a horrendous 48.7% of his attempts.
He ranks amongst the top five power forwards in our database at getting to the line
,
yet finishes at a bottom-five-rate
, a discrepancy that he must improve upon significantly as he prepares for the next level.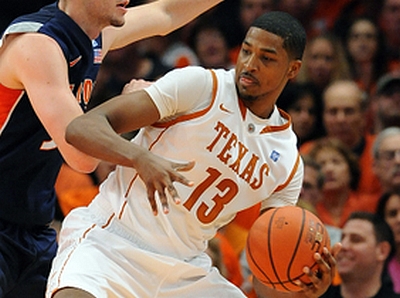 While his offensive game is a mixed-bag at best, Thompson actually projects quite favorably as a defender. His performance against future top-3 pick
Derrick Williams
, in which Williams shot 4/14 from the field in just 29 minutes, is indicative of what Thompson can offer an NBA team. His lateral quickness allows him to stay in front of most collegiate post players, inside and outside, and he may even be able to guard small forwards in the right match-ups at the next level. He capably bodied up bigger and more athletic post players throughout his freshman campaign and should develop into a solid post defender as he gets stronger and learns to curbs his fouling inside.
He must improve as a rebounder, however, and
his subpar 5.1 defensive rebounds per 40 minutes pace adjusted
will not cut it at the next level. His fundamentals are poor thus far, as he largely gets by on his size, athleticism, and good hands, but focusing on positioning is key as he transitions to the next level.
Thompson's potential, at this point at least, far outweighs his ability to contribute in the NBA and any team looking to draft him should be patient. It would be ideal for Thompson to develop alongside of a skilled center and a creative point guard, as his energy and athleticism are by far his most attractive attributes at this stage and he will likely struggle to create or produce on his own much initially. It is far more likely, however, that he will begin his career coming off of the bench and that playing time will depend on his energy level and defensive effectiveness.
His development could follow any number of trajectories from end-of-bench rotation player to NBA starter, from
Carl Landry
to
Luc Richard Mbah a Moute
. His ceiling is arguably higher than both, however, if further develops his post skills and re-tools his jumper. The said, such development is never a given, particularly with raw post players who are two-years older than most of their classmates, as is the case with Thompson.
Ultimately, however, it is clear why
Tristan Thompson
is a likely lottery pick in the 2011 NBA Draft. His size, athleticism, and energetic style of play on both ends of the court should earn him rotation minutes early and his potential is certainly enticing looking to the future. Whether or not he achieves this significant potential is unknown, but even now, there is clearly a niche in the NBA for
Tristan Thompson
.