Jason Thompson is a prospect who, until recently, has played in relative obscurity for the Rider Broncos in the MAAC Conference. This season, however, he has had the opportunity to showcase his abilities in nationally televised games against the likes of Kansas State, North Carolina State, Penn State, and Rutgers. Now, following an away victory we attended against Marist, Thompson's Rider Broncos are sitting on top of the MAAC standings alongside rival Siena, and seem poised for a big finish.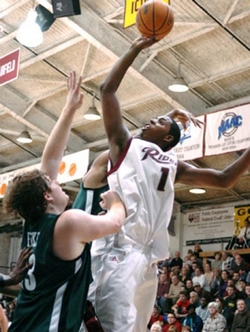 Offensively,
Jason Thompson
is a versatile prospect. Possessing the inside-outside game that scouts like to see from a 6'11 big men, Thompson's problem has always been putting it all together. Tonight did nothing to dispel this notion, as he had a typical statistical night, but showed the positives and negative aspects of his game to an audience of scouts that included Cavaliers GM
Danny Ferry
and scouts from the Cavaliers and Kings. Going up against Marist's smallish frontcourt, Thompson rarely used his superior size, quickness, and athleticism to his advantage. While he had a couple of nice possessions in which he faced the basket and attacked the rim, he had trouble maintaining his position in the low post and was visibly frustrated by his lack of touches as the game wore on. In fact, he did not successfully score with his back to the basket until he literally muscled a Marist big man from the perimeter for an easy basket with 8 minutes remaining in the second half! His low post game, in particular suffered because he was unable to find his touch around the basket, which has been a question throughout the season. He did have a nice defensive game, proving himself to be a good shot blocker with his combination of timing, patience, and athleticism. He did a good job of not biting on the Marist post players' ball and head fakes, and really using his size and length to his advantage on the low block. At times, though, his concentration on the defensive end seemed to wane, and he let some undersized and fairly unskilled big men have their way with him around the basket.
However, Thompson again showed a range of tantalizing flashes that allow him to dominate at this level, even if he has a lot more work to do on his game. He often releases his shot after the peak of his jump for example. Focus is a key, as well. Thompson can afford to coast if things are not going his way at this level, but at the next level, he must be willing to fight during the entire game on both ends of the floor. Consistency is also important. Right now, it seems that Thompson is still learning his role and how to incorporate his set of skills into a cohesive and consistent offensive game. While he didn't always do enough to convince everyone differently in past analysis, Thompson's abilities and potential are undeniable and his efforts against high-major big men this year, including Kansas State's
Michael Beasley
and North Carolina State's
J.J. Hickson
have showed the draft pundits that he can compete with NBA level size and athleticism. But, if last night's game is any indication, Thompson will have to continue to make his case at the pre-draft camps and team workouts if the high draft expectations that follow him around are going to come to fruition.
Following his 20 point (8/17 field goals, 4/6 free throws), 9 rebound (4 offensive), 4 assist, and 4 block performance, we had a chance to catch up with the Thompson and ask him about his improvements, the implications of an NBA prospect playing for a mid-major school, and the surprising emergence of his brother Ryan into a prospect:
DX: Your path to Rider has been publicized by the media this year. You started out as a 6'8 underrated high schooler. Could you talk a little bit about your journey and things that you've worked on improving?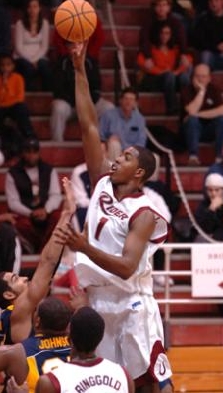 JT: Yeah, coming in as a freshman. I was an unproven type playing. I was more of an energy guy: 6'8, just trying to get rebounds. Just trying to help my team. I led my team to a conference championship. Over the years, the coaches really have seen that I have high potential. Some of things that I needed to work on were my strength, and working on a consistent jump-shot, and establishing a post game. Over the years, I've done that and it's really helped me out. Also, growing a few inches from 6'8 to 6'11 has helped as well, and that's why some of the numbers that I've been putting up are giving me national attention that I think I deserve.
DX: Now, looking at your numbers this year, you've had some percentages go down and some percentages go up, you're not scoring as much, but you're rebounding more. What did you work on in the off-season and what motivated you?
JT: I just give a lot of credit to my coaches and strength and conditioning coaches. I've been trying to lift weights, not just for the competition that I have here, but for bigger, higher level teams we play against, and even for the next level. So, that's definitely helped me out. I've been more committed and more motivated about getting in the gym and getting more shots up, even working on dribbling and guard skills a little bit. That's a hard matchup for other teams when I can go outside and dribble and bring the ball up and shoot from outside. And if I have a smaller guy or a same sized guy on me, I can post him up. It's a tough matchup.
DX: That being said, do you have anything that people don't know about you at this stage that we're not going to see until you go to workouts and you start training?
JT: Yeah. I'm always working hard. I don't give up on anything, even if I'm tired. In the offense that we run, I don't shoot as many threes as I'm capable of shooting. But we have a lot of good shooters. I have a consistent mid-range game and a consistent post game that not a lot of post guys do nowadays. There's more of that European style. I have that same style, but I can post guys as well.
DX: One question, just to clarify: we've seen you listed anywhere from 6'10, 245. to 6'11, 250. Can we set the record straight?
JT: 6'11, 250.
DX: You've played against NC State's J.J. Hickson, Kansas State's Michael Beasley, and even Rutgers's JR Inman. What have you learned from playing against these guys. What weaknesses were exposed? What did you do well?
JT: I went to camps in the summer.
LeBron James
' camp,
Amare Stoudemire
's camp, and Pete Newell's camp in Las Vegas. Those camps had me playing against top guys like that. So, being at a mid-major school, I've played against more mid-major teams and people say that I've been putting up big numbers, but he's only putting them up against smaller colleges. Having that experience and playing against a couple of NBA guys has helped me out and gotten my confidence up. I have a certain swagger when I play against these higher-level guys. Going into the summer prepared me for these games; I think I played well. I can see that the speed is different and the strength is different, but I don't let it bother me. I was already used to that in the summer, and playing guys like that really helped me out.
DX: So, what do you think about being a mid-major player as well as an NBA draft prospect? Does the fact that you play for a team like Rider hurt your potential at all?
JT: I don't think it really hurts. I think it's good for other mid-major players to see a guy like
Paul Millsap
in Utah and
Rodney Stuckey
in Detroit. It gives me a lot of confidence. Guys like that, from mid-major schools, are playing for big time playoff teams in the NBA. It's not that I play for a mid-major team, but that I'm playing against higher-level teams and trying to expand my game.
DX: While we're talking about expanding your game, have you put any thought into what you need to work on before getting to the next level?
JT: I'm going to have to get a little more flexible. I have a bigger frame than I've had in the past, and I need to keep working with weights. I need to stay consistent with my jump shot because guys my size in the NBA need to be good at certain things, and if I'm good at these certain things, it should help me out.
DX: As you get closer to the end of your senior season, have you encountered the agent-recruiting scene? Have you started to run into any of these situations that guys experience when they are beginning to prepare for the NBA Draft?
JT: You definitely get calls and you've got guys coming to my games, and stuff like that. But what Coach has prepared me for is really not to worry about this stuff right now. It's going to come. After the season, I'll wait until after the season to make my decision and to start talking to certain guys. I'm not worried about that right now. I'm just worried about my team winning games and winning the championship.
DX: At the end of the season do you plan to start working out and start preparing right away. Or will you take a break?
JT: When the season is over, I'm going to probably get right to it, maybe take a week off or so, but definitely not take a lot of time off. I know that I'm not 100% ready for the next level. I'm going to work out and get used to the NBA workouts with certain trainers in order to get ready for the next level.
DX: Will we be seeing you at Portsmouth? Have you received an invitation yet?
JT: Yeah, I did get an invitation to Portsmouth and an invitation to Orlando. It's just a matter of which one I'm going to or if I'm going to both. So, we'll see.
DX: So, your brother Ryan Thompson has emerged as quite the player this year. Could you tell us a little about him and what your influence over him has been?
JT: You know, Ryan has definitely improved his game over the past few years. Last year he came in as a freshman and he didn't have the confidence. But, you could definitely see his talent. I know because I'm his older brother. Me being here definitely helps him, helping him out, explaining some things at the college level that he hasn't experienced. Now, he's more comfortable and he's gotten stronger. He's an important piece of the puzzle.
DX: You two play great together, too. So, we might be writing about him in a couple years?
JT: Hopefully. He has the potential.
DX: All right. Thank you very much, Jason. Congratulations on the win and good luck with the rest of your season.
Jason Thompson, as well as his brother, Ryan, will next be playing on February 2nd, when they journey to Siena in a game that will be televised on ESPN2.