We've spent the last few weeks evaluating many of the top players in the high school classes of 2009-2011, for the purpose of acquainting ourselves with the next crop of NBA prospects that we'll be discussing in coming years. We'll be sharing our thoughts on what we saw, heard and learned from the U-18 Men's Basketball Tryout in Washington DC, and the various AAU tournaments (Nike, Reebok, Adidas) in Las Vegas, as initial scouting reports in our player database.
We'll start with the players ranked as top-10 recruits in the 2009 high school class.
John Wall, 6-4, Point Guard, Rising Senior, D-One Sports
5-Star Recruit (Baylor, Oklahoma State, Oregon)
Considered by some to be the top prospect in the 2009 high school class,
John Wall
(#3 Scout, #1 Rivals, #7 ESPN) looked motivated and then some to prove his worth in the eyes of his evaluators every time we watched him compete.
There is no question that Wall has the physical tools needed to even be considered the top NBA prospect in this somewhat underwhelming class—as he has great size at 6-4, an excellent wingspan, and a frame that should fill out in time. Wall was easily the most athletic guard we evaluated—incredibly fast in the open floor, showing a super explosive first step, and capable of changing directions and utilizing fluid hesitation moves extremely well to keep his defender off-balance at all times. He gets to the rim almost whenever he pleases at this level, and is more likely to throw down an emphatic dunk than he is to simply lay the ball in. He likes to spin violently into the paint with his terrific initial burst, and then shows terrific body control keeping his balance and getting his shot off smoothly.
Wall is a superb ball-handler for his age, capable of going either left or right, and is absolutely terrific in transition, but he will have to learn how to slow down, read defenses and stay in control better if he's going to reach his full potential. He has a tendency to just turn the jets on at all times and explode right into the paint, often ignoring his teammates, running into brick walls and being somewhat turnover prone in the process. He's just so much faster than everyone else at this level that he's capable of playing that way and not getting into too much trouble, but as the competition improves in college and eventually the NBA, he'll have to adapt his game and learn how to play at different speeds.
His jump-shot is probably the part of his game that needs the most work at this point. Wall is pretty solid at using a screen and elevating from mid-range for a 15-foot pull-up jumper, but anywhere beyond that and he gets very streaky. His shooting mechanics need a lot of work—his elbow sticks out and his footwork is sloppy, so he may need to take a
Derrick Rose
-like approach and completely change the way he shoots the ball if he's to be anywhere near as good a prospect as he probably hopes to become. His shot-selection isn't always what you would hope for from a guy billed a pure point guard, but there is certainly plenty of time to work on that.
Wall's playmaking skills are mostly a mixed bag at this point. On one hand, he is clearly not a selfish player and definitely has solid court vision—you'll regularly see him making heady full-court chest passes to an open man streaking in transition and beautiful one-handed bullet passes on the drive and dish—where he really excels. He'll rack up assists at a very good rate because of the way he dominates the ball, but has a tendency to get a little too flashy at times and try to do too much. As he matures and gains more experience and hopefully high-level coaching, he should improve in this regard if he's willing to listen and learn.
Defensively, Wall's potential is off the charts thanks to his terrific combination of size, length, quickness and endless energy. He regularly picks up blocks, steals and rebounds and never seemed to tire even late in the grueling week (where teams regularly compete two or three times a day). His fundamentals aren't the best, though, and he doesn't always put in the greatest effort at this stage in his career, but if he puts his mind to it and gets with the right program, he could be an absolute force on this end in time.
The main concern we have with
John Wall
at this time revolves around his often-poor body language on the court, especially around his teammates. He tends to get frustrated easily when things aren't going well, blaming others for his own mistakes, taunting his opponents, and just generally looking quite immature. It seems like the incredible amount of success he's received over the last year may be going to his head a little bit, and there is a real risk that he may not reach his full potential if he isn't willing to be humble about his flaws and learn how to channel his emotions better.
This is not uncommon amongst players this age who receive so much hype so early on, but it's still something to follow over the next two years, leading up to him being eligible for the draft. There is no question that he is everything the NBA looks for in a point guard prospect and then some, but the jury is still out regarding whether he is indeed the next
Derrick Rose
as some have billed him as, or is he more likely to develop into a
Keyon Dooling
type prospect. Only time will tell, and a lot will depend on how Wall handles himself.
Derrick Favors, 6-9, PF/C, Rising Senior, Atlanta Celtics
5-Star Recruit (Georgia, Georgia Tech)
Billed as the clear-cut top big man prospect in this class according to virtually all recruiting services,
Derrick Favors
(#3 Scout, #1 Rivals, #1 ESPN) is not a difficult guy to pick out of a layup line. He has the type of frame and wingspan you expect from a top recruit, although it wouldn't hurt him to grow another inch or two as he's not the biggest tallest player you'll find at just 6-9. Favors is cat-quick in the post getting around players for offensive rebounds, finishing around the rim as well as getting off his feet to block shots. He runs the floor and elevates off the ground with the greatest of ease, looking extremely smooth in the process, particularly finishing with a powerful dunk.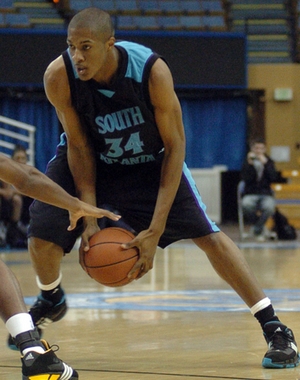 Favors' biggest asset at the moment revolves around his shot-blocking ability. His length and explosiveness allows him to change everything around the rim, either on the ball or rotating from the weak-side, and gives his team an incredible advantage at this level. He's also a very capable offensive rebounder for this exact reason.
Offensively, Favors is fairly limited still, which is not a shock considering the stage of development he's currently at. He has good hands and is very capable at making simple catches and finishes in the post, or at most, beating a guy off a short dribble or two in the paint and elevating over the top of him. Anything more than that usually gets him into to trouble, as he has fairly average footwork, little to no ability to finish with his left hand, and a very clear tendency to spin right into his defender and throw up some very bad shots. At this point he has nothing resembling a mid-range jumper or even a consistent stroke from the free throw line—things that will only come with a lot of hard work. He will also have to work on his ability to pass out of double teams, something he struggled with at times in Vegas in the three times we saw him.
The impression you have of Favors largely depends upon the game you happen to catch of his. At times he can look very dominating, blocking tons of shots, grabbing every rebound, and finishing every pass ferociously inside. In others he'll look somewhat low energy, not particularly active, and a bit frustrated by an opponent that bodies him up physically and denies him the close proximity to the basket that he needs to be a factor offensively. Players who don't have the highest skill level around (particularly big men) don't have the luxury of taking plays off—Favors will have to learn to put forth maximum effort no matter who is going up against.
Although it's quite obvious why Favors is getting the hype he is (there just aren't that many big men around anywhere with his physical tools) it's also incredibly obvious that he has a great deal of work to do before he can be considered ready to think about the NBA. At his size (6-9), Favors is a clear-cut power forward, but is nowhere close to possessing the offensive game you expect from a player at that position. He will have to work significantly on his polish facing the basket and in the low post if he's going to be able to escape the "role player" tag, but also shouldn't be in a huge rush at this point, as he still has a year of high school left before entering college.
Renardo Sidney, 6-10, PF/C, Rising Senior, LA Dream Team
5-Star Recruit (USC, Memphis, Arizona State)
There isn't much new to add about
Renardo Sidney
(#4 Scout, #5 Rivals, #6 ESPN) that hasn't already been said in his DraftExpress profile linked above. Sidney is terribly out of shape and doesn't seem to be doing anything about it, and it's pretty shocking at this point that he is still as highly ranked by the recruiting services considering how unlikely it is that he actually pans out if history is any indication. Sidney was being coached by his father at this AAU event, which helps begins to explain the type of circus we're dealing with. He shot a lot of turnaround jumpers in the lone game we saw him, played absolutely zero defense and generally did his best
Antoine Walker
/Derrick Caracter impression.
John Henson, 6-10 Power Forward, Franchize All-Stars
Committed to North Carolina
One of the more intriguing big men prospects in attendance,
John Henson
(#4 Scout, #5 Rivals, #16 ESPN) may not have been the most productive player in Vegas, but he definitely showed some of the best potential.
Standing 6-10, incredibly skinny but with an outstanding wingspan, Henson will be drawing comparisons to all the usual big men out of Texas—
Chris Bosh
,
LaMarcus Aldridge
and
Anthony Randolph
, and for good reason. He's super athletic, running the floor with ease, explosive off his feet, and with a very quick first step, but also shows a budding skill level facing the basket and an excellent feel for the game, which makes him all the more intriguing.
Henson isn't strong enough to hold a spot on the block and play in the post, although he can finish around the hoop with a dunk or a nifty move with either hand (his extension around the basket is fantastic)—so he prefers to operate on the perimeter at this point. He has shaky range all the way out the 3-point line, and can even pull up off the dribble from mid-range, although we're pretty sure Roy Williams won't want him doing that anytime soon at Carolina next year.
He did drop some gorgeous glimpses of potential in the form of crafty pivot moves starting from the perimeter and finishing right at the rim, and seems to have semi-decent ball-handling skills for a player his size to compliment his excellent first step. His passing skills look excellent from what we saw in the two games we took in, particularly on the interior. It's great to see a big man with such a developed feel for the game considering how raw he is offensively, and you could clearly see that his intangibles are solid and that his teammates enjoy playing with him.
Henson looks very off-balance at times with his moves, which is a product of his lack of strength combined with his lack of experience and offensive polish. He still has a long ways to go before being able to execute the moves he tries at times on a consistent basis, which is why he'd be best off not falling in love with his perimeter game so fast. We saw him take some highly questionable shots at times, showing poor decision making in the process. This is something he'll have to clean up at the collegiate level.
Defensively, Henson plays hard and looks inclined to compete, but he's extremely limited by his lack of strength, which is a real hindrance at this point. His length gives him the ability to be very disruptive in the paint once, but he gets pushed around too easily to be a consistent shot-blocking threat at this stage in his development.
All in all, we're talking about a guy who obviously has a lot to work on, but clearly has a great base of natural tools and skills to build off as well. The NBA likes these new-age hybrid 4's who are athletic mismatches facing the basket, and that might be the mold Henson falls into in time. He looks like a solid bet to develop into something special if he continues to work hard, but we'll have to continue to monitor his progress over the next few years.
Lance Stephenson, 6-5, Shooting Guard, Raising Champions
5-Star Recruit (St. John's, Kansas)
Along the same lines as
Renardo Sidney
, we find
Lance Stephenson
(#7 Scout, #7 Rivals, #4 ESPN), similarly rated extremely high by all the major recruiting services, but similarly showing serious character flaws that put his ability to realize his full potential in major doubt. Stephenson was also coached by his father (sporting a blinking Bluetooth earpiece during games while pacing the sidelines and barking out "instructions") and given the status of the star of his AAU team—their go-to guy and lone playmaker. His team unsurprisingly was kicked out in the first round of their bracket. Luckily for us, we also got to see Stephenson compete in the tryouts for the USA Basketball U-18 National Team. He was eventually cut from the team after clearly not buying into what the coaching staff was selling, even though there was no question that talent wise they could have used him.
Stephenson is difficult to guard at the high school level, as he's clearly much stronger than anyone else he goes up against at this stage. He has a knack for scoring that can't be taught, and he regularly makes impressive plays around the basket after creating his own shot from the perimeter with his excellent ball-handling skills. Stephenson is a good passer when he wants to be—he obviously has a very good feel for the game, but too often he gets caught up in looking for his own offense and settling for contested pull-up jumpers—some of which he can make at times. He's just an average athlete and will not be able to bully players around in college the way he does here, and his body can still get much more toned than it currently is. Defensively there is very little to speak of here.
Stephenson's body language is the most questionable part of his game. He pouts and complains constantly on the court, at the refs, the coaches, opposing players, and often his own teammates. Nothing ever seems to be his fault, not his terrible passes that usually lead to turnovers, his poor shot-selection, his pedestrian defense, or his uncoachable nature. At one point he looked close to exchanging blows with a fellow teammate at the U-18 tryouts who dared dishing off a hard foul, which made his removal from the team (which went on to lose to Argentina in the Finals) one of the least surprising moments of the week.
We saw a slew of extremely talented players fall in this year's draft due to much lesser concerns than Stephenson's, which means that something will have to give at some point—NBA team's willingness to draft low character players, or Stephenson's willingness to mature and become a good teammate. Right now it appears that only two schools are recruiting him—St. John's and Kansas, although Memphis and USC may still be in the picture too.
Kenny Boynton, 6-2, Shooting Guard, Rising Senior
5-Star Recruit (Duke, Florida, Georgia Tech, etc)
We came away a lot more impressed watching
Kenny Boynton
(#8 Scout, #8 Rivals, #3 ESPN) in this AAU setting than we did while he was playing with his high school team American Heritage this past season. It's here that his frenetic style of play seems to make much more sense, and his obvious unwillingness to lose becomes much more evident. Boynton and Breakdown came away the champions of the Reebok event, which is a testament to just how effective a player Boynton is at this level.
Boynton is an extremely strong player for his age, very well conditioned, which is not something you can say about most prospects here. That tells you a little bit about his work ethic, which obviously must be very strong when you consider just how high his skill level is as well.
At this level, Boynton can't be considered anything less than a scoring machine—as he shows an incredible knack for putting the ball in the basket in virtually every way imaginable. He is first and foremost a fantastic shooter, nearly automatic on the catch and shoot with his feet set, but also more than capable of pulling up off the dribble, mainly from behind the arc. He takes and makes ridiculous shots on a regular basis—off-balance, falling down, fading away, with a hand in his face, etc. He looks completely out of control at all times seemingly, but still emerges highly effective regardless.
Putting the ball on the floor, Boynton is also able to do quite a bit of damage. He takes the ball into the paint like a runaway freight train, finishing around the basket with great body control and excellent strength, and sometimes even utilizing a nifty floater.
College coaches we spoke with say they aren't concerned with the fact that he shoots the ball nearly every time he touches it—"that's why we have hall of fame coaches working with these guys" they say. Boynton obviously has great tools that need to be honed, he doesn't seem to have received much coaching at all at this stage in his career, but his competitiveness and skill level is impressive and leaves a good deal of room for optimism. He wanted the ball late in games and showed lots of character taking over and willing his team to victory. He's even willing to defend at times, getting low in a stance and not giving up anything easy. He never seemed to tire, even after playing 9 games in 5 days. It will be interesting to see how he pans out, particularly if he decides to go play at a school like Duke, which will seemingly be a huge clash in styles.