Jonathn Givony:
So Amit, where are you at right now?
Amit Tamir:
I'm on campus in Berkley.
JG:
That must be a really cool area to live in. You are originally from Jerusalem, how is that different—seems like two polar opposites no?
Tamir:
Well yeah, it's kind of the opposite. Over here it's much more relaxed and calm. You have more time to be dealing with yourself and your personal life. In Israel you look at yourself, but you also have to look at yourself in perspective of yourself and your country.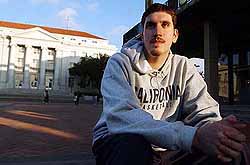 JG:
HmmmI'm surprised at how good your English is Amit, how long did it take you to get it down it pat?
Tamir:
I had pretty good English when I came here, it came easy to me since I started learning it a young age. When I came here it got better and better and became like a second nature for me.
JG:
Very nice. I need to be honest, I sort of cheated. I went to a really good Israeli basketball website called Salnews.com and asked them for some questions they are interested in me asking you. One of them was regarding the cultural differences between living in Israel and the United States, how long did it take until you felt comfortable living here?
Tamir:
It was pretty quick. You always want to try and find new friends, of course there is an adjustment period where you need to get used to the people over here. At the beginning I was really quiet and people thought I was shy. That's kind of my personality, I get used to a place and then you can't get me to stop talking (laughs)
21
JG:
When you walk down the street now in Israel, do people recognize you? What do they say to you?
Tamir:
Yeah they do. People are really supportive. All the people that know me from the past-- they wish me the best and they tell me that they are behind me and want me to do as well as I can.
JG:
There was an interview not too long ago on TV in Israel with Oded Katash (the best Israeli basketball player of the late 90's that was signed but never played with the Knicks) and he said there that he probably could have made the NBA, but he did not pursue it as much as he could have because he was worried about a lack of playing time. Basically his point was that he did not care about the label the first Israeli player ever in the NBA. How do you feel about that?
Tamir:
It's important to me. I feel that Israel is a country that grew some very good players and has a good basketball heritage. I think that it's important that there is someone representing Israel in the best league in the world. It would be a great honor for me and I will be pursuing that because that's what I've been pursuing these past three years over here and that's been my goal. So I'm going to do everything I can to achieve that and after that I'll see what situation I'm in in pursuing this dream.
JG:
So how much pressure is on you right now, do you feel much pressure from the fans and the media in your home country to be the first Israeli player ever?
Tamir:
Well, there is definitely an anticipation building up to see what's going to happen with me. There are a lot of people who want me to do well, and there are a lot of people who have doubts in me. But I know that I believe in myself because I know that I can make it, I feel that I can play at that level so I'm pushing myself to get ready for it, to show in whatever workouts or camps that I can play in the league.
JG:
Why do you think there hasn't been an Israeli player in the NBA yet? The national team has been pretty successful lately, finishing 7th in the European Championships, but there are some really small counties both population wise and from a basketball perspective that have had or have right now a representative in the NBA while Israel hasn't accomplished that yet. Is it because of the mandatory military service, is it because basketball just isn't popular enough, or are Israelis just flat out not good enough at basketball?
Tamir:
I think it's a matter of patience. You have to be patient when you are trying to achieve a dream—you need to put the effort and the extra effort. Some guys will maybe see that if they don't get there after a certain time then they will start to think about the economic factor, they will prefer to go to a European team or an Israeli team where they will have a guaranteed contract.
JG:
What about the army? If you didn't have to go to the army for three years in Israel do you think things might have been different?
Tamir:
I don't know. I'm sure that for some guys, with the talent we have in Israel, if they didn't have to go to the army their development as players would have advanced faster, because they would have been able to put everything they had into basketball. But for myself, I felt that I had a duty to serve my country and I didn't back away from it, and when I was there I tried to do it the best way that I could.
JG:
Do you think that your three years in the army made you a better person? Maybe not directly on a basketball level, but did you come away from it with some things that are helping you now?
Tamir:
Yeah, it makes you a stronger person, it makes you a lot more mature. Of course in the army, no matter what level you are on-- in combat or not-- you still have to deal with superiors, people constantly being in control of you. And you can relate that to a basketball team-- you have the coaches and the hierarchy of the team-- so you are able to accept it and to be more understanding of the situation everyone is in.
JG:
Let's say things don't work out with the NBA—would you rather play in Israel or with a Euro-league team in Europe?
Tamir:
All my options are open. During the summer I'll see where I stand and then I'll start to explore all my options. I'm not canceling anything out.
JG:
What about Maccabi Tel Aviv? Is there an option for playing there?
Tamir:
All my options are open.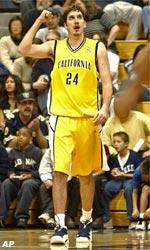 JG:
Let's say an NBA team told you that they are willing to offer you a spot on their injured reserve list, fully knowing that your chances at getting playing time are slim. Would you consider that?
Tamir:
Yeah, I would consider that. I would have to be in a situation to think about what I'm going to do. But the thing I've learned is that if you have the talent and you have the skills and you are going to work hard then you are going to get your opportunity. Even if you are on the injured reserve or on the regular squad, whenever you get your chance you need to make the most out of it. If you get 5 minutes here or there you need to prove that you want to get more then that. If I'll be in that situation, I believe I will accept it and I'll try to make the most out of it. I believe that eventually I WILL get my chance and then I WILL make the most out of it.
JG:
How have you improved as a player over the past 3 years since you arrived at Cal?
Tamir:
Physically I am much stronger. Mentally I am much stronger. I've become more versatile, I'm a much more complete player now. Before I could compete with players on my level, but when I played against players on a higher level I had much more difficulties. Now, I feel that even if I'm playing against a guy that on paper is better then me I'm still able to compete with him and do well.
JG:
What are some of the differences in the practices and the training styles between basketball overseas and here in the NCAA?
Tamir:
There are some major differences. First of all, in American basketball you have mostly people that come from a basketball background, always from a sports background that run the programs. Sometimes in Israel, in certain teams, you have people that weren't associated with sports before taking over the team. So the understanding of the process of developing the team and the players isn't as patient.
Practices in Europe, I think they do a good job with the technique. Over here it seems that every coach is so devoted to the program, they are always trying to do their best and learn as much as they can in every opportunity.
JG:
In a European practice, compared with the NCAA. Do they work more on game time situations or is there a bigger emphasis on teaching fundamentals?
Tamir:
Over here, especially at a younger age—they do a lot more scrimmages. While in Europe at that age they work more on fundamentals. The practices at the college level-- when you are preparing for the season—you practice pretty much the same, except you get longer practices and they are a little bit more intense, but it's about the same emphasis during the season.
JG:
You have matched up with a lot of different players in your three seasons in the NCAA. Who do you think was the most talented, who caused you the most problems?
Tamir:
Iguodala was probably the most talented. But in the NCAA overall the player that made me work the hardest all game and made me feel the most winded at the end was probably
Nick Collison
from Kansas.
JG:
Is there any specific NCAA arena in particular that stands out in your mind as a really tough place to play?
Tamir:
Oregon is always a tough place to play. The crowd is in to you and they try to take you out of your game. But really every court where the fans are on you gives you a special motivation to stick it to them, show them that OK you get on me so I'll try extra hard to come out of here with a win now.
JG:
How would you compare the fans in Europe in let's say Yad Eliyahu (Maccabi Tel Aviv's arena) or Malcha (Hapoel Jerusalem- Tamir's former home arena) to a place like the Pit in New Mexico or McArthur in Oregon in terms of the fans?
Tamir:
It's a different style. Let's say in Malcha, it's one of the best gyms to play in because the crowd is so supportive, they take things so personally. Every basket that the other team scores on you, or even when you miss a shot. In Oregon they understand basketball very well, they are on you all game and they (laughing) do their research beforehand, it gets really loud. Especially here in the college environment, which is more younger kids, the crowd affects the game a lot more, because players in Europe are more experienced so they know how to deal with the crowd. But again over here, when you have such loud fans making so much noise it really hypes the team up.
JG:
Let's say a young Israeli player called you and said Amit, I'm thinking of going to college. Would you recommend it to him or have times changed since you came over 3 years?
Tamir:
Well, the NCAA rules have changed a little now, so it's a bit different. A player needs to look at his goals and decide what he wants to accomplish. I would recommend it if they have the patience and they are willing to make the sacrifices necessary—getting out of their comfort zone, not making money for a couple of years in the NCAA. If they are willing to take that chance and they think they can become a better player and person after that then I would tell them to go ahead. You need to be very, very dedicated to yourself to make that decision. It depends on the person.
JG:
So what were some of the things that swayed YOU to come to give up a contract and come to the NCAA then?
Tamir:
Well I was trying to look at the aspects of my game that I needed to improve. I needed to become mentally tougher, and I needed to become physically tougher and I thought that the best way for me to accomplish that was through the college environment. So I came over here knowing that I had to learn how to become a more complete player. I knew that there was too much pressure in Israel for teams to focus on wins rather then developing a player and giving them the minutes they need. I wanted to come to place where I could take the stage and build my confidence.
JG:
What are some of the things that you think you need to improve on to become a successful NBA player?
Tamir:
I need to keep getting stronger. I need to be able to slow down my matchup more efficiently, especially in the post. I need to become more effective when smaller guys are guarding me—using my strength much better.
JG:
So in the NBA do you see yourself as more of an inside type player, or do you see yourself more on the perimeter.
Tamir:
I think my role in the NBA, since I'm versatile, my role can be adjusted. It will be a matter of matchups. If a bigger or slower guy is guarding me I'll be trying to face up and use my range and if a smaller, faster or thinner guy is guarding me and I'll try to use my size, back him down and be physical with him.
JG:
What are some of the things you'll be working on leading up to the draft?
Tamir:
I'm in the weight room a lot. I am trying to work on my footwork, along with both my back to the basket and my face-up moves. Trying to become more explosive. Things like that.
JG:
Who are you working with? Coaches at Cal?
Tamir:
Half of the week I'm working with my strength coaches at Cal, and the other half of the week I'm working at the Reikes center with the Stanford strength coach and another basketball coach to work on general skills. After that I'm getting some runs with the Stanford team, and when I'm here in Berkley I'm trying to get runs with some local teams here.
JG:
You had a really good year the season before this, but then this year it seems like your production went down- your minutes and overall stats. What happened there?
Tamir:
Well, I feel that I am connected to the team performances and the team chemistry just wasn't as good and it obviously affected me. The way I play, I don't create shots for myself or dribble the ball too much. The team and I needed to learn that we need to create for each other in order to get open shots and good looks at the basket and we had difficulty doing that during the year.
JG:
Well I was looking at your monthly averages, and you could clearly see that after starting off rough you were getting better and better as the season progressed. Were you changing anything or was the team just clicking better?
Tamir:
It was the team clicking more and as the year went on, in the beginning, I just put too much pressure on myself and when we weren't playing too well I put the blame straight on myself, I felt that if the team isn't playing then it's because of me, and I thought that it was only because of me. But there are more factors to that, and when I started fitting into my role better and the team improved- my confidence kept rising and my stats improved.
JG:
What was it like playing next to
Leon Powe
, who is considered one of the top freshmen in the NCAA?
Tamir:
Leon is a great guy, he is really strong and really powerful. He is the type of player that you are really happy that you are playing with rather then playing against. He comes in and plays hard night in and night out. He is a great player to have. Once we learned how to use the attention that teams brought to me and to him, we became a much better team and got much better results. But when we couldn't do that, the team suffered.
JG:
Do you think he will be playing in the NBA sometime soon? Will he play four years at Cal?
Tamir:
(first question) Yeah I think he will. He definitely has what it takes. I don't know if he'll do four years at Cal, but I think he could use at least another year or two over here, and when he feels that he's ready then he'll make the decision to come out. He's got the skills and he's got the work ethic, so he will do something.
JG:
What are your thoughts about your cross-town rivals' best player,
Josh Childress
?
Tamir:
Josh has a great feeling for the game. A lot of guys have talent or physical attributes, but they are lacking a feeling for the game and Josh is one of the best guys coming out for the draft this year. He does it in sort of a nonchalant way when he plays.
24
JG:
What do you do in your free time outside of basketball?
Tamir:
I'm a movie fanatic. I like watching movies and relaxing.
JG:
What was a good movie you've seen lately?
Tamir:
Kill Bill volume 1 was a good one I saw not too long ago, the next one I'll see is probably Kill Bill volume 2.
JG:
Nice. I saw that a few days ago, it's a great movie. I love Tarantino, Pulp Fiction is one of my all-time favorites.
Tamir:
(laughs) I'm actually more of a Reservoir Dogs guy myself.
JG:
Well Amit, this definitely hasn't been your typical basketball clich interview, you've given us some great answers about a really wide variety of topics. I'm going to wish you the best of luck. Are you going to be participating at the Moody Bible camp in Chicago?
Tamir:
If I'm invited I'm sure I'll go over there.
JG:
Any specific teams or players you follow?
Tamir:
I think I could fit on a lot of teams, I just try to follow players that I like and try to learn from their moves. Divac is one guy, I like watching the way Sacramento's big men use their skills. Duncan is another that I try to learn from.
JG:
We have you going #56 to Houston right now, how would you like to be drafted by them?
Tamir:
That's way too low buddy, my position is going to go up.
JG:
Good luck Amit. Thanks a lot.
Tamir: You're welcome.