Kyle Nelson
In four years at Wyoming,
Larry Nance
Jr. put together quite a resume. After fighting through mononucleosis in February and amidst his lifelong battle with Crohn's Disease, Nance was awarded MWC Co-Defensive Player of the Year, along with being named to the All-MWC First Team and MWC All-Defensive Team. Nance led the Cowboys to a 25-10 record, a MWC Championship and their first NCAA Tournament appearance in 13 years. Upon the conclusion of his senior season, Nance became the first Wyoming player since
Theo Ratliff
20 years ago to receive an invitation to the NBA Draft Combine. After turning heads at the Combine, Nance may now have a chance of hearing his name called on draft night.
---
See Also: Larry Nance Workout Video and Interview from Chicago
---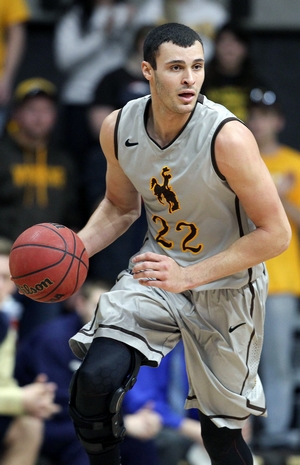 From a physical perspective, it is easy to see why. Standing 6'9 with a 7'2 wingspan and a solid 227-pound frame, Nance has excellent size for the power forward position. He is also a very good athlete – quick, mobile, and explosive – and he wasted little time in regaining his reputation as one of the nation's top dunkers after tearing his ACL in February of 2014.
Nance remains a work in progress on the offensive end of the floor, but he continued to display some intriguing potential during his senior season. He averaged 19.9 points per 40 minutes pace adjusted while showing the ability to score both inside and outside, and emerging as one of the best passing power forwards among prospects in our
database
.
Nance improved as a jump shooter as well, making 38.8% of his overall attempts. Most impressive is the fact that he made 50.8% of his catch and shoot jumpers. Nance proved to be a versatile shooter for a big man, making 46.9% of his 49 attempts from mid-range and connecting on an improved 34.1% of his 1.7 attempts per 40 minutes pace adjusted from beyond the arc. On film, Nance releases the ball with his left elbow splayed and occasionally fades away from the basket, but otherwise shows decent fundamentals and solid range as a shooter.
He is not, however, a particularly prolific shooter off of the dribble, which foreshadows some of his more significant weaknesses at this level. This is because, for a player who spends so much time looking for the ball away from the basket, Nance lacks the ball handling ability to be effective as a face-up player and only projects as an occasional spot-up shooter with an eye toward the NBA.
On the inside, Nance is more or less the same player that he was a junior. On the one hand, his combination of size, athleticism, soft hands, and good shooting touch allow him to be an impressive finisher catching the ball in the immediate vicinity of the basket. He made an impressive 63.7% of non-post up attempts around the basket while doing an outstanding job of cleaning up his teammates misses, cutting to the basket, and running in transition.
Yet, Nance also lacks much in the way of post moves, and is still only able to utilize simple drop steps, jump hooks, and the occasional and oftentimes wild turnaround jumper. His footwork leaves much to be desired, but his instincts also seem quite raw. Nowhere is this clearer than in the pick-and-roll. Despite possessing all of the physical tools to excel as a scorer in this capacity, Nance struggles to receive the ball out of the screen, where he takes a second to think and loses all of his momentum in the process.
On the defensive end, Nance carved out the reputation as one of the best defensive players on the west coast, making use of his excellent physical tools to the tune of 1.5 steals and 1.5 blocks per 40 minutes pace adjusted. On film, he struggles at times closing out on perimeter shooters and is not nearly as effective as a post defender as one would expect given his physical profile. His 7.0 defensive rebounds per 40 minutes pace adjusted also leave something to be desired for a player whose status as a hustle-guy will play a significant part in his ability to stick in the NBA.
That being said, the tools are there for Nance to develop into a very competent defensive player, as he showed little trouble face-guarding post players outside of the paint, even looking capable guarding bigger wings at times. Improving his fundamentals and awareness, particularly by becoming more consistent guarding the pick-and-roll, will go a long way in convincing scouts that he can crack a rotation at the next level.
There is obviously quite a bit to like about
Larry Nance
Jr. as a prospect. He has NBA caliber size, athleticism, and grit for the power forward position and overcame adversity to develop into a legitimate NBA prospect. He compares favorably to players such as
Louis Amundson
who have managed to translate mid-major resumes, low ceilings and high energy into prolific careers. Key to Nance's prospects, therefore, will be proving to scouts that he can improve his consistency as a shooter in workout settings. Nance's prospects have improved with strong workouts, and regardless of what happens on draft night, he should have no trouble finding a home playing at a high level next season.