The second day of the NBA pre-draft brought us some more respectable basketball action than the first, as the players seem to be coming to terms with the fact that their professional futures are on the line under the glaring eyes of former NBA superstars, and are resorting back to the things that got them here in the first place.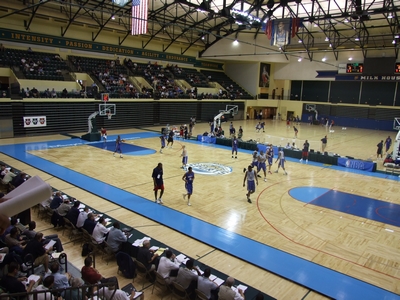 The day started off with two hours of drills from 9 to 11 AM, which we attended in full. The six teams rotated between four different stations-- 5-spot shooting drills--from mid-range, the college 3-point line and the NBA 3-point line, 1 on 1 play, 2 on 2 play, and loose scrimmaging on the main court of the gym. The players also conducted some 3 on 2 transition drills that evolved into 2 on 1's on made baskets.
Those that impressed in the drills ranged from the instinctive do-it all offensive sparkplug types like
Lester Hudson
(unstoppable in the 1 on 1 drills in particular) to superb athletes like
Deron Washington
(super active and aggressive on both days so far) and
J.R. Giddens
(not the most skilled with the ball, but capable as a spot-up shooter and constantly making plays offensively and especially defensively thanks to his trademark length and explosiveness). The heady, veteran winners who played under big-time coaches at big-time programs—see: Neitzel, Drew, and Padgett, David—did a good job standing out. Neitzel with his savvy decision making skills, his ability to take and knock down good shots, his crafty passing and the fact that he was not forcing in the least bit, and Padgett, a master of moving to the right spots on the court, utilizing up-fakes and crafty footwork, finishing with either hand around the basket and impressive with his vocal leadership skills around his teammates. Considering how much action was going on around us at all times, things can get a little overwhelming if you try to take everything in at once.
The actual games actually kicked off as well starting at 11 AM. The play was rough at times (check out the free throw totals of the first game to see just how nervous most guys still are), but there was a decent amount to take away from what we could see on the court.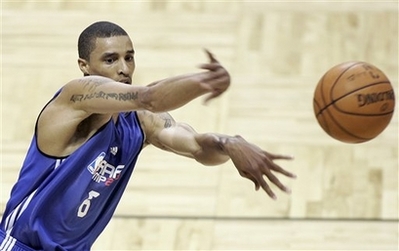 [c]
George Hill
[/c]
In terms of the bigs, it was nice to see
Joey Dorsey
and
Devon Hardin
being active and getting after it. The two most sculpted players in the camp did a great job making their presence felt defensively and on the glass, which is exactly what NBA teams want to see from them. Hardin still needs to learn his limitations offensively (he's not skilled enough to attempt some of the complex moves he tried here), but he definitely didn't hurt himself here. Dorsey (surprisingly) made some nice passes and at times used his wide body to box out the entire opposing team, which allowed his teammates to feast on the offensive glass.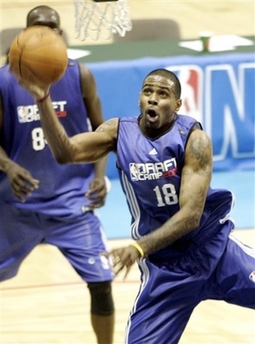 [c]
Mike Taylor
[/c]
Also on the negative side of the spectrum we found
Danny Green
(forcing the issue way too much, especially from behind the arc [0-4], and looking clearly hobbled by his sprained left ankle) and
Jeremy Pargo
(showing concerning shot-selection and tunnel vision driving through the lane).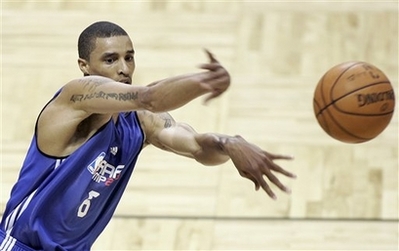 [c]
Gary Forbes
[/c]
Richard Hendrix
had a solid outing with 12 points and 5 rebounds in 20 minutes. He was extremely unselfish and did a great job crashing the glass, showing a good feel for the game but also struggling a bit defensively on the perimeter and not being very effective finishing around the rim in traffic.
Patrick Ewing
had a quietly effective game with 14 points on 5-7 shooting, impressively hitting an NBA 3-pointer, getting on the offensive glass, and playing well in transition.
Robert Vaden
took some questionable shots but also made quite a few tough ones, going 6-11 for 13 points.
James Gist
scored 16 points and had 5 rebounds on 5-8 shooting, mostly by running the floor and finishing around the hoop.
Kentrell Gransberry
got his hand on seemingly every ball around him, scrapping together 10 rebounds (6 offensive) in 20 minutes, to go along with 8 points.
The third and last game of the day was probably the best of the night, both from a talent perspective as well as the overall pace.
Brian Roberts
was solid offensively, hitting 4-9 shots for 11 points and looking good pushing the ball up the floor in transition. He did struggle defensively trying to stay in front of the very strong and aggressive
Stanley Burrell
, who got to the rim whenever he wanted and absolutely man-handled anyone standing in his way.
Reggie Williams
gave maybe the best effort of anyone in this game, playing fantastic defense and picking his spots nicely offensively.
On the other team,
J.R. Giddens
forced the issue with his weak ball-handling skills a little too much at times, but still flashed great potential with some of the moves he made at times. His talent is undeniable, he just needs to polish up his skill-set.
Jiri Hubalek
continued to make a living off his perimeter jumper, much the same way he did at Portsmouth back in April.
DeMarcus Nelson
was intense and aggressive, but looked a bit out of control at times too with some of his drives.
Trent Plaisted
had some flashes with his ridiculous athleticism, but was a bit too quiet in stretches, not making his presence felt enough.
Lester Hudson
showed mostly a mixed bag on both ends of the floor, struggling defensively trying to contain
Ty Lawson
, while showing nice creativity and vision with some occasional passes but also looking too lackadaisical making sloppy scoops that led to turnovers. There is no question that the guy can play, but he remains fairly unpolished at this point.
Drills tomorrow once again kick off at 9 AM, followed by three games at 11, 5 and 6:30. There will be a media session in-between games with some of the top prospects in the draft, which we will attend, as well as the Priority Sports Veteran Camp, featuring guys like
Dahntay Jones
,
Luke Jackson
, blogger extraordinare
Jared Reiner
,
Justin Reed
,
Eddie Gill
and many others.